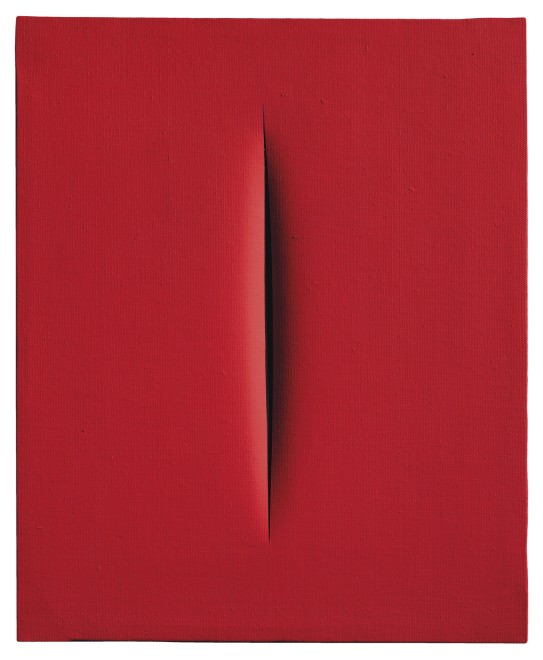 Lucio Fontana
Spatial Concept, Waiting
,
1967
Rosario de Santa Fé 1899–1968 Comabbio
Title, signature and inscription on the reverse: 'l. Fontana / "Concetto Spaziale" / ATTESE / Le giornate passano / lentamente e quasi / felicemente!' *Translation: 'The days pass slowly and almost happily'
Water-based paint on canvas
61.5 x 50 cm (24 1/4 x 19 3/4 in.)
Provenance
Galleria del Leone, Venezia;
Galleria San Luca, Bologna;
there acquired by the last owner.
Literature
E. Crispolti, Fontana. Catalogo generale, Milano 1986, vol. II, p. 676;
E. Crispolti, Lucio Fontana. Catalogo ragionato di sculture, dipinti, ambientazioni, Milano 2006, vol. II, p. 870, n. 67 T 128 (illustrated).

"If you photographed me while I am making one of the buchi, after a while I wouldn't notice your presence anymore and I would continue my works calmly, but I couldn't do one of these big tagli with someone moving around me. I feel that if I make a taglio, like this, only for the photo, it wouldn't work… I need a lot of concentration. That means that I don't walk into my studio, take off my jacket, and boom, I make three or four tagli. No, sometimes I leave the canvas there propped up for weeks before I am sure what I will do with it, and only when I feel certain do I begin, and it is rare that I waste a canvas; I really need to feel in shape for doing these things". -LUCIO FONTANA

A single, clean slash sweeps defiantly through the flaming red surface of Lucio Fontana's Concetto spaziale, Attesa. Executed in 1967, a decade after Fontana first made this radical artistic breakthrough and inaugurated the series of tagli for which he is best known, this work embodies the dramatic conceptual and formal power of the slash. This singular, irretractable and irrevocable gesture served as the climactic iteration of Fontana's Spatialism, a visionary movement that saw the artist overturn convention, incorporating the dynamic elements of time, space and light into his art to embody the extraordinary, epoch-defining developments of the space age. Glowing against the deep monochrome surface, the single sweeping slash reveals a sliver of enigmatic darkness, an entrancing vision of the newly discovered realm of infinite, cosmic space, an unknown, unfathomable spatial dimension.

It was first with the buchi and subsequently with the tagli that Fontana succeeded in creating art that transcended the boundaries of painting and sculpture to instead become 'spatial concepts'. 'We live in the mechanical age', he stated. 'Painted canvas and upright plaster no longer have any reason to exist' (Manifesto Blanco, 1946 in E. Crispolti & R. Siligato, eds., Lucio Fontana, exh. cat., Rome, 1998, p. 115). By penetrating through the flat, two-dimensional picture plane and revealing the dark space that lay beyond, Fontana introduced real space and by extension, time, into the structure of the canvas. The chasm of blackness that is revealed by the penetrating slash encourages the viewer to contemplate the infinite void that exists beyond the earth's surface. In this way, Fontana had not only created a work that could interact with reality, but one that elegantly encapsulated the extraordinary developments of his time.

The artwork described above is subject to changes in availability and price without prior notice.
Where applicable ARR will be added.




%3Cdiv%20class%3D%22artist%22%3E%3Cstrong%3ELucio%20Fontana%3C%2Fstrong%3E%3C%2Fdiv%3E%20Rosario%20de%20Santa%20F%C3%A9%201899%E2%80%931968%20Comabbio%0A%3Cdiv%20class%3D%22title%22%3E%3Cem%3ESpatial%20Concept%2C%20Waiting%3C%2Fem%3E%2C%201967%3C%2Fdiv%3E%0A%3Cdiv%20class%3D%22signed_and_dated%22%3ETitle%2C%20signature%20and%20inscription%20on%20the%20reverse%3A%3Cbr%20%2F%3E%0A%27l.%20Fontana%20%2F%20%22Concetto%20Spaziale%22%20%2F%20ATTESE%20%2F%20Le%20giornate%20passano%20%2F%20lentamente%20e%20quasi%20%2F%20felicemente%21%27%3Cbr%20%2F%3E%0A%2ATranslation%3A%20%27The%20days%20pass%20slowly%20and%20almost%20happily%27%3C%2Fdiv%3E%0A%3Cdiv%20class%3D%22medium%22%3EWater-based%20paint%20on%20canvas%3C%2Fdiv%3E%0A%3Cdiv%20class%3D%22dimensions%22%3E61.5%20x%2050%20cm%20%2824%201%2F4%20x%2019%203%2F4%20in.%29%3C%2Fdiv%3E