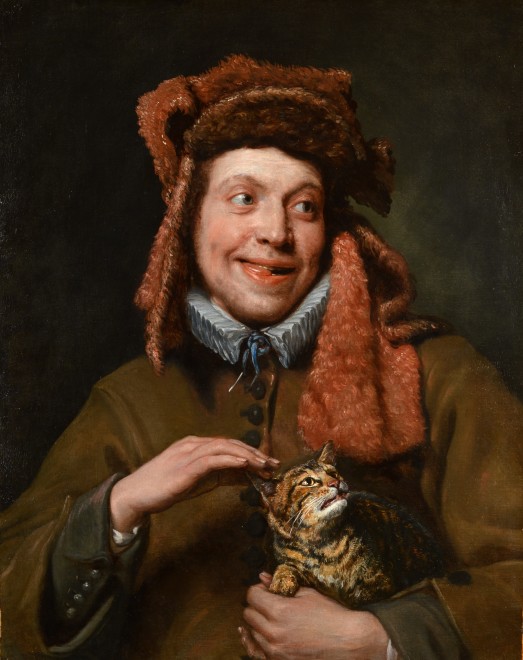 Michael Sweerts
Allegory of Touch
,
circa 1655/1660
Brussels 1618-1664 Goa
Oil on canvas
75 x 60 cm / 29.5 x 23.6 in
Provenance
Seen on the art market in Vienna before 1910 by Gustav Glück.
Galerie Charpentier, Paris, 1962.
Jean Néger, Paris. Former Neger collection
Mirabaud-Mercier: Friday, November 15, 2019 lot 27
Literature
Gustav Glück, Rubens, van Dyck und ihr Kreis, Vienna, 1933, p. 364 ("...einer Folge der Fünf Sinne...von denen uns andere Stücke im Wiener Kusthandel bekanntgeworden sind").
Rolf Kultzen, Michael Sweerts, Doornspijk, 1996, pp. 46–48, and cat. 70, p. 109.
Exhibitions
Paris, Galerie Charpentier, Cent portraits d'hommes du XIVe siècle à nos jours, April–May 1952, no. 81 (as Theodor Rombouts and Jan Fyt, for the cat).
Paris, Galerie Néger, Tableaux du XVe au XVIIIe siècle, dont 20 pièces ont figuré au Musée Goya, June 1956, no. 33 (as Theodor Rombouts).
Related Works
Michael Sweerts, Allegory of Sight, oil on canvas, 76 x 58 cm, location unknown. See Kultzen, cat. 67 (formerly Gebhardt collection, Budapest; sold Lepke, Berlin, 10 November 1911, lot 75, as Theodor Rombouts and Jan Fyt; exhibited Cologne, Dommuseum, 1952). Fig. 1.

Michael Sweerts, Allegory of Taste, oil on canvas, 76 x 58 cm, location unknown. See Kultzen, cat. 68 (formerly Gebhardt collection, Budapest; sold Lepke, Berlin, 10 November 1911, lot 76, as Theodor Rombouts and Jan Fyt; exhibited Cologne, Dommuseum, 1952). Fig. 2.

Michael Sweerts, Allegory of Hearing, oil on canvas, 76 x 58 cm, possibly Edinburgh, collection A. Kay. See Kultzen, cat. 69 (provenance unknown). Fig. 3.

Michael Sweerts, Allegory of Smell, oil on canvas, 76 x 58 cm, Akademie der bildenden Künste, Vienna. See Kultzen, cat. 71 (bequest of Joanna and August Ritter von Albrecht-Hönigschmied à to the museum in 1936). Fig. 4.


The Allegory of Touch, in which a young man is captured in a moment of pure stupefaction as he caresses a cat nestling in his arms, was created by the Flemish artist Michael Sweerts as one of a series of five paintings representing the Senses: taste, touch, hearing, smell, and sight, all portrayed as young men in fanciful headgear accompanied by animals relating to the senses they personify (save Smell, who holds a brazier of incense). Although the allegories of Sight and Taste were attributed to Theodore Rombouts working together with the animal painter Jan Fyt when they were sold in Berlin in 1911, Rolf Kultzen correctly gave the series to Sweerts in his 1996 monograph on the artist, an attribution currently supported by Sweerts specialist Lara Yeager-Crasselt. Although Smell is now in the collection Akademie der bildenden Künste, Vienna, lamentably, Sight, Taste, and Hearing are known today only through black and white reproductions. The reappearance of Touch thus marks a major and exciting rediscovery.

An inventive painter who excelled in the creation of portraits and genre scenes, Sweerts was born in Brussels in 1618. By the mid 1640s, he was living in Rome, where he remained until at least 1652. Back in Brussels, Sweerts opened an academy for life drawing in 1656, and became a member of the Saint Luke's Guild in 1659. During a brief stay in Amsterdam in about 1660–61, he became a lay brother in the Lazarist Société des Missions Étrangères and joined their mission to the Orient in late 1661. He was dismissed from the mission in 1662 because of his mental instability and ungoverned zeal, and died at the Portugese Jesuit colony at Goa in 1664.

The lifelike quality of Touch, the sheer immediacy of the goggle-eyed young man with his flailing tongue, suggests that it was done directly from life, or naer het leven, in the Netherlandish tradition of the tronie, head studies that were highly individualized depictions of anonymous figures rather than portraits per se. Removed from a specific time or place, tronies gave artists the opportunity to focus on the physical and psychological character of an individual. Tronies of young men particularly interested Sweerts after he returned to Brussels in the early to mid-1650s, and his series of Five Senses aligns well with his production in the period, to which this work should be dated.

Sweerts's paintings of the Five Senses also compare well with images found in the artist's Diversae facies, a print series of various head studies that he published in 1656. Following in the tradition of earlier seventeenth-century drawing books, these etchings represented a range of character types intended as teaching aids for students to copy as part of their training at the drawing academy Sweerts established in Brussels. One such etching from this series, Smiling Youth with Beret (fig. 5), is close in terms of its humorous facial expression to the figure in Touch, while young men featured in other etchings in the series sport similar fur caps (fig. 6, 7). While Sweerts also depicted young and old women with a similar degree of sensitivity, his representation of young men was exceptional in the seventeenth century, both in number and the discerning manner of their execution. Thus, the present Allegory of Touch demonstrates Sweerts's ability to create a pictorial experience both immediate and timeless.

Many paintings on the theme of the Five Senses were made in the Low Countries in the seventeenth century, and artists approached the subject in different ways. Sometimes all five senses were referenced in a single painting; in other instances, as here, they were depicted individually. Some artists followed an earlier tradition of showing a series of idealized women, each one holding an attribute or attributes to indicate which sense she embodied (but two examples are the series of prints devoted to the theme by Maarten de Vos and, later, Hendrick Goltzius). But many painters preferred to interpret the theme as more naturalistic allegorical scenes of everyday life. The earliest surviving paintings by Rembrandt form a series illustrating the five senses through groups of three characters focused on a different activity (only four now survive, in the Leiden Collection, New York, fig. 8). Other artists were comic in their approach, as in Jan Molenaer's low-life scenes—one shows Touch as a woman beating a man (Mauritshuis, The Hague). Still others verged on the quaint, such as a series of children by Dirck Hals (Rijksmuseum Twenthe, Enschede).

An interesting Flemish, albeit Antwerp, parallel of nearly the exact same date to Sweerts's series is that by Gonzales Coques, in which each figure engaged in relevant activities representing the senses appears to be a portrait of an artist, rather than a generic figure (complete sets survive in the National Gallery, London, the Royal Museum of Fine Arts, Antwerp, see fig. 9, and Brukenthal National Museum, Sibiu). Although the figures in Sweerts's series align well with his tronie production in the early 1650s, it is nevertheless tempting to consider that each figure in his series, like those in Coques's, is also a portrait of a specific individual in the artist's circle.

It is possible that Sweerts in conceiving his Five Senses considered the example of Jusepe de Ribera, who represented the Five Senses as wholly unidealized adult men in a series the Flemish artist is likely to have seen in Rome (fig. 10). The young man accompanied by a small creature, and moreover his startled expression, likewise echo another Roman work, Caravaggio's Young Man Bitten by a Lizard (fig. 11). As cats are not major players in art of the early modern era, one wonders if Sweerts might have thought of an image like Carracci's Two Children Teasing a Cat, a version of which he might have seen in Rome, when inventing Touch (fig. 12).

It is possible that Sweerts painted the Five Senses on other occasions. Two paintings of children, depicting a boy with an extinguished candle and a girl with a bandaged finger, for Smell and Touch, respectively, are thought to have originally belonged to a series of Five Senses (figs. 13, 14), while the Boy in a Turban holding a Nosegay (fig. 15, Museo Nacional Thyssen-Bornemisza, Madrid) is sometimes interpreted as an allegory of Smell. Whatever the case, the present painting belongs to the only known complete set by the artist.

It has been noted that the brushwork in the fur of the cat is fastidious and precise compared with the broader handling throughout the rest of the canvas and especially in the fur of the hat, prompting speculation that the cat was not painted by Sweerts himself. As was customary among Flemish painters, Sweerts often collaborated with specialists in still life, landscape, and architecture; a notable example is the Plague in an Ancient City (ca. 1650, Los Angeles County Museum of Art), produced in Rome together with the architecture painter Viviano Codazzi. Therefore it is not unreasonable to suppose that Sweerts might have called upon an animal specialist to paint the charming, lively beasts featured throughout this series, including the cat here.

Sweerts's paintings appear to have been designed to hang in a particular way. Hearing sits facing the viewer and was presumably intended to be hung as the central image flanked by the others.

We would like to thank Lara Yeager-Crasselt for her generous assistance and support in cataloging this work.

Please note that the price and availability of the above work are subject to change without prior notice.

%3Cdiv%20class%3D%22artist%22%3E%3Cstrong%3EMichael%20Sweerts%3C/strong%3E%3C/div%3E%20Brussels%201618-1664%20Goa%0A%3Cdiv%20class%3D%22title%22%3E%3Cem%3EAllegory%20of%20Touch%3C/em%3E%2C%20circa%201655/1660%3C/div%3E%0A%3Cdiv%20class%3D%22medium%22%3EOil%20on%20canvas%3C/div%3E%0A%3Cdiv%20class%3D%22dimensions%22%3E75%20x%2060%20cm%20/%2029.5%20x%2023.6%20in%20%3C/div%3E