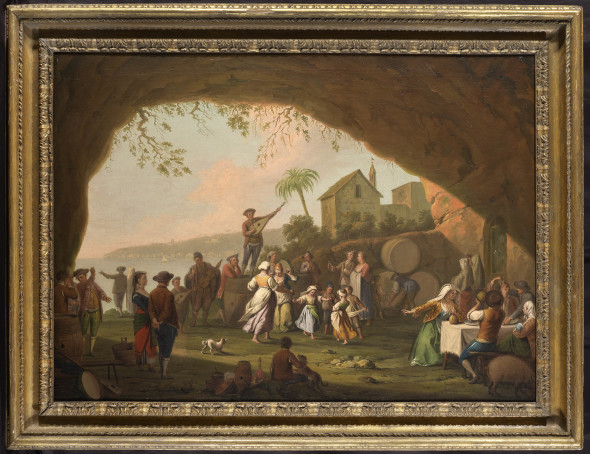 Pietro Fabris
View of Naples: A Scene of Daily Life with a Tarantella in a Grotto in Mergellina, with Posillipo Beyond
,
1756
London ca. 1735–before 1795 Naples
Signed on the reverse "Fabris P."
Oil on canvas
70.8 x 98.9 cm / 27.9 x 38.9 in
Framed: 89 x 115 x 6.5 cm / 35 x 45.2 x 2.5 in
Provenance
Mrs. Frances Henderson, London, 1918;
Trafalgar Galleries, London, 1985;
Private collection, Naples
Literature
Trafalgar Galleries at the Royal Academy – IV, exh. cat. Royal Academy, London 1985, pp. 66–71.
Nicola Spinosa, Pittura Napoletana dal Rococò al Neoclassicismo, Naples, 1987, pp. 134–35, 138–39, 161–62.
Nicola Spinosa and Leonardo di Mauro, Vedute napoletane del Settecento, Naples, 1989, pp.106–7, 200, 288.
Carlo Knight, Hamilton a Napoli. Cultura, svaghi, civiltà di una grande capitale europea, Naples, 1990, p. 84.
Rosanna Muzii in All'ombra del Vesuvio. Napoli nella veduta europea dal Quattrocento all'Ottocento, exh. cat. Castel Sant'Elmo, Naples, 1990, pp. 231, 383.
Vedute napoletane dal Quattrocento all'Ottocento, collana 'Guide Artistiche Electa Napoli', Naples, 1996, pp. 96–99.
Exhibitions
London, Royal Academy, Trafalgar Galleries at the Royal Academy–IV, 1985
Naples, Castel Sant'Elmo, All'Ombra del Vesuvio, Napoli nella veduta Europea dal Quattrocento all'Ottocento, May–July 1990
Naples, Palazzo Reale, I Borbone. Il viaggio nella memoria 1734–1861, May 2000–February 2001
Scholarship of the last two decades has revealed a number of new details regarding the life and the career of Pietro Fabris. Fabris often signed his paintings as "Pietro Fabris l'Inglese" and scholars now unanimously agree that he was born in London between 1730 and 1735, the son of Jacopo Fabris, the Venetian painter and stage designer. Born in Venice in 1689, Jacopo spent his life travelling across Europe, he worked as a stage director in the 1720s in Karlsruhe and Hamburg before moving to London. While in the British capital, Jacopo painted views close in style to the early works of Canaletto, and it is reasonable to suppose that the young Pietro began his training with his father. In the 1740s, Jacopo Fabris worked in Berlin for Frederick the Great before moving to Copenhagen, where he died in 1761. Pietro, meanwhile, made his way to Venice in the 1750s, where it is likely that he Antonio Joli and started his career as a view painter. It is interesting to note that in 1755 Joli left Venice with Lord Brudenell to escort him on his Grand Tour to Naples, and that in the following year Fabris had also travelled to Naples. While in the capital of the Kingdom of the Two Sicilies, the two artists worked together closely from the outset, and both were involved in documenting paintings Carlo and Maria Amalia de Bourbon's departure for Spain in 1759. Fabris's landscapes and genre pictures were particularly popular with European gentlemen on the Grand Tour, and the artist was moreover a favorite of the British Consul in Naples, Sir William Hamilton. Fabris accompanied Hamilton on trips to study volcanoes and even produced a group of gouache paintings which were subsequently engraved as illustrations to Hamilton's book about the volcanic area around Naples.

Rather remarkably, the present pair of paintings are the earliest known signed and dated works by the artist. Painted in 1756, the two views are one half of a set of four works, together with two further views painted in the following year. Despite the time elapsed in between the two pairs, altogether the four canvases constitute the most complete depiction of the coastline of Naples from that time, suggesting that they were conceived as a set. For the present pair, Fabris chose a vantage point at the end of the Riva di Chiaja, at Mergellina, and in the second pair of 1757, a site on the beach at Marinella, near the Mandracchio. In the background of one of the works in the present pair, Vesuvius and the Castel dell'Ovo are readily visible, while against this backdrop, a fisherman attempts to sell his catch, and other figures eat, drink, play cards, and flirt, all to the tune of the musicians at the right of the canvas. In its pendant, the merrymaking continues, and a group of children dances the tarantella.

The two paintings beautifully demonstrate Pietro Fabris's mature style. As has been pointed out by several scholars, while earlier vedute painters, like Van Wittel, Joli, and Bonavia in Naples or Marieschi and Canaletto in Venice, focused on famous monuments, Fabris instead captured informal views of daily life, relegating landmarks to the background. With their colorful palette and lively compositions, Fabris's pictures joyously celebrate the daily life of the city and its inhabitants.

The great success of Fabris's scenes of this kind is evidenced by the production of many related gouaches and engravings. Most notable is the set of thirty-five engravings published in 1773 with the title Raccolta di vari vestimenti ed arti del Regno di Napoli, a catalogue of popular types and trades from which generations of local and foreign painters drew liberally to produce an array of works aimed at illustrating the narrative of popular life. Its fortune was further enhanced by the use of Fabris's models for the for the porcelains of the Reale Fabbrica di Capodimonte, particularly from 1782 onwards, when the director of the Reale Fabbrica, Domenico Venuti, commissioned a set of tableware decorated with scenes from the daily life of Naples and its environs.

Please note that the price and availability of the above work may change without prior notice.
%3Cdiv%20class%3D%22artist%22%3E%3Cstrong%3EPietro%20Fabris%3C%2Fstrong%3E%3C%2Fdiv%3E%20London%20ca.%201735%E2%80%93before%201795%20Naples%0A%3Cdiv%20class%3D%22title%22%3E%3Cem%3EView%20of%20Naples%3A%20A%20Scene%20of%20Daily%20Life%20with%20a%20Tarantella%20in%20a%20Grotto%20in%20Mergellina%2C%20with%20Posillipo%20Beyond%3C%2Fem%3E%2C%201756%3C%2Fdiv%3E%0A%3Cdiv%20class%3D%22signed_and_dated%22%3ESigned%20on%20the%20reverse%20%22Fabris%20P.%22%3C%2Fdiv%3E%0A%3Cdiv%20class%3D%22medium%22%3EOil%20on%20canvas%3C%2Fdiv%3E%0A%3Cdiv%20class%3D%22dimensions%22%3E70.8%20x%2098.9%20cm%20%2F%2027.9%20x%2038.9%20in%3Cbr%20%2F%3E%0AFramed%3A%2089%20x%20115%20x%206.5%20cm%20%2F%2035%20x%2045.2%20x%202.5%20in%3C%2Fdiv%3E