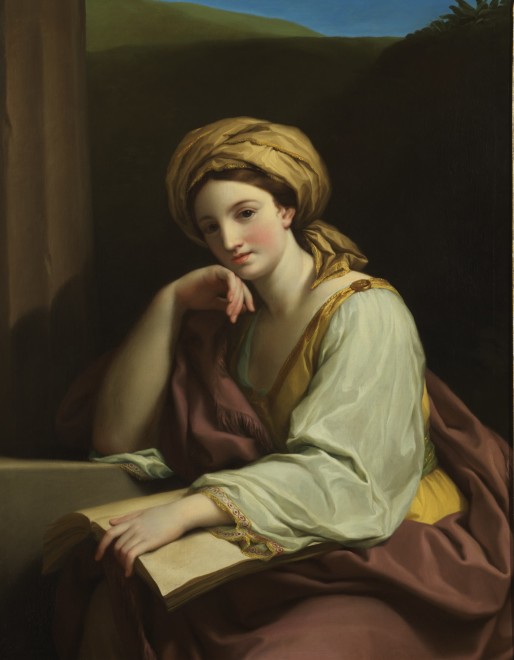 Anton Raphael Mengs
A Sibyl
,
1761
Aussig 1728 - 1779 Rome
Oil on canvas
118.5 x 93 cm
Provenance
Sotheby's London, 12 May 1976, lot 29;
London, private collection.

Literature
References:
G. N. d'Azara, Opere di Antonio Raffaello Mengs, Parma 1780, p. 43.
G. L. Bianconi, Elogio storico del cavaliere Anton Raffaele Mengs. Con un catalogo delle opere da esso fatte, Milan, 1780: 2nd edition, Rome 1797, p. 91.
P. J. B. Doray de Longrais, Oeuvres de M. Mengs, premier peintre du Roi d'Espagne & du Roi de Pologne, professeur de l'Académie Capitoline à Rome, Ratisbon 1782, p. 37.
C. F. Prange, Hinterlaßne Werke Des Ritters Anton Raphael Mengs, ersten Mahlers Karl III. Königs in Spanien, Halle 1786, p. 121.
Neoclassical Paintings and Drawings, exh. cat. Chaucer & Van Dam Galleries, London 1979, no. 1.
R. de Leeuw, ed., Herinneringen aan Italië: kunst en toerisme in de 18de eeuw, exh. cat. Noordbrabants Museum, 's-Hertogenbosch, Stichting Hannema-de Stuers Fundatie, Heino, and Frans Hals Museum, Haarlem 1984, no. 105.
H. von Erffa - A. Staley, The Paintings of Benjamin West, New Haven 1986, pp. 444–45.
Artisti in Roma nel Sei e Settecento, exh. cat. Galleria Gasparrini, Palazzo Ruspoli, Rome 1988, p. 56.
S. Ebert-Schifferer, ed., Guido Reni und Europa, exh. cat. Schirn-Kunsthalle, Frankfurt 1988–89, no. D40, p. 634.
S. Roettgen, Anton Raphael Mengs, 1728–1779, and his British Patrons, exh. cat. Iveagh Bequest, Kenwood House, London 1993, no. 23.
G. Sestieri, Repertorio della pittura romana della fine del Seicento e del Settecento, Turin 1994, vol. 1, p. 128.
S. Roettgen, Anton Raphael Mengs: 1728–1779, Munich 1999, pp. 176–77.
Exhibitions
London, Chaucer & Van Dam Galleries, Neoclassical Paintings and Drawings, 1979.
Heino, Noordbrabants Museum, 's-Hertogenbosch, Stichting Hannema-de Stuers Fundatie - Haarlem, Frans Hals Museum,
Herinneringen aan Italië: kunst en toerisme in de 18de eeuw,
1984.
Rome, Palazzo Ruspoli, Artisti in Roma nel Sei e Settecento, exh. cat. Galleria Gasparrini, 1988.
Frankfurt, Schirn-Kunsthalle,
Guido Reni und Europa
, 1988–89.
Anton Raphael Mengs, born in Bohemia (now the Czech Republic), spent his childhood in Dresden where his father, Ismael Mengs (1688–1764), was court painter to Friedrich August II of Saxony, King of Poland. The young Mengs was schooled chiefly in Rome, where he spent the better part of his life from 1740 onwards, and was known to his contemporaries as an early practitioner and theorist of Neoclassicism. Among Mengs's most famous works are the ceiling depicting Parnassus in Cardinal Albani's villa in Rome, completed in 1761, and the fresco decorations undertaken immediately thereafter in the royal palace in Madrid.

This present painting depicts one of the twelve Sibyls, the seers of classical antiquity alleged to have foretold the coming of Christ and adopted by the Church as pagan equivalents of the Old Testament prophets. Michelangelo alternated prophets and Sibyls on the ceiling of the Sistine Chapel, a prototype which may explain the great popularity of the subject over the next two centuries. Mengs painted his version of the subject for a British client in 1761, following his return from Naples in the spring of that year and before he left for Madrid in August.

Mengs must have looked to a number of works made in the previous century in conceiving his Sibyl. Guercino's Persian Sibyl, which has been in the Capitoline Museums in Rome since about 1750 (fig. 1), was clearly an important visual antecedent. The classicism of Domenichino was also an important influence, particularly where the facial type and drapery are concerned (fig. 2). The supple plasticity of the figure, and the economical use of decorative motifs, especially in the golden trim of the garment and brooch, recall the works of Guido Reni's mature period (fig. 3). In terms of color, shades of violet, golden yellow, light green, and cream predominate, replacing the primary hues of the Baroque with the softer, secondary ones of the Rococo. Indeed, one almost has the impression that Mengs was aiming for a synthesis of the best qualities of those seventeenth-century Bolognese masters to whom he felt the greatest affinity. Nevertheless, it is possible that this particular synthesis came not at the artist's behest but rather at the client's request, given the preference on the part of British collectors for the Bolognese artists whose style so strongly influenced Mengs. Finally, it might be noted that in terms of style, the present picture is stylistically close, its colors and its classicism, to Mengs's famous fresco of Parnassus at the Villa Albani, one of Mengs's major works, and the crowning achievement of ten years in the Eternal City, completed in the spring of 1761 (fig. 4).

It is interesting that the Sibyl's identity is not clarified by any iconographic details. Her only attributes are the turban and book. Thus, unlike the aforementioned works by Guercino and Domenichino, her identity cannot be determined. This throws some light onto the eighteenth-century approach to the subject of the Sibyl. The interest seems to have shifted from the depiction of specific Sibyls to focus instead on portraying a beautiful—and beautifully draped—female figure before a classical background, rather than portraying a specific sibyl. [1] One might imagine that such a figure could also be a sort of idealized portrait of a real sitter. However, without more information about the circumstances of the picture's commission, such hypotheses must remain speculative.

An atmospheric idealized female portrait in the classical style, the present painting could have been an important starting point for Angelica Kauffmann. Although she did not come to Rome until Mengs had already left the city, it can however be assumed that while she was in Rome, from 1763 to 1767, she had access to his studio and must have seen pictures like the Sibyl. Indeed, during Mengs's absence, his studio was managed by Anton von Maron and was open to visitors and artists. Gavin Hamilton's pictures of idealized female turbaned figures which date from rather later could also derive from a knowledge of this type of classical half-length female figure, which Mengs evolved in the years after 1755 and of which the Sibyl is a particularly fine example. Benjamin West made a copy of the Sibyl, presumably after Mengs's departure from Rome in 1761, which is now in the Ferens Art Gallery, Kingston upon Hull.

Please note that the price and availability of the above work are subject to change without prior notice.

[1] For the Sibyl in art, see Micheline Galley, La sibylle: de l'antiquité à nos jours, Paris, 2010.

Engravings
Nikolaus Mosman (inscribed Raf. Mengs del. et pin. / Mosman inc.; see Azara, p. 89; colls.: Graphisches Sammlung Albertina, Vienna).
Aulitzer (inscribed Mengs pinxit / Aulitzer sculpsit; colls.: Martin von Wagner Museum der Universität Würzburg)
Anonymous (inscribed Eques Mengs pin.; see Erasmo Pistolesi, Il Vaticano descritto ed illustrato, Rome, 1829, vol. 3, p. 261; colls.: Martin von Wagner Museum der Universität Würzburg).
For more on the engravings, see Roettgen 1999, p. 177.

Copies
Fairfax-Lacy Baronets, Charlecote Park, Warwickshire.
Benjamin West, Ferens Art Gallery, Kingston upon Hull (see Roettgen in London 1993, p. 110-11.

%3Cdiv%20class%3D%22artist%22%3E%3Cstrong%3EAnton%20Raphael%20Mengs%3C/strong%3E%3C/div%3E%20Aussig%201728%20-%201779%20Rome%0A%3Cdiv%20class%3D%22title%22%3E%3Cem%3EA%20Sibyl%3C/em%3E%2C%201761%3C/div%3E%0A%3Cdiv%20class%3D%22medium%22%3EOil%20on%20canvas%3C/div%3E%0A%3Cdiv%20class%3D%22dimensions%22%3E118.5%20x%2093%20cm%3C/div%3E