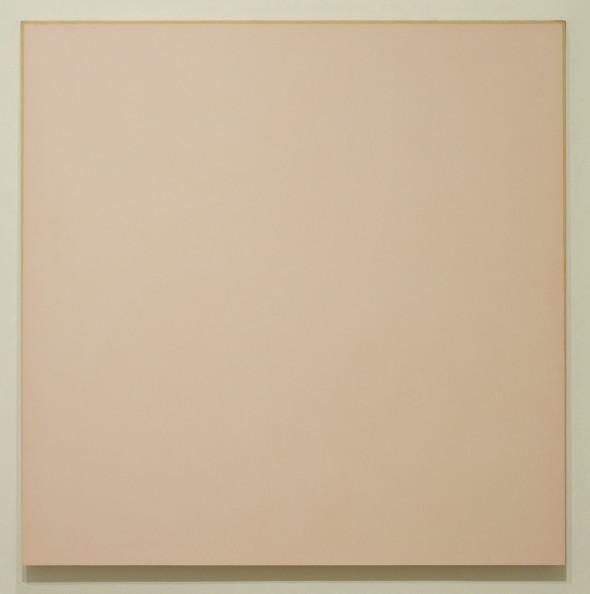 Ettore Spalletti
Untitled
,
1995
b. Cappelle sul Tavo 1940
Dated on the reverse along upper edge
Pink pigment and gold leaf on panel
150 x 150 cm / 59.1 x 59.1 in
Exhibitions
London, Robilant+Voena, The Gallant Apparel: Italian Art and the Modern, 27 September – 27 October 2010
St. Moritz, Robilant+Voena, Ettore Spalletti, 5 July - 7 September 2019
Publications
Meneguzzo, M. and Dimitrova, M., The Gallant Apparel: Italian Art and the Modern, exhibition catalogue, p. 58-59, ill.
Ettore Spalletti established himself at the start of the 1970s under the relatively unknown definition of inespressionista or "anti-Expressionist", underlining his wish to remove from the work any possible psychological content or value recognisable as individual expression. The choice and use of his typical chalky colours – pink, blue, grey and black, often edged by a gold border and of the jutting and slightly offset panels, do not eliminate expressivity however, but evoke instead a serene, soothing and calm construction, similar to a Tiepoloesque sky or a Piero della Francesca background. Usually, Spalletti's process involved rubbing pigment into gesso, layer by layer over the course of several days, building up and sanding down, to create a desired tone using the impasto technique. The artist himself did not refuse these naturalistic contrasts that bridge the colour field, the greatest expression of abstraction, with the evocation of a distant nostalgia for representation.
"Light is very important. Like a colour is born… a painting of mine has an elaboration of nearly 20 days. Every day I find a colour… I work a paste of colours, that is quite thick, that contains pigments and chalk. Fundamentally colour is constructed on the reality of white. It is on white that I add the pigments, and I add powders to dissolve the colour. Now it is quite fun to do. Before I would always mess it up. […]
I did not know what was going to be my colour formula. It was something that I used to invent, that I felt, that I experimented… […]
This is my obsession. […] It is the pleasure to play with the colour powders, to find in what way and where can colour stop."
Ettore Spalletti (Paolo Vagheggi, Contemporanei, Conversazioni d'artista, 2006)

The artwork described above is subject to changes in availability and price without prior notice.
Where applicable ARR will be added.
%3Cdiv%20class%3D%22artist%22%3E%3Cstrong%3EEttore%20Spalletti%3C/strong%3E%3C/div%3E%20b.%20Cappelle%20sul%20Tavo%201940%0A%3Cdiv%20class%3D%22title%22%3EUntitled%2C%201995%3C/div%3E%0A%3Cdiv%20class%3D%22signed_and_dated%22%3EDated%20on%20the%20reverse%20along%20upper%20edge%3C/div%3E%0A%3Cdiv%20class%3D%22medium%22%3EPink%20pigment%20and%20gold%20leaf%20on%20panel%3C/div%3E%0A%3Cdiv%20class%3D%22dimensions%22%3E150%20x%20150%20cm%20/%2059.1%20x%2059.1%20in%3C/div%3E
Not Available