ITALY LOST
:
Following in the Footsteps of the Old Masters
London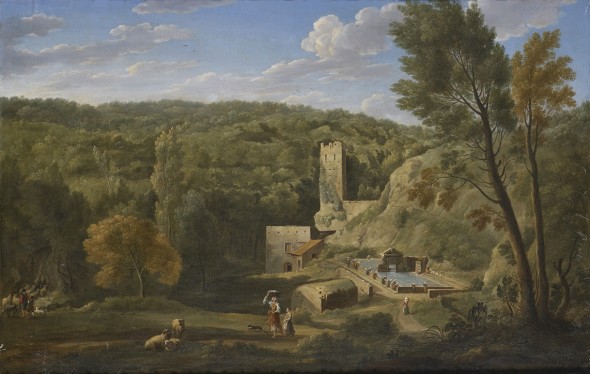 Hendrik Frans van Lint
A Fountain in the Roman Campagna
,
1732
Antwerp 1684–1763 Rome
Signed and dated 'H. van Lint Studio f. 1732' (lower right)
Oil on canvas
47.5 x 73 cm (18 3/4 x 28 3/4 in.)
Provenance
Bowater Corporation, London,
Colnaghi, London,
Private collection.
Exhibitions
Andrea Busiri Vici, Peter, Hendrik e Giacomo van Lint: 3 pittori di Anversa del '600 e '700 lavorano a Roma, Rome, 1987, p. 102.
Hendrik Frans van Lint was one of the most accomplished vedutisti working in Rome in the first half of the eighteenth century. Born in Antwerp, he trained briefly under Pieter van Bredael in 1696–97, before travelling to Rome in 1700, where he spent much of the rest of his life. In Rome, Van Lint became a member of the Schildersbent, a fraternal association of Northern artists in Rome. He seems to have gravitated towards Gaspar van Wittel, or Vanvitelli, a native of Amersfoort who had settled in Rome in 1675 and became one of the most successful artists of his generation, famed for his topographical views. The young Van Lint may have worked in Vanvitelli's studio, assisting the older artist in the large number of commissions that would at times overwhelm him late in his career.

Van Lint also held a deep admiration for Claude Lorrain, whose work he could easily have studied in numerous Roman collections. Van Lint's nickname, Monsú Studio, may refer to his meticulous technique, which he modelled on the great master. Like Claude, Van Lint would make detailed drawings in pencil, pen, and wash, often en plein air, during his frequent expeditions to the countryside around Rome. He would then use these preparatory drawings to work up full-scale compositions on canvas, often adding ruins and classical buildings to create elaborate imaginary landscapes in the style of Claude, with their gently suffused light and tranquil air of antiquity. Indeed, Claude's painting in the Museo di Capodimonte, Naples, of 1669, is the source of inspiration for this landscape; the picture was still in the collection of the Colonna family in 1787, where Van Lint could have studied it.

Van Lint's work was enthusiastically collected by prominent visitors to Rome, especially the Grand Tourists, as well as by several of the great patrician Roman families, including the Altoviti, Capponi, Pamphili, Sacchetti, and Soderini. Don Lorenzo Colonna had a particular taste for his work, owning no fewer than seventy landscapes by the artist. Van Lint was also an active member of the artistic community of Rome, where he lived in a house on the via Babuino. He was a member of the Congregazione Artistica dei Virtuosi al Pantheon from 1744 and was elected Rector in 1755. This was a corporation of artists who organised annual exhibitions of their own paintings on the metal railings in front of the Pantheon. He probably also worked as a picture restorer, and among his ten children, Giacomo became a distinguished landscape painter in his own right.

The artwork described above is subject to changes in availability and price without prior notice.
%3Cdiv%20class%3D%22artist%22%3E%3Cstrong%3EHendrik%20Frans%20van%20Lint%3C%2Fstrong%3E%3C%2Fdiv%3E%20Antwerp%201684%E2%80%931763%20Rome%0A%3Cdiv%20class%3D%22title%22%3E%3Cem%3EA%20Fountain%20in%20the%20Roman%20Campagna%3C%2Fem%3E%2C%201732%3C%2Fdiv%3E%0A%3Cdiv%20class%3D%22signed_and_dated%22%3ESigned%20and%20dated%20%27H.%20van%20Lint%20Studio%20f.%201732%27%20%28lower%20right%29%3C%2Fdiv%3E%0A%3Cdiv%20class%3D%22medium%22%3EOil%20on%20canvas%3C%2Fdiv%3E%0A%3Cdiv%20class%3D%22dimensions%22%3E47.5%20x%2073%20cm%20%2818%203%2F4%20x%2028%203%2F4%20in.%29%3C%2Fdiv%3E