ITALY LOST
:
Following in the Footsteps of the Old Masters
London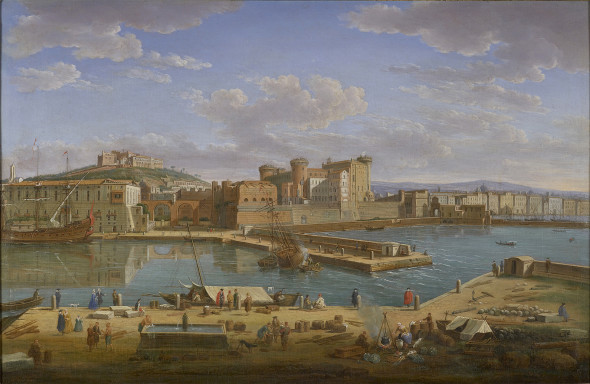 Hendrik Frans van Lint
Naples, Darsena
,
1734
Antwerp 1684–1763 Rome
Signed and dated 'H F Van Lint Roma 1734' (lower left)
Oil on canvas
47.5 x 73 cm (18 3/4 x 28 3/4 in.)
Provenance
Galleria Antiquaria Sestieri, Rome,
Private collection.
Literature
Andrea Busiri Vici, Peter, Hendrik e Giacomo van Lint: 3 pittori di Anversa del '600 e '700 lavorano a Roma, Rome, 1987, p. 153, no. 174.
Much like his fellow Netherlander Vanvitelli, whom he seems to have known and whose artistic heir he should be considered, Van Lint specialized in landscapes and topographical views of Italy. He boasted among his patrons some of Rome's leading aristocratic families, including the Colonna and Pamphilj, as well as many Grand Tourists. His was a family of artists: he was the son of Pieter Van Lint, who had himself worked in Italy in the Bamboccianti tradition, and the father of Giacomo, who carried on his work in a very similar style to the end of the eighteenth century. Hendrik's sobriquet, Lo Studio, probably derives from his careful preparation for his paintings, many of which were based on meticulously observed drawings and studies executed in situ.

In this view of Naples, Van Lint presents the quay of the Darsena delle galere, the harbour for galleys built in 1688 by the Viceroy Pedro of Aragon below the walls of the Castel Nuovo in Naples; the Certosa di San Martino can be seen atop the distant hill at right. The picture of the Darsena is clearly inspired by a number of earlier variants of the same view by Vanvitelli. Indeed, though around a dozen paintings of Naples by Van Lint survive, there is no documented evidence of his ever having visited the city. It is therefore possible that his views of the city are reworkings of Vanvitelli's models, rather than being based on his own observation of the location, perhaps surprising given the skill an atmosphere with which the view is rendered.

The artwork described above is subject to changes in availability and price without prior notice.
%3Cdiv%20class%3D%22artist%22%3E%3Cstrong%3EHendrik%20Frans%20van%20Lint%3C%2Fstrong%3E%3C%2Fdiv%3E%20Antwerp%201684%E2%80%931763%20Rome%0A%3Cdiv%20class%3D%22title%22%3E%3Cem%3ENaples%2C%20Darsena%3C%2Fem%3E%2C%201734%3C%2Fdiv%3E%0A%3Cdiv%20class%3D%22signed_and_dated%22%3ESigned%20and%20dated%20%27H%20F%20Van%20Lint%20Roma%201734%27%20%28lower%20left%29%3C%2Fdiv%3E%0A%3Cdiv%20class%3D%22medium%22%3EOil%20on%20canvas%3C%2Fdiv%3E%0A%3Cdiv%20class%3D%22dimensions%22%3E47.5%20x%2073%20cm%20%20%2818%203%2F4%20x%2028%203%2F4%20in.%29%3C%2Fdiv%3E