THE FONTANA PHENOMENON
:
from Seaside to Studio
London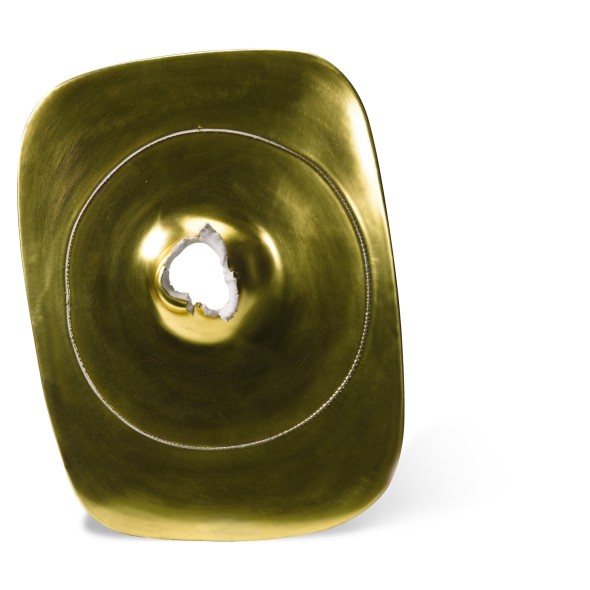 Lucio Fontana
Concetto Spaziale Cratere
,
1968
Rosario de Santa Fé 1899–1968 Comabbio
Signed and numbered on the reverse in black ink "8/75"
Porcelain multiple painted in gold
38 x 28.5 cm / 15 x 11.2 in
Provenance
Private collection
Exhibitions
New York, Robilant+Voena, Lucio Fontana, 6–27 May 2016
Though perhaps most famous for his signature slashed paintings, Lucio Fontana considered himself to be, above all, a sculptor. The son of a sculptor, Fontana was influenced by his father's craft from his earliest years in Argentina. As a young man, he moved to Milan to train in the discipline at the Accademia di Brera under the guidance of the distinguished sculptor Adolfo Wildt. Like any other young artist, Fontana immediately created work which followed the prevailing aesthetic movement of the time, in his case the Novecento Italiano. Novecento was a representational movement characterised by a dismissal of European Avant-Garde aesthetics in favour of embracing Italy's classical representational tradition. This however did not curb Fontana's curiosity and he quickly began to explore new means of expression. In 1935 Fontana moved to the small coastal town of Albisola in the northwest of Italy. At the time, Albisola was the centre of experimental Italian ceramic production, and it was there that Fontana's ceramic investigations truly began. During this productive period, Fontana tackled a large array of traditional subject matter including rampant horses, lions, saints, sibyls, warriors, and crucifixes. Whilst ostensibly figurative, these works were executed in a loose and intense manner, the plasticity of clay acting as the perfect foil for Fontana's firm and expressive manipulation. The highly finished technique of his earlier work became looser and looser, eventually paving the way to the pure abstraction of his later career, when he applied his trademark buchi (holes) and tagli (slashes) to ceramic forms.

The artwork described above is subject to changes in availability and price without prior notice.
Where applicable ARR will be added.
%3Cdiv%20class%3D%22artist%22%3E%3Cstrong%3ELucio%20Fontana%3C%2Fstrong%3E%3C%2Fdiv%3E%20Rosario%20de%20Santa%20F%C3%A9%201899%E2%80%931968%20Comabbio%0A%3Cdiv%20class%3D%22title%22%3E%3Cem%3EConcetto%20Spaziale%20Cratere%3C%2Fem%3E%2C%201968%3C%2Fdiv%3E%0A%3Cdiv%20class%3D%22signed_and_dated%22%3ESigned%20and%20numbered%20on%20the%20reverse%20in%20black%20ink%20%E2%80%9C8%2F75%E2%80%9D%3C%2Fdiv%3E%0A%3Cdiv%20class%3D%22medium%22%3EPorcelain%20multiple%20painted%20in%20gold%3C%2Fdiv%3E%0A%3Cdiv%20class%3D%22dimensions%22%3E38%20x%2028.5%20cm%20%2F%2015%20x%2011.2%20in%3C%2Fdiv%3E