THE FONTANA PHENOMENON
:
from Seaside to Studio
London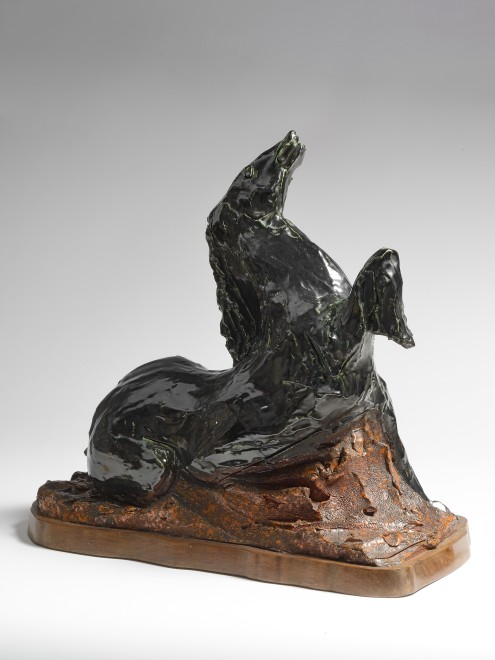 Lucio Fontana
Rampant Horse
,
1936
Rosario de Santa Fé 1899–1968 Comabbio
Glazed ceramic
52 x 51 x 33 cm / 20.5 x 20 x 13 in
Registered at the Fondazione Lucio Fontana, Milan, no. 4119/5
Provenance
Collection of the artist; collection of Dino Tega; European art market

Literature
Flaminio Gualdoni and Paolo Campiglio, eds., Lucio Fontana e Milano, exh. cat. Museo della Permanente, Milan, 1996, pp. 94, 152.
Enrico Crispolti, Lucio Fontana: catalogo ragionato di sculture, dipinti, ambientazioni, Milan, 2006, vol. 1, p. 166, no. 36 SC 10 ill.
Paolo Campiglio, Lucio Fontana: Works from 1936 to 1965, exh. cat. Amedeo Porro Fine Arts and Ben Brown Fine Arts, London, 2015, pp. 34–35.
Bruno Corà, ed., Il rosso e il nero, exh. cat. Galleria Tega, Milan, 2017, p. 108.
Exhibitions
Milan, Museo della Permanente, Lucio Fontana e Milano, 11 October–17 November 1996
London, Amedeo Porro Fine Arts and Ben Brown Fine Arts, Lucio Fontana: Works from 1936 to 1965, 2015
Lucio Fontana's imposing Cavallo of 1936 conveys vitality and force. Clay modelling and ceramics were fundamental to the artist's early career, and although he trained in the academic tradition of sculpture, his passionate and creative nature soon prevailed, leading him to explore a highly experimental practice obsessed with energy and movement. Although strongly influenced in the 1930s by the abstractions of the Futurist ceramicist Tullio Mazzotti, for a period in the late 1930s and 1940s Fontana returned to figuration, until new modernist trends of the post-war period emerged, his own practice evolving concurrently.

Cavallo, executed in 1936, reIates to the commission Fontana undertook in the Sala della Vittoria, during the VI Triennale di Milano, together with the architect Giancarlo Palanti and of the painter Marcello Nizzoli. For the Sala, Fontana created a modern version of an ancient Roman triumph, featuring a woman leading a pair of rampant horses. Despite the inherent classicism of his subject matter, Fontana abstracted the forms, imbuing his monumental plaster sculpture with resolute and surprising modernity. The present work was likely a model for one of the horses, in which Fontana's ceramic medium reveals the gestural quality of his artmaking largely absent in the finished plaster.

The artwork described above is subject to changes in availability and price without prior notice.
Where applicable ARR will be added.
%3Cdiv%20class%3D%22artist%22%3E%3Cstrong%3ELucio%20Fontana%3C%2Fstrong%3E%3C%2Fdiv%3E%20Rosario%20de%20Santa%20F%C3%A9%201899%E2%80%931968%20Comabbio%0A%3Cdiv%20class%3D%22title%22%3E%3Cem%3ERampant%20Horse%3C%2Fem%3E%2C%201936%3C%2Fdiv%3E%0A%3Cdiv%20class%3D%22medium%22%3EGlazed%20ceramic%3C%2Fdiv%3E%0A%3Cdiv%20class%3D%22dimensions%22%3E52%20x%2051%20x%2033%20cm%20%2F%2020.5%20x%2020%20x%2013%20in%3Cbr%20%2F%3E%0ARegistered%20at%20the%20Fondazione%20Lucio%20Fontana%2C%20Milan%2C%20no.%204119%2F5%3C%2Fdiv%3E