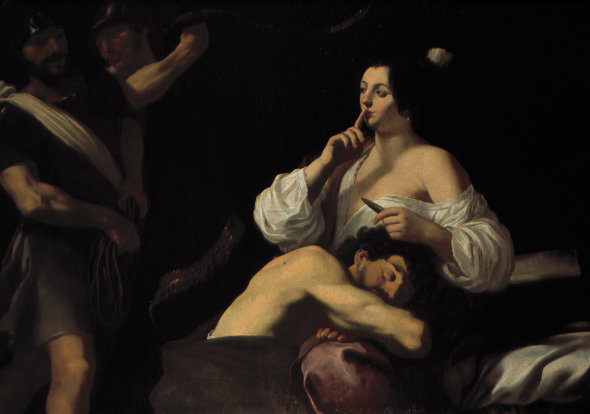 Claude Mellan
Samson and Delilah
,
late 1620s
Abbéville 1598–1688 Paris
Oil on canvas
126.5 x 177.5 cm / 152 x 204 in (framed)
Provenance
Koelliker collection, Milan.
Literature
John T. Spike in Edmund Capon, ed., Darkness and Light: Caravaggio and His World, exh. cat., Sydney and Melbourne 2003–4, pp.156−57, no. 39.
Blandine Chavanne, Dominique Jacquot, and Adeline Collange, ed., Simon Vouet: (les années italiennes 1613/1627), exh. cat. Musée des Beaux-Arts, Nantes and Musée des Beaux-Arts et d'Archéologie, Besançon, 2008–9, p. 92, fig. 55. p.197, no. 88.
Exhibitions
Sydney, Art Gallery of New South Wales and Melbourne, National Gallery of Victoria, Darkness and Light: Caravaggio and His World, 29 November 2003–22 February 2004 and 11 March–30 May 2004
Nantes, Musée des Beaux-Arts and Besançon, Musée des Beaux-Arts et d'Archéologie, Simon Vouet: (les années italiennes 1613/1627), exh. cat. 21 November 2008–23 February 2009 and 27 March–29 June 2009
The tragic subject of this painting, Delilah's betrayal of Samson, is related in an unexpectedly light-hearted manner. Samson, the Israelite champion, is shown deep in sleep upon his lover's knees. Beautiful Delilah, with mischievous eyes that seem more coquettish than treacherous, chooses the moment to summon Samson's sworn enemies, the Philistines. Delilah had accepted their offer of a fortune in return for discovering the secret source of Samson's awesome strength. Following several false starts, described in the Book of Judges (16:4–23), Samson finally confessed the truth—if his hair were to be shorn, his strength would leave him. Holding the scissors in her hand, Delilah touches her finger to her lips in the classic gesture of enjoining silence. After cutting off Samson's hair, the Philistines captured him with ease and put out his eyes.
The biblical drama seems to have served the painter mainly as a pretext for an agreeable exposé of feminine seductiveness. Samson, the ill-fated protagonist, receives distinctly less attention than Delilah's fetching dishabille. She is dressed for the occasion in a pristine white cotton shirt that spills stylishly and seductively from her pale shoulders. While Caravaggio might have loved this Bible story for its heady mix of sex and violence, under the influence of his mentor, Simon Vouet, Mellan has opted instead for a playful eroticism.
Claude Mellan was among the most original and celebrated engravers of the seventeenth century, somewhat to his disappointment. He longed for recognition as a painter, which eludes him still because his hand has yet to be convincingly identified.1 The attribution of this Samson and Delilah is thus hypothetical, although not unfounded. The palette and execution are unmistakably that of a painting from the Roman circle of Vouet. The modelling of the faces of the soldiers, for example, is firm and slightly simplified as one often finds in Vouet in the early 1620s, for example, in the Portrait of Giancarlo Doria in the Musée du Louvre, Paris. However, Delilah's body is too softly moulded for Vouet's own brush. This is a reason, on the other hand, to consider Mellan, whose figure drawings the connoisseur Mariette criticised because the muscles lack detail. Finally, the provisional attribution to Mellan is justified by similarities between Delilah's facial features and fingers and comparable motifs in some of his prints and drawings, for example, the hands and face of Delilah in Mellan's engraving of this subject (fig. 1), and the face in Mellan's 1626 drawing of Virginia da Vezzo, Vouet's young wife, in the Städel Museum, Frankfurt (fig. 2).
Mellan was born in Abbéville in 1598. The inscription on his earliest dated engraving reveals he was already established and working in Paris by 1619. Mellan came to Rome in the spring of 1624 seeking to perfect his technique under Francesco Villamena, who died in August. On 27 October of the same year, MelIan attended a meeting of the Accademia di San Luca, which was presided over by its new principe Simon Vouet (also present were Nicolas Régnier and Trophime Bigot). Vouet was eager to have his designs translated into engravings, the mass media of the time, and immediately invited Mellan to share his house. Within the next two years, Mellan finished thirteen prints after Vouet's paintings. He declined to return to France with him in 1627, however, and remained in Italy until 1637.
1. For the bibliography of this rediscovery-in-progress see Florian Rodari, ed., Claude Mellan: l'écriture de la méthode, exh. cat. Musée Jenisch, Vevey, 2015, with references to relevant bibliography.
Fig. 1. Claude Mellan, Delilah Cutting Samson's Hair, engraving, Metropolitan Museum of Art, New York.
Fig. 2. Claude Mellan, Virginia da Vezzo, 1626, black chalk on paper, Städel Museum, Frankfurt.
The artwork described above is subject to changes in availability and price without prior notice.
%3Cdiv%20class%3D%22artist%22%3E%3Cstrong%3EClaude%20Mellan%3C%2Fstrong%3E%3C%2Fdiv%3E%20Abb%C3%A9ville%201598%E2%80%931688%20Paris%0A%3Cdiv%20class%3D%22title%22%3E%3Cem%3ESamson%20and%20Delilah%3C%2Fem%3E%2C%20late%201620s%3C%2Fdiv%3E%0A%3Cdiv%20class%3D%22medium%22%3EOil%20on%20canvas%3C%2Fdiv%3E%0A%3Cdiv%20class%3D%22dimensions%22%3E126.5%20x%20177.5%20cm%20%2F%20152%20x%20204%20in%20%28framed%29%3C%2Fdiv%3E