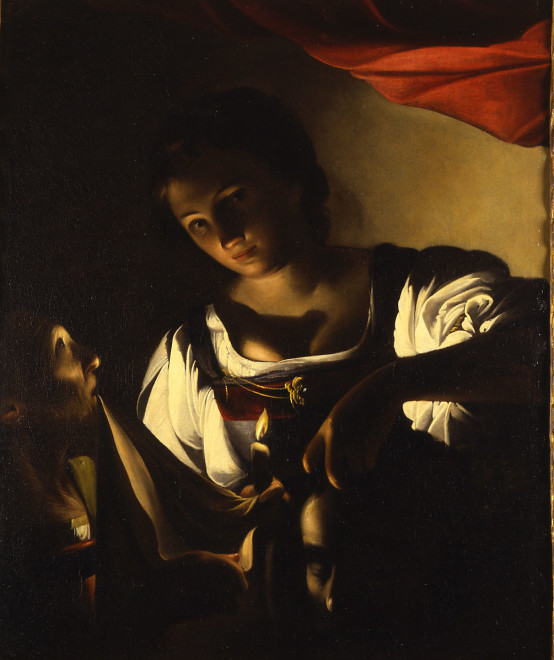 Carlo Saraceni
Judith with the Head of Holofernes
,
ca. 1610–18
Venice 1579?–1620 Venice
Oil on canvas
92 x 76.5 cm / 36 1/4 x 30 1/8 in
Provenance
Sotheby's, London, 31 October 1979, lot 21;
Ruggero Poletti, Lugano;
Private collection.
Literature
John T. Spike in Edmund Capon, ed., Darkness and Light: Caravaggio and His World, exh. cat., Sydney and Melbourne 2003–4, p. 102.
Gianni Papi, in José Milicua and María Margarita Cuyàs, eds., Caravaggio y la Pintura realista europea, exh. cat. Museu Nacional d'Art de Catalunya, Barcelona, 2005–6, p. 277.
Gianni Papi, ed., La "schola" del Caravaggio. Dipinti dalla Collezione Koelliker, exh. cat., Palazzo Chigi, Ariccia, 2006–7, pp. 102–5.
Chiara Marin, Carlo Saraceni, Doctoral dissertation: École pratique des hautes études, Paris and Università Ca' Foscari di Venezia, Venice, 2012–13, vol. 2, no. 17, pp. 234–35.
Maria Giulia Aurigemma, ed., Carlo Saraceni, 1579–1620: un veneziano tra Roma e l'Europa, exh. cat. Palazzo di Venezia, Rome, 2013–14, pp. 31–44, and no. 14, pp. 237–40 (with incorrect photo). Andrea Donati, "Una Giuditta di Saraceni e una Vanità di Cagnacci" Arte documento 33 (2016), pp. 170–75.
Exhibitions
Sydney, Art Gallery of New South Wales and Melbourne, National Gallery of Victoria, Darkness and Light: Caravaggio and His World, 29 November 2003–22 February 2004 and 11 March–30 May 2004
Ariccia, Palazzo Chigi, La "schola" del Caravaggio. Dipinti dalla Collezione Koelliker, 13 October 2006–11 February 2007
The subject of Carlo Saraceni's painting is taken from the Apocryphal book of Judith in the Old Testament, and narrates the story of the widow Judith, who saved her city of Bethulia from the siege of Holofernes, general of the Assyrian king Nebuchadnezzar. Judith killed Holofernes after a banquet at which he had been made drunk, beheading him and showing his head to her fellow citizens (Judith 10–13).
Saraceni painted the popular subject of Judith with the Head of Holofernes twice in his career, in two different compositions; both exist in numerous versions by the artist and his workshop. One composition shows Judith upright and turning to look straight at the viewer, with the head in her left hand and a sword in her right. Her maid is just beyond her right shoulder but still quite forward in the composition, lit brightly. Both women are attired in colourful clothing and Judith wears a jewelled hairpiece and brooches; the drapery is rendered in a classically elegant manner. The composition is clearly based on Lorenzo Lotto's treatment of the same subject, painted in 1512; now in the Banca Nazionale del Lavoro, Rome, Saraceni would have seen the painting in Rome in the early 1600s, when it was in the Aldobrandini collection. The prime version is now in a private collection in Madrid, and the various versions are generally dated between 1605 and 1610.

Saraceni's other treatment of the subject is candlelit, exemplifying his experiments in tenebrism. Set in a dark interior, Judith is seen at the centre of the composition, glancing up at the viewer. Her maid is in the lower left corner, fearfully regarding Judith, who holds up the head of Holofernes with her left hand. Perhaps the best-known version of this composition is now in Kunsthistorisches Museum in Vienna; the present work, and other versions of the subject, are usually dated between 1610 and 1618. However, in the Vienna painting, and a number of the versions, the red curtain has been removed, Judith wears a crown of flowers and her bodice is unfastened, and the face of Holofernes, his mouth open wide in a scream of intense pain, can be seen, all made more visible by considerably brighter overall light effects that are found in the present work.
Born in Venice into a family of Bolognese merchants, Saraceni moved to Rome in around 1598, specialising in the early part of his career in small format pictures. He and Adam Elsheimer, who arrived in Venice in 1598 and went to Rome two years later, exerted a mutual influence on each other; in particular, both created innovative nocturnal scenes that marked them out as pioneers in this genre. The nocturnes of Titian and the Bassano family clearly influenced both Elsheimer and Saraceni; in Rome, the tenebrism of Caravaggio had created a taste for candlelit compositions, which artists like Saraceni met in works like the present canvas.
The artwork described above is subject to changes in availability and price without prior notice.

%3Cdiv%20class%3D%22artist%22%3E%3Cstrong%3ECarlo%20Saraceni%3C%2Fstrong%3E%3C%2Fdiv%3E%20Venice%201579%3F%E2%80%931620%20Venice%0A%3Cdiv%20class%3D%22title%22%3E%3Cem%3EJudith%20with%20the%20Head%20of%20Holofernes%3C%2Fem%3E%2C%20ca.%201610%E2%80%9318%3C%2Fdiv%3E%0A%3Cdiv%20class%3D%22medium%22%3EOil%20on%20canvas%3C%2Fdiv%3E%0A%3Cdiv%20class%3D%22dimensions%22%3E92%20x%2076.5%20cm%20%2F%2036%201%2F4%20x%2030%201%2F8%20in%3C%2Fdiv%3E