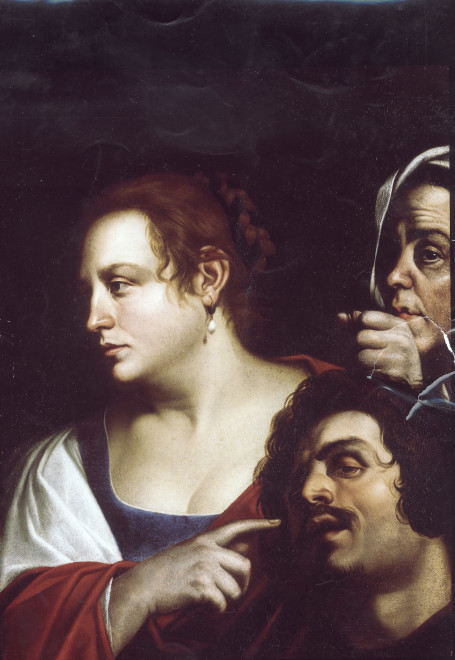 Attributed to Artemisia Gentileschi
Judith with the Head of Holofernes
,
ca. 1615–20
Rome 1593–1654 or later Naples
Oil on canvas
64 x 48 cm
25 1/4 x 18 7/8 in
Provenance
Possibly Sacchetti collection, Rome.
Koelliker collection, Milan.
The Old Testament heroine Judith was a beautiful Jewish widow who entered the tent of the Assyrian general Holofernes, decapitated him with his own sword, and brought his head back to her people. Showing Judith gesturing to the severed head as her maidservant looks on, the present painting, which seems to have been somewhat reduced from its original dimensions, has been attributed by Claudio Strinati to Artemisia Gentileschi, the most celebrated female artist of the seventeenth century and herself one of the great heroines of feminist art history.
Artemisia was born in Rome, the only daughter of the artist Orazio Gentileschi, under whom she trained. At the age of seventeen she was raped by Agostino Tassi, a family friend and Orazio's artistic collaborator. During the infamous trial that followed, Artemisia testified and was tortured. After the trial she married and moved to Florence, and it is to this period that Strinati has dated the work, noting that the distinctive features of Judith, shown in profile, correlate well with other works from this period in which Artemisia cast herself in the role of the female protagonist.
Indeed, Artemisia seems to have used her own image frequently in works she produced in Florence. New to the city and keen to demonstrate her talent, she may have painted these pictures in a conscious act of self-promotion. Many of Artemisia's paintings, in particular those depicting an at once vulnerable and strong female heroine, have often been read in biographical terms. Here, the choice of representing herself as a virtuous heroine who has triumphed over an oppressor might be underscored by Strinati's suggestion that the head of Holofernes is a portrait of Agostino Tassi.
Strinati's suggestion that the painting can be linked with one mentioned in inventories of the Sacchetti collection in Rome likewise merits further consideration.
The artwork described above is subject to changes in availability and price without prior notice. Where applicable ARR will be added.
%3Cdiv%20class%3D%22artist%22%3E%3Cstrong%3EAttributed%20to%20Artemisia%20Gentileschi%3C%2Fstrong%3E%3C%2Fdiv%3E%20Rome%201593%E2%80%931654%20or%20later%20Naples%0A%3Cdiv%20class%3D%22title%22%3E%3Cem%3EJudith%20with%20the%20Head%20of%20Holofernes%3C%2Fem%3E%2C%20ca.%201615%E2%80%9320%3C%2Fdiv%3E%0A%3Cdiv%20class%3D%22medium%22%3EOil%20on%20canvas%3C%2Fdiv%3E%0A%3Cdiv%20class%3D%22dimensions%22%3E64%20x%2048%20cm%3Cbr%20%2F%3E%0A25%201%2F4%20x%2018%207%2F8%20in%3C%2Fdiv%3E