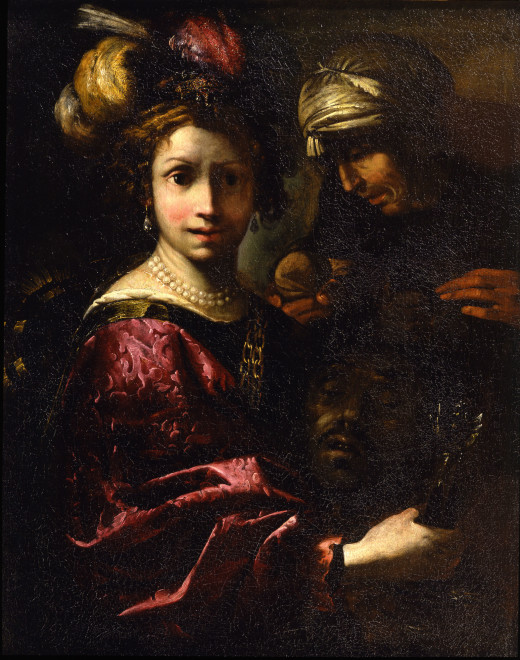 Claude Vignon
Judith with the Head of Holofernes
,
ca. 1620
Tours 1593–1670 Paris
Oil on canvas
99 x 78.7 cm / 39 x 31 in
Provenance
Carlo Orsi
The Wellington Gallery
From 2001, Koelliker collection
Literature
Gianni Papi in Caravaggio e l'Europa: il movimento caravaggesco internazionale da Caravaggio a Mattia Preti, exh. cat. Palazzo Reale, Milan, and Liechtenstein Museum, Vienna, 2005–6, pp. 296–97, no. IV.5.
David Franklin and Sebastian Schütze, eds., Caravaggio and his Followers in Rome, National Gallery of Canada, Ottawa, and Kimbell Art Museum, Fort Worth, Texas, 2011–12, pp. 268–69, and p. 321, no. 50.
Exhibitions
Milan, Palazzo Reale, and Vienna, Liechtenstein Museum, Caravaggio e l'Europa: il movimento caravaggesco internazionale da Caravaggio a Mattia Preti, 15 October 2005–6 February 2006 and 5 March–9 July 2006
Ottawa, National Gallery of Canada and Fort Worth, Texas, Kimbell Art Museum, Caravaggio and his Followers in Rome, 10 June 2011–11 September 2011 and 9 October 2011–8 January 2012
This painting takes as its subject the biblical Jewish heroine Judith, who bravely went to the camp of the besieging Assyrians, plied the enemy general Holofernes with drink, and cut off his head. Judith stands in the foreground, while her maid is relegated to a secondary plane. The delicate young heroine is elegantly dressed in a shimmering carmine red brocade gown with a pearl collier and a fanciful feathered hat, and she gazes at the viewer in terror and stupefaction. The drama of the narrative is largely confined to Judith's visage, lost in its melancholy and narcissistic beauty; while Holofernes' bloodied head is more than half-hidden in shadow.
Previously attributed to Giovanni Battista Discepoli, called "Lo Zoppo di Lugano", and Francesco Cairo, the present work has most recently and convincingly been attributed to the French painter Claude Vignon; placed during his final years in Rome before his return to Paris, the work shows the French artist's masterful interpretation of Caravaggio's work. Vignon was a remarkably prolific and important French painter of the seventeenth century, whose eclectic style quite originally assimilates the many influences he absorbed on his travels throughout Europe during his career. Born in Tours, he received his early training in Paris and though he was first recorded in Rome by 1618, he was likely based there from as early as 1610. He was part of the community of French painters working in Rome in the wake of Caravaggio's death, including Simon Vouet and Valentin de Boulogne, who were greatly influenced by the master as well as his closest follower, Bartolomeo Manfredi. Vignon's style, particularly after his return to Paris by his marriage in 1623, exhibits a sensitivity to the mannerist styles and colors of Northern artists.
The artwork described above is subject to changes in availability and price without prior notice. Where applicable ARR will be added.
%3Cdiv%20class%3D%22artist%22%3E%3Cstrong%3EClaude%20Vignon%3C%2Fstrong%3E%3C%2Fdiv%3E%20Tours%201593%E2%80%931670%20Paris%0A%3Cdiv%20class%3D%22title%22%3E%3Cem%3EJudith%20with%20the%20Head%20of%20Holofernes%3C%2Fem%3E%2C%20ca.%201620%3C%2Fdiv%3E%0A%3Cdiv%20class%3D%22medium%22%3EOil%20on%20canvas%20%3C%2Fdiv%3E%0A%3Cdiv%20class%3D%22dimensions%22%3E99%20x%2078.7%20cm%20%2F%2039%20x%2031%20in%3C%2Fdiv%3E