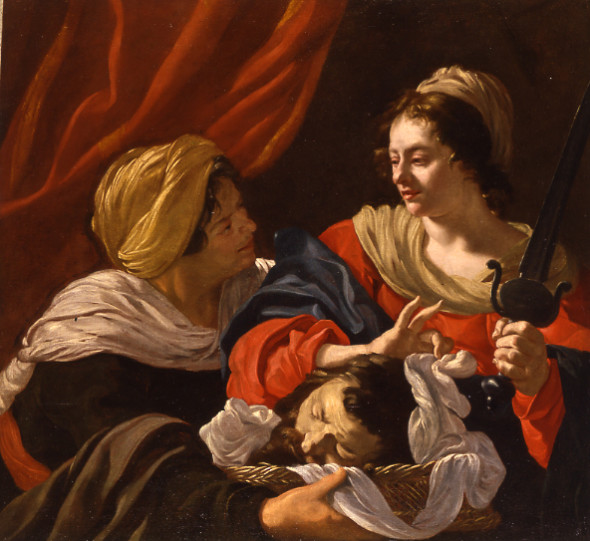 Jacques de Létin
Judith with the Head of Holofernes
,
ca. 1620s
1597 Troyes–1661 Troyes
Oil on canvas
106.5 x 113.5 cm / 41.9 x 44.6 in
Provenance
In 1989, Gombert, Paris
Galleria Gilberto Zabert, Turin, 1992
Millon & Associés, Lille, 17 June 2001, no. 270
Pierre Bergé & Associés, Hôtel Drouot, Paris, 19 December 2003, salle 10
Koelliker collection, Milan
Literature
Dipinti e mobili da collezione dal XV al XVIII secolo, exh. cat. Galleria Gilberto Zabert, Turin, 1992, no. 27.
Blandine Chavanne, Dominique Jacquot, and Adeline Collange, ed., Simon Vouet: (les années italiennes 1613/1627), exh. cat. Musée des Beaux-Arts, Nantes and Musée des Beaux-Arts et d'Archéologie, Besançon, 2008–9, no. 90, p. 199.
Exhibitions
Turin, Galleria Gilberto Zabert, Dipinti e mobili da collezione dal XV al XVIII secolo, 13 November–22 December 1992
Nantes, Musée des Beaux-Arts and Besançon, Musée des Beaux-Arts et d'Archéologie, Simon Vouet: (les années italiennes 1613/1627), 21 November 2008–23 February 2009 and 27 March–29 June 2009
The Old Testament heroine Judith was a favourite subject of Roman Caravaggesque painters, thanks to the enduring power of Caravaggio's magisterial canvas now in the Galleria Nazionale d'Arte Antica, Palazzo Barberini, Rome (fig. 1), and its mesmerizing conflation of elegance and violence. Later painters offered three distinct interpretations on the theme: Judith is shown in the act of decapitating her victim, as in Caravaggio's painting, Judith is presented alone, displaying Holofernes' head to the viewer, or, Judith is depicted in the company of her maidservant, Abra, in the midst of hiding Holofernes' head in sack and setting about their escape from his tent. The present painting belongs to this last group. The composition, wider than it is tall, is situated against a neutral dark background, animated by a swath of red drapery at the right, indicating the tent in which the scene is set but also the artist's debt to Caravaggio. Likewise Caravaggesque is the experimentation with light effects, the face of the maidservant at left receding in obscure darkness, while that of Judith is brilliantly illuminated but dappled with shadows. The maidservant proffers Holofernes' head, held in a wicker basket, to Judith, who with almost dainty indifference covers it with a white cloth held gingerly in her insouciantly curved fingers. Such reticence, too, is reminiscent of Caravaggio's Judith, awkward in the act of decapitation. At the same time, the theatrical and lyrical arrangement of the draperies, Judith's delicately pointed fingers, and the warm and vibrant colour palette suggest the influence of Simon Vouet.
As it passed through the French and Italian art market at the end of the 1980s and into the 1990s the painting was attributed to Vouet's less well-known compatriot, Jacques de Létin, a native of Troyes. Following his apprenticeship in his native city, Létin, like so many painters of his generation departed for Rome and is recorded living there between 1622 and 1625. In Rome he met Vouet and was closely connected with the circle of French artists active in the city. Upon his return to Troyes, Létin received numerous commissions for churches in the city and its environs, and eventually found himself in demand in Paris. In 1636 he painted the "May", the religious painting commissioned annually for the cathedral of Notre-Dame by the goldsmiths' corporation (the subject was Saint Paul on Areopagus Converting Saint Denis and Others by his Preaching, and the work was destroyed in 1870). For the Jesuits of Saint Paul–Saint Louis he painted the Death of Saint Louis (in situ) and also worked for the Jacobins of the Faubourg Saint Honoré. Only around forty works by Létin have been identified—many of which were presented at the monographic exhibition held in 1976 at the Musée des beaux-arts de Troyes—and while a number of works executed in France by the artist demonstrate an awareness of Vouet's Roman manner, the present picture is the only work which seems to survive from his Roman period proper. Despite the absence of securely documented points of comparison, the subject of the work, the simultaneous debts to Vouet and to Caravaggio, and the great freedom of its execution, in particular the broad brushwork in the drapery, places it during this fundamental early period of the artist's career.
Fig. 1. Caravaggio, Judith Beheading Holofernes, ca. 1599, oil on canvas, Galleria Nazionale d'Arte Antica, Palazzo Barberini, Rome.
The artwork described above is subject to changes in availability and price without prior notice.



%3Cdiv%20class%3D%22artist%22%3E%3Cstrong%3EJacques%20de%20L%C3%A9tin%3C%2Fstrong%3E%3C%2Fdiv%3E%201597%20Troyes%E2%80%931661%20Troyes%0A%3Cdiv%20class%3D%22title%22%3E%3Cem%3EJudith%20with%20the%20Head%20of%20Holofernes%3C%2Fem%3E%2C%20ca.%201620s%3C%2Fdiv%3E%0A%3Cdiv%20class%3D%22medium%22%3EOil%20on%20canvas%20%3C%2Fdiv%3E%0A%3Cdiv%20class%3D%22dimensions%22%3E106.5%20x%20113.5%20cm%20%2F%2041.9%20x%2044.6%20in%3C%2Fdiv%3E