Masterpiece x Artsy 2020
London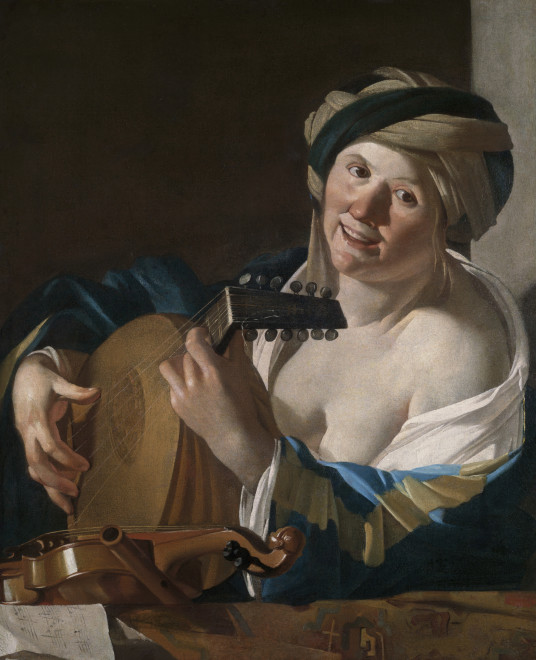 Dirck Jaspersz. van Baburen
A Woman Playing the Lute
,
ca. 1620–24
Wijk bij Duurstede ca. 1594/95–1624 Utrecht
Oil on canvas
85.3 x 69.6 cm / 33.6 x 27.4 in
Provenance
From the nineteenth century, private collection, Netherlands;
Christie's, Amsterdam, 11 May 2005, lot 44;
Marco Voena;
Koelliker collection, Milan.
Literature
Leonard J. Slatkes, Dirck van Baburen (c. 1595–1624): A Dutch Painter in Utrecht and Rome, Utrecht, 1965, p. 140.
Wayne E. Franits in In Pursuit of Caravaggio, exh. cat. Robilant+Voena, London 2016–17, pp. 60–61.
Exhibitions
London, Robilant+Voena, In Pursuit of Caravaggio, 21 November 2016–17 February 2017
Renowned for his painterly style and exuberant broad brushstrokes, Dirck van Baburen was a leading member of the Utrecht Caravaggisti, a group of Utrecht artists who moved to Rome in the early seventeenth century, and upon their return, introduced the dramatic chiaroscuro and intense realism of Caravaggio to the northern Netherlands. Until around 1620, the opulent mannerist paintings of Joachim Wtewael and Abraham Bloemaert prevailed in the predominantly Catholic city of Utrecht, while the progressive Italianate influence since the late sixteenth century had been primarily Venetian. It was not until the mid-twentieth century that scholars, museums, and collectors began to fully appreciate the extraordinary talent of these artists.
Fewer than forty autograph works are known by Van Baburen, whose untimely death at the age of thirty brought an abrupt end to his career. In 1612/13, the nineteen-year-old Van Baburen left the studio of Paulus Moreelse for Italy and spent most of his time there in Rome. Following the death of Caravaggio in 1610, the decade of Van Baburen's arrival in the Eternal City witnessed the pinnacle of the Caravaggesque movement in Rome, owing to the popularity of his novel style, both among patrons and the influx of talented artists who practiced it. With few exceptions, most of the fourteen works dated from Van Baburen's prized Roman period consist of religious subjects, highlighted by prestigious commissions such as the altarpiece of the Pietà Chapel of San Pietro in Montorio for Pietro Cussida, a Spanish diplomat and art collector who was also the patron for Ribera's celebrated Five Senses series of around 1615–16. After his return to Utrecht, Van Baburen worked closely and possibly shared a studio with Hendrick Ter Brugghen. Van Baburen is also a contemporary of Gerrit van Honthorst, whose early works are Caravaggesque with a specialization in nocturnal light effects. All of the Utrecht Caravaggisti were capable of a caricatural crudeness of expression, especially when back in the Netherlands. On his return to Utrecht, Van Baburen veered away from purely religious subjects towards allegories and genre scenes, especially those with concerts and single musical figures, which became part of his circle's standard repertoire.

A Woman Playing the Lute constitutes a notable addition to the comparatively small oeuvre of this early seventeenth-century Dutch Caravaggist. In the "Lost Works Known Through Copies and Prints" section of his classic monograph on the artist, published in 1965, Leonard J. Slatkes included an entry on an awkward painting of a duet that in his opinion, "must reflect an original", that was "therefore executed in 1622 or early 1623". However, the clumsy additive composition of this copy more persuasively suggests that the lost original was the present painting; the additional musician in the copy essentially replicates, in reverse, another lost solitary musician by Van Baburen.

A Woman Playing a Lute is quite typical of the types of subjects that Van Baburen executed after his return to Utrecht, most likely in 1620, following an extended stay in Rome. The theory that the unusual black-grounded canvas upon which the present picture was painted is Italian has not been proven, and the concomitant assumption that this demonstrates that the artist was in Rome as late as 1622 is unfounded. Van Baburen's return to Utrecht (along with that of his colleague Gerrit van Honthorst) proved seminal for the work of the city's most talented Caravaggist, Hendrick ter Brugghen. The work of these younger masters provided Ter Brugghen with up-to-date models of Caravaggism, as did their copies of paintings by Caravaggio and his followers. At this time, Ter Brugghen entered what can be termed the middle phase of his activity, characterised by a renewed interest in the achievements of the great Italian painter. And nowhere is this more clearly demonstrated than in the representation of single-figure musicians. If indeed Van Baburen was still in Italy until 1622, it would be very difficult to explain Ter Brugghen's interest in genre paintings of unusually clothed musicians that surfaced rather suddenly with the Flute and Fife Players (Gemäldegalerie Alte Meister, Kassel), signed and dated 1621.

Yet more evidence can be marshalled against the hypotheses that the present picture was made in Italy and that Van Baburen resided there until 1622. By that very same year, 1622, Van Baburen and Ter Brugghen seem to have established a joint studio, an enterprise that would only end when the former died in 1624. From their joint studio appeared a series of pictures whose figural types and general stylistic features can be characterized as an amalgam of both of the artists' styles. Moreover, these paintings bear the monogram "tB"; this unusual form of inscription is not found on autograph works by either master, though Van Baburen normally signed his paintings with a capital "T" for Theodorus, the Latin form of his first name, Dirck. Slatkes has plausibly suggested that this odd monogram was intended as a studio "trademark" since the initials could stand for either Ter Brugghen or Van Baburen. Thus, this monogram may have been used as a workshop inscription for pictures and second versions that were produced by the common studio that Van Baburen and Ter Brugghen seem to have shared.

The artwork described above is subject to changes in availability and price without prior notice.
Where applicable ARR will be added.
%3Cdiv%20class%3D%22artist%22%3E%3Cstrong%3EDirck%20Jaspersz.%20van%20Baburen%3C%2Fstrong%3E%3C%2Fdiv%3E%20Wijk%20bij%20Duurstede%20ca.%201594%2F95%E2%80%931624%20Utrecht%0A%3Cdiv%20class%3D%22title%22%3E%3Cem%3EA%20Woman%20Playing%20the%20Lute%3C%2Fem%3E%2C%20ca.%201620%E2%80%9324%3C%2Fdiv%3E%0A%3Cdiv%20class%3D%22medium%22%3EOil%20on%20canvas%3C%2Fdiv%3E%0A%3Cdiv%20class%3D%22dimensions%22%3E85.3%20x%2069.6%20cm%20%2F%2033.6%20x%2027.4%20in%20%3C%2Fdiv%3E