Masterpiece x Artsy 2020
London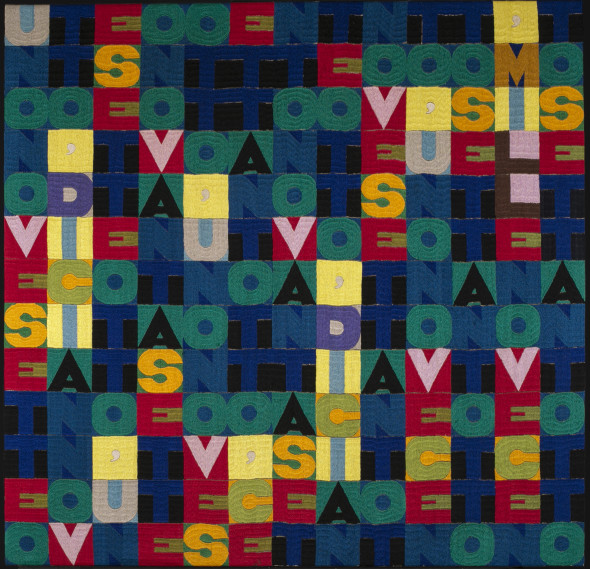 Alighiero Boetti
Untitled (MILLENOVECENTO SETTANTOTTO)
,
1978
Turin 1940–1994 Rome
Signed and dated 'alighiero e boetti 1978 Kabul' (on the reverse) Registered at the Archivio Alighiero Boetti, Rome, no. 9482, certificate dated 19.06.201
Silk embroidery on canvas
94 x 94 cm (37 1/8 x 37 1/8 in.)
Provenance
Galleria Persano, Turin,
Private Collection, Turin,
Aste Bolaffi, Turin, 6 November 2019, lot. 503.
The conceptual artist Alighiero Boetti was one of the most influential figures in art of the postwar era. Boetti was a founding member of the Arte povera movement, but around 1972 he separated from the group and moved to Rome, where he forged a highly original conceptual idiom. Around this time he changed his name to 'Alighiero e Boetti' and started signing his work this way, as though he were two artists in one. Between 1971 to 1994 he undertook a series of projects working together with Afghan embroiderers. The resulting embroideries, many of which are monumental in scale, remain his most iconic works. Boetti first worked in Kabul, and then, following the Soviet occupation of Afghanistan in 1979, in the refugee camps of Pakistan. His female Afghan collaborators transformed Boetti's templates into embroidered pieces, including Arazzi, brightly coloured grids of letters that spell out phrases, Mappe, world maps with each country delineated by the colours and symbols of their flags, and Tutti, filled with diverse objects, from sunglasses to scissors, collaged intricately together.
The present work is one of his Arazzi, multi-coloured embroideries of mosaic-like grids of individual letters which combine into words and phrases that the viewer must decipher by reading, in an unconventional manner, from top to bottom, from the left column to the right. Each letter is an autonomous form, and by breaking text down into its constituent parts, Boetti exposes language as a sophisticated but ultimately artificial arrangement of forms. The artists drew his texts from poetry, proverbs from around the world, or aphorisms he invented himself.
In the present example, Boetti plays with the numbers of the year in which the work was created, 1978: reading from left to right and from top to bottom are many combinations of letters composing the year MILLENOVECENTO SETTANTOTTO (meaning 'one thousand nine hundred seventy-eight'). Dates were especially significant for Boetti, who took profound interest in the concept of time and its inevitable passing. The artist meticulously signed and dated all of his works once noting that: 'With every day that goes by, this date becomes more beautiful. It's time that works, it's all that works.' In the case of the present piece, that all-important date has become the work's subject. This date was, moreover, significant for the artist: in the following year 1979, Soviet troops invaded and occupied Afghanistan, putting a halt to Boetti's tapestry production in the country.
Please note that the price and availability of the above work are subject to change without prior notice. Where applicable ARR will be added.
%3Cdiv%20class%3D%22artist%22%3E%3Cstrong%3EAlighiero%20Boetti%3C%2Fstrong%3E%3C%2Fdiv%3E%20Turin%201940%E2%80%931994%20Rome%0A%3Cdiv%20class%3D%22title%22%3E%3Cem%3EUntitled%20%28MILLENOVECENTO%20SETTANTOTTO%29%3C%2Fem%3E%2C%201978%3C%2Fdiv%3E%0A%3Cdiv%20class%3D%22signed_and_dated%22%3ESigned%20and%20dated%20%27alighiero%20e%20boetti%201978%20Kabul%27%20%28on%20the%20reverse%29%3Cbr%20%2F%3E%0ARegistered%20at%20the%20Archivio%20Alighiero%20Boetti%2C%20Rome%2C%20no.%209482%2C%20certificate%20dated%2019.06.201%3C%2Fdiv%3E%0A%3Cdiv%20class%3D%22medium%22%3ESilk%20embroidery%20on%20canvas%3C%2Fdiv%3E%0A%3Cdiv%20class%3D%22dimensions%22%3E94%20x%2094%20cm%20%2837%201%2F8%20x%2037%201%2F8%20in.%29%3C%2Fdiv%3E