RACE MATTERS
:
Seeing the Black Figure in the European Tradition
London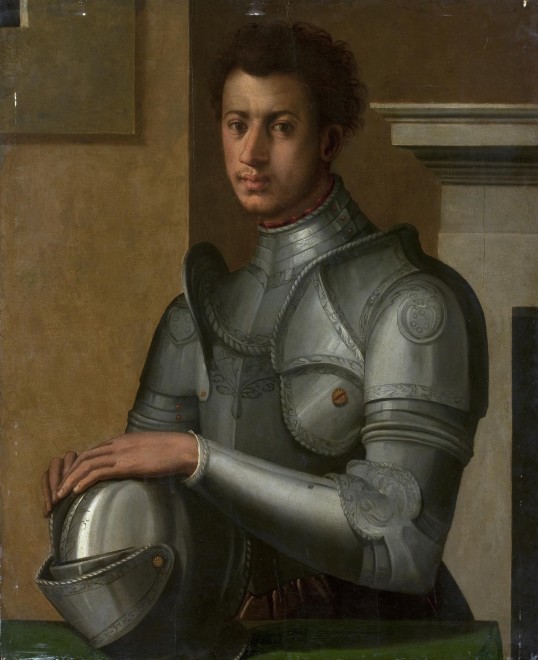 Circle of Bronzino (Agnolo di Cosimo di Mariano)
Portrait of Duke Alessandro de' Medici
Monticelli 1503–1572 Florence
Oil on panel
82 x 67 cm / 32 1/4 x 26 3/8 in
State Hermitage Museum, Saint Petersburg
ГЭ-5426
Contemporary notions of race assert that even a small amount of Black or African heritage that is mixed with other races is enough to render the person simply Black. This blackness is not fixed, but it is a fluid and relative concept with historical manifestations that emerge in surprising places in the history of art. This case is one of them. Working from this admittedly present-day point of view, the Portrait of Duke Alessandro de' Medici is included in this exhibition in spite of the vagaries of defining blackness historically. This portrait represents the extraordinary history of a "Black" person who rose to power and prominence in Renaissance Florence. Alessandro's presence in this highly influential culture that helped to define the course of Western art created a confluence of circumstances that is quite unusual. The painting depicts Alessandro, the mixed-race Duke who ruled Florence from 1531 to 1537. Although illegitimate, he was member of the notorious, wealthy, and powerful Medici family. There is debate as to whether his father was Lorenzo de' Medici or Giulio de' Medici, but he was heir to the line of Lorenzo the Magnificent.* He was also not far removed from the issue of servitude; his mother was a "Moorish" servant. Moorish was an indeterminate term that could describe many different African ethnicities, thus throwing his racial heritage into question and vexing subsequent accounts of his life. This portrait depicts Alessandro in armor engraved with the Medici coat of arms in a composition that suggests strength and authority. The direct and somewhat tender gaze belies his reputation as a pleasure-seeking tyrant. As the years have progressed, the issue of Alessandro's shifting states of blackness has been filtered through evolving concepts of race that respond to written accounts and images such as this portrait.** His portraits have been used in subsequent centuries to affirm or deny Alessandro's blackness, an issue that has not been resolved. Images such as these may be ambiguous but provide a window into how race is constructed and/or obscured in art the European tradition.
* See Catherine Fletcher, The Black Prince of Florence (Oxford, 2016).
** Mary Gallucci, "Mistaken Identities?: Alessandro de Medici and the Question of Race" Journal for Early Modern Cultural Studies 15, 3 (2015), pp. 40–81.
%3Cdiv%20class%3D%22artist%22%3E%3Cstrong%3ECircle%20of%20Bronzino%20%28Agnolo%20di%20Cosimo%20di%20Mariano%29%3C%2Fstrong%3E%3C%2Fdiv%3E%20Monticelli%201503%E2%80%931572%20Florence%0A%3Cdiv%20class%3D%22title%22%3E%3Cem%3EPortrait%20of%20Duke%20Alessandro%20de%27%20Medici%3C%2Fem%3E%3C%2Fdiv%3E%0A%3Cdiv%20class%3D%22medium%22%3EOil%20on%20panel%3C%2Fdiv%3E%0A%3Cdiv%20class%3D%22dimensions%22%3E82%20x%2067%20cm%20%2F%2032%201%2F4%20x%2026%203%2F8%20in%3Cbr%20%2F%3E%0AState%20Hermitage%20Museum%2C%20Saint%20Petersburg%3Cbr%20%2F%3E%0A%D0%93%D0%AD-5426%3C%2Fdiv%3E