RACE MATTERS
:
Seeing the Black Figure in the European Tradition
London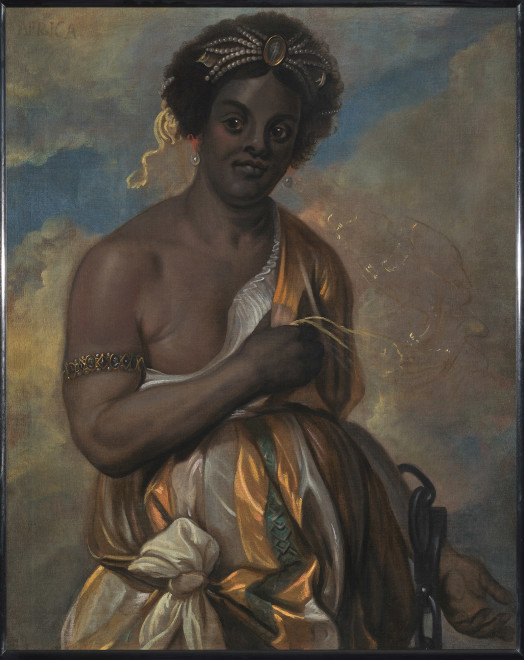 Jan Boeckhorst
Allegory of Africa (from the Four Parts of the World)
,
ca. 1650
Münster 1604–1668 Antwerp
Inscribed upper left: AFRICA
Oil on canvas
105 x 82 cm / 41 3/8 x 32 1/4 in
As the early modern world became increasingly globalized allegories of Africa, Asia, America and Europe, or personifications of the four continents, provided a way for Europeans to identify, differentiate, understand, and consume the different parts of the world. The allegory of Africa was one of the most powerful representations of the Black figure because it was a seen as a totalizing image that aimed to sum up the entirety of a continent and a race of people. It could be found on maps, paintings, architecture, books, prints, and more. Through objects and attributes such as a lion, a piece of coral or an elephant headdress, the allegory of Africa described the continent not as it was but filtered through European perceptions of what represented the continent. Jan Boeckhorst's Allegory of Africa is part of a four-piece suite of the continents. Allegories do not stand alone but must be considered in relation to the other continents. Africa and America were usually the most primitive of the four with exposed breasts or completely nude and associated with wildlife or natural resources. By contrast, Asia and especially Europe were presented in terms of kingship, knowledge, technology, and artistry, and the female figures were dressed in elegant attire. Although Boeckhorst's Africa with her elegant clothing and European style jewelry resists these distinctions, she wears slave chains on her wrists. The Atlantic slave trade began in the sixteenth century, and by the mid seventeenth century when this painting was likely created, Africa was the embodiment of servitude, and the lynchpin in the intertwined fates of Europe, America, and Africa.
%3Cdiv%20class%3D%22artist%22%3E%3Cstrong%3EJan%20Boeckhorst%3C%2Fstrong%3E%3C%2Fdiv%3E%20M%C3%BCnster%201604%E2%80%931668%20Antwerp%0A%3Cdiv%20class%3D%22title%22%3E%3Cem%3EAllegory%20of%20Africa%20%28from%20the%20Four%20Parts%20of%20the%20World%29%3C%2Fem%3E%2C%20ca.%201650%3C%2Fdiv%3E%0A%3Cdiv%20class%3D%22signed_and_dated%22%3EInscribed%20upper%20left%3A%20AFRICA%3C%2Fdiv%3E%0A%3Cdiv%20class%3D%22medium%22%3EOil%20on%20canvas%3C%2Fdiv%3E%0A%3Cdiv%20class%3D%22dimensions%22%3E105%20x%2082%20cm%20%2F%2041%203%2F8%20x%2032%201%2F4%20in%3C%2Fdiv%3E