RACE MATTERS
:
Seeing the Black Figure in the European Tradition
London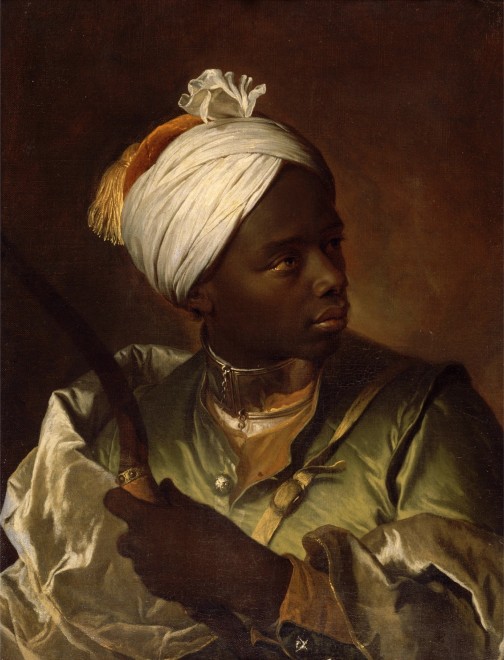 Hyacinthe Rigaud
Young Negro with a Bow
,
c. 1697
Perpignan 1659–1743 Paris
Musée des Beaux-Arts, Dunkerque BA.1982.003.1
Oil on canvas
56.8 x 43.7 cm (22 3/8 x 17 1/4 in.)
Perhaps the most ubiquitous character that young Black men represent in eighteenth-century European art is the liveried servant. Called alternatively pages, retainers, slaves, and attendants, these figures were not pure fiction, but represented the presence of African youths in European courts in the seventeenth and eighteenth centuries. Having a finely dressed Black attendant became a fashion in seventeenth-century courts and aristocratic households across Europe. This portrait speaks to that fashion. Created by Hyacinthe Rigaud, arguably the most important portrait painter of his era, this highly finished work might be a study for a larger portrait or multifigure painting. The young Black boy is pictured in satin clothing and a turban, typical attire for a black servant at court. The presence of the Black page in spaces of wealth and refinement often recalled the vogue for turquerie in which the French court, for instance, mirrored the fantasy of the Turkish court, known to be populated with Black African servants. Far removed from the Atlantic slave trade—their likely conduit to Europe—the artifice with which these young people were clothed and represented at court diverted attention from the harsh realities of slavery in the colonies to exotic entertainment. They also signaled wealth from overseas pursuits and affirmed European dominance over the darker races. The main feature that alludes to their captivity is the silver slave collar, an appointment that was both a sign of luxury and a reminder of ownership. Often seen as pets or curiosities who animate the theater of courtly life, in art of the period they are represented as diminutive youths. It is unclear what happened to these young men when they grew up, but they generally fade from images. In spite of its troubling connotations, Rigaud's portrait presents an individualized human rendering of this young man, free from the kind of stereotype we might encounter at the hands of another artist.
%3Cdiv%20class%3D%22artist%22%3E%3Cstrong%3EHyacinthe%20Rigaud%3C%2Fstrong%3E%3C%2Fdiv%3E%20Perpignan%201659%E2%80%931743%20Paris%0A%3Cdiv%20class%3D%22title%22%3E%3Cem%3EYoung%20Negro%20with%20a%20Bow%3C%2Fem%3E%2C%20c.%201697%3C%2Fdiv%3E%0A%3Cdiv%20class%3D%22signed_and_dated%22%3EMus%C3%A9e%20des%20Beaux-Arts%2C%20Dunkerque%3Cbr%20%2F%3E%0ABA.1982.003.1%3C%2Fdiv%3E%0A%3Cdiv%20class%3D%22medium%22%3EOil%20on%20canvas%3C%2Fdiv%3E%0A%3Cdiv%20class%3D%22dimensions%22%3E56.8%20x%2043.7%20cm%20%2822%203%2F8%20x%2017%201%2F4%20in.%29%3C%2Fdiv%3E