BLACK ARTISTS, BLACK MODELS
:
A Selling Exhibition
London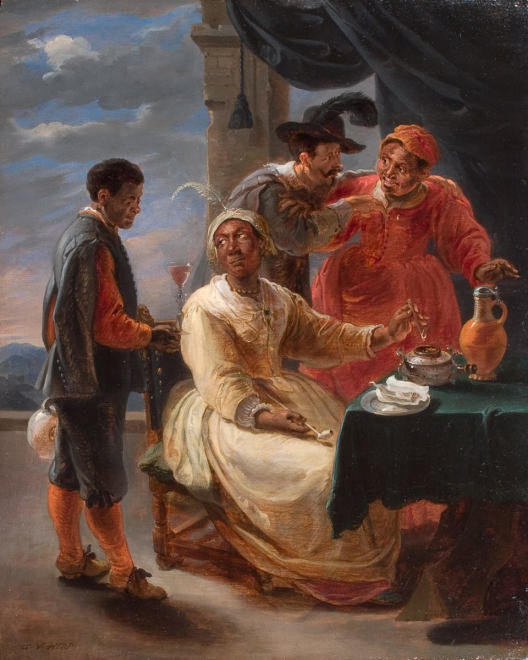 Willem van Herp I
A Bordello Scene
Antwerp 1614–1677 Antwerp
Signed: G.V. HERP
Oil on panel
45.5 x 37.5 cm / 18 x 14 3/4 in
Provenance
Collection of Jean-François Berthault du Tombel; his sale, 30 May 1799, Paillet Delaroche, Paris; sale, 20 February 1817, Masson, Paris; private collection, France, and by descent in the family.
Literature
Terra Brasilis, exh. cat. 2011, Espace Culturel ING, Brussels, pp. 50-51, illus. 48.

Exhibitions
Brussels, Espace Culturel ING, Terra Brasilis, 20 October 2011-12 February 2012, no. 48

The bordello scene, or bordeeltje, was a favourite of Dutch genre painters of the seventeenth century. Such images offered amusing glimpses of male lust and folly, yet at the same time could be read as moralising exhortations against depravity. In this highly unusual example, the madam, lavishly attired in creamy silks, jewellery, and a feathered cap, and the courtesan, dressed in red, are Black women attended by a Black servant boy. Although the Dutch were heavily invested in the international slave trade, slavery was forbidden in the seventeenth-century Netherlands. Initially, people of African descent came to the Dutch Republic as servants working for immigrant families, and from there forged a variety of paths. The global reach of the Dutch mercantile empire and the role of Black protagonists within that system are further in evidence here in the smoking paraphernalia prominently featured on the table. Tobacco from Brazil, where it was typically farmed by Black slaves, was a luxury import into Europe, where the stimulant was at once regarded as a status symbol and as an unhealthy vice.

%3Cdiv%20class%3D%22artist%22%3E%3Cstrong%3EWillem%20van%20Herp%20I%3C%2Fstrong%3E%3C%2Fdiv%3E%20Antwerp%201614%E2%80%931677%20Antwerp%0A%3Cdiv%20class%3D%22title%22%3E%3Cem%3EA%20Bordello%20Scene%3C%2Fem%3E%3C%2Fdiv%3E%0A%3Cdiv%20class%3D%22signed_and_dated%22%3ESigned%3A%20G.V.%20HERP%3C%2Fdiv%3E%0A%3Cdiv%20class%3D%22medium%22%3EOil%20on%20panel%3C%2Fdiv%3E%0A%3Cdiv%20class%3D%22dimensions%22%3E45.5%20x%2037.5%20cm%20%2F%2018%20x%2014%203%2F4%20in%3C%2Fdiv%3E