Creation from Destruction
:
Frieze Masters 2020
London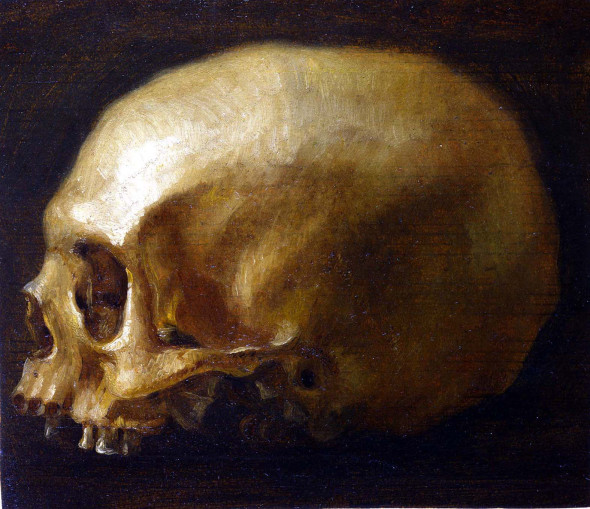 Ubaldo Gandolfi
Skull
,
c. 1770
San Matteo della Decima 1728–1781 Ravenna
Oil on paper laid down on canvas
20.5 x 23.6 cm (8 1/8 x 9 1/4 in.)
Provenance
Walpole Gallery, London;
Jean Luc Baroni, London;
Private Collection, Milan.
Throughout the seventeenth century, a dark genre of still life painting flourished across Europe—the vanitas. During this period of mercantile prosperity, military conflict, and religious upheaval, vanitas paintings were populated with symbolic objects intended to emphasize the brevity of life, the worthlessness of earthly pleasures and goods, and the futility of any quest for power and glory. The skull was the ultimate memento mori, exhorting viewers to "remember you must die."
Ubaldo Gandolfi was interested in depicting still-life details from the very outset of his career. Carefully observed skulls, like the one in the present work, can be found in paintings such as the Portrait of a Nun (ca. 1760, private collection, Bologna), a Saint Catherine of Siena (Church of Sant'Andrea, Minerbio), and the Saint Francis Geronimo (Church of San Lorenzo, Budrio). These last two paintings are usually dated between 1765 and 1770, and a similar date has been proposed for the present work by Donatella Biagi Maio. Ubaldo's only pure still life (private collection, Bergamo) dates to about 1770.
The memento mori here is painted on a sheet of paper whose verso is partially scored with a minuet. During a modern conservation treatment the paper was marouflaged to canvas for stability, but the staff on which the musical notations are inscribed is visible on the recto of the work, especially in the thinly painted areas at the right-hand side of the skull.
Although rare, the use of a musical score as a support is not unique in Ubaldo's oeuvre. A preparatory oil sketch in a private collection for the left leg of Christ in Ubaldo's fresco of the Resurrection in the portico of San Luca was also executed on paper that had been put to a similar use. Furthermore, Donatella Biagi Maino notes that a drawing by Gaetano Gandolfi, formerly in the possession of Alessandro Maggiori, also had a musical annotation on it.
Donatella Biagi Maino has confirmed the attribution of the work.
The artwork described above is subject to changes in availability and price without prior notice. Where applicable ARR will be added.
%3Cdiv%20class%3D%22artist%22%3E%3Cstrong%3EUbaldo%20Gandolfi%3C%2Fstrong%3E%3C%2Fdiv%3E%20San%20Matteo%20della%20Decima%201728%E2%80%931781%20Ravenna%0A%3Cdiv%20class%3D%22title%22%3E%3Cem%3ESkull%3C%2Fem%3E%2C%20c.%201770%3C%2Fdiv%3E%0A%3Cdiv%20class%3D%22medium%22%3EOil%20on%20paper%20laid%20down%20on%20canvas%3C%2Fdiv%3E%0A%3Cdiv%20class%3D%22dimensions%22%3E20.5%20x%2023.6%20cm%20%288%201%2F8%20x%209%201%2F4%20in.%29%3C%2Fdiv%3E