Creation from Destruction
:
Frieze Masters 2020
London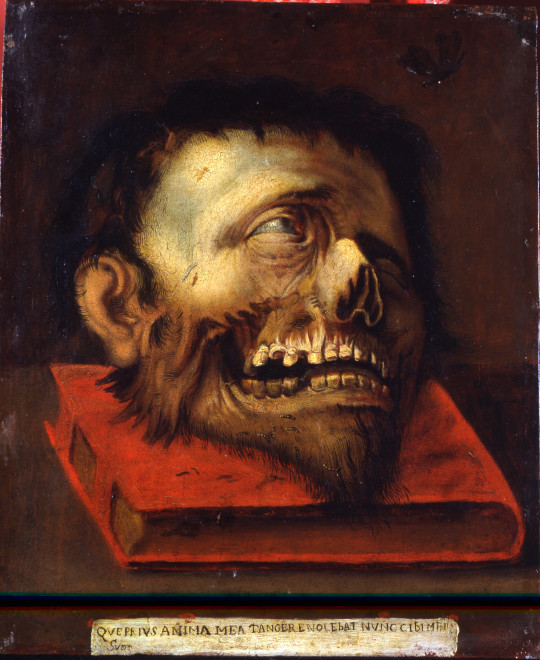 Circle of Jacopo Ligozzi
Vanitas
,
c. 1600-10
Verona 1547–1627 Florence
Inscribed 'QUEPRIVS ANIMA MEA TANGERE NOLEbAT NVNC CIBI MEA SUNT' (on the banderole at bottom)
Oil on canvas
30 x 25 cm (11 3/4 x 9 7/8 in.)
Provenance
Private collection.
Literature
Vittorio Sgarbi, ed., La ricerca dell'identità: da Tiziano a de Chirico, exh. cat. Albergo delle povere, Palermo, 2003–4, no. 18.
Exhibitions
Palermo, Albergo delle povere, La ricerca dell'identità: da Tiziano a de Chirico, 15 November 2003-15 February 2004

Jacopo Ligozzi was born in Verona to a family of painters. In 1578 he was summoned to Florence by Grand Duke Francesco I de' Medici.

In addition to representations of memento mori that show a human skull alongside other symbols of impermanence, there are also instances in early modern painting and sculpture in which a human head is shown in the process of decomposition. While images of skulls inspire the beholder to ponder the approach of death and the precarious nature of existence, images like Ligozzi's, by conveying the grisly process of decay and disintegration, exhort the viewer to contemplate the manner of death as well as its imminence, insisting upon the corruptibility of human flesh and undermining hopes for immortality. Presented in a state of morbid animation, writhing with worms and maggots, Ligozzi's severed head echoes the imagery of transi tombs of the sixteenth century, and in a notable contemporary parallel, can be compared with Caravaggio's Medusa, in which the head, severed from its body, nonetheless screams in horror to shocking effect. The credibility of this macabre relic rests in its being rendered with the same analytical attention evident in the scientific and botanical illustrations Ligozzi created during his time in the service of the Medici court. Meanwhile, the book upon which the head rests alludes to the limited nature of man and his efforts to acquire knowledge.

Head similar to the one in the present work were painted by Ligozzi on the reverse of portraits showing youthful sitters, creating objects in which physical beauty and its decaying vestiges coexist in morbid juxtaposition. In one instance, namely a pair of pendant paintings now in a private collection, a young betrothed couple are shown both in life and in death. Such imagery derived from Northern European tradition, examples of which were brought to Italy, and even more specifically to Florence, at the end of the sixteenth century by Northern artists.

The text inscribed on the banderole at the bottom of the painting derives from Job 6:7: "The things that my soul refused to touch are as my sorrowful meat." In this verse, Job laments that grievous afflictions, which he had once dreaded the very thought of, had become his daily, and sorrowful, lot, a sentiment apposite to the subject of the work at hand.

The artwork described above is subject to changes in availability and price without prior notice.


%3Cdiv%20class%3D%22artist%22%3E%3Cstrong%3ECircle%20of%20Jacopo%20Ligozzi%3C%2Fstrong%3E%3C%2Fdiv%3E%20Verona%201547%E2%80%931627%20Florence%0A%3Cdiv%20class%3D%22title%22%3E%3Cem%3EVanitas%3C%2Fem%3E%2C%20c.%201600-10%3C%2Fdiv%3E%0A%3Cdiv%20class%3D%22signed_and_dated%22%3EInscribed%20%27QUEPRIVS%20ANIMA%20MEA%20TANGERE%20NOLEbAT%20NVNC%20CIBI%20MEA%20SUNT%27%20%28on%20the%20banderole%20at%20bottom%29%3C%2Fdiv%3E%0A%3Cdiv%20class%3D%22medium%22%3EOil%20on%20canvas%3C%2Fdiv%3E%0A%3Cdiv%20class%3D%22dimensions%22%3E30%20x%2025%20cm%20%2811%203%2F4%20x%209%207%2F8%20in.%29%3C%2Fdiv%3E