Creation from Destruction
:
Frieze Masters 2020
London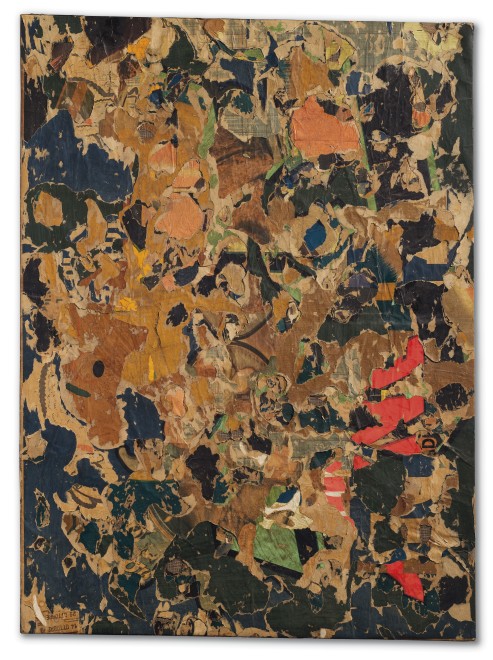 Mimmo Rotella
Invitiamo il Papa
,
1960
Catanzaro 1918–2006 Milan
Signed, titled, dated, and dedicated on the reverse: "Rotella a Bill ricercatore di "today" Roma 14–9–1960 "invitiamo il Papa" collage (1960)"
Décollage on canvas
128 x 94 cm / 50.3 x 37 in
Provenance
William Demby, Rome, acquired directly from the artist
Netta Vespignani, Rome
Private collection, Italy

Literature
Pierre Restany, Rotella: dal décollage alla nuova immagine, Milan, 1963, n. p., no. 29 (illustrated with incorrect orientation).
Germano Celant, Mimmo Rotella, Milan, 2007, p. 542, no. 161 (illustrated with incorrect orientation, p. 180).
Germano Celant, Mimmo Rotella. Catalogue raisonné. Volume 1: 1944–1961, Milan, 2015, p. 669, no. 1960 009 (illustrated in colour, p. 422).
Germano Celant, ed., Mimmo Rotella: Manifesto, exh. cat., Galleria Nazionale d'Arte Moderna e Contemporanea, Rome, 2018–19, p. 385 (historical installation view, p. 388).

Exhibitions
Catania, Fondazione Brodbeck Arte Contemporanea, Collezione Paolo Brodbeck. Pittura italiana 1949/2010, 2010
"Here in Rome it is nine o'clock in the morning. The sun has finally come out and my Rotella collages have begun to dance like gorgeous jungle flowers."—William Demby

The 1950s and 1960s in Rome witnessed an efflorescence of art, cinema, and fashion. Billboards and advertising posters proliferated the Eternal City, pasted one atop the other, jostling for attention and seducing Rome's inhabitants with slick, glossy images of everything from food and luxury goods to the new stars of the silver screen. Rotella used these as his artistic material, collecting them in the streets and then returning to his studio to create his décollages. In these works, of which Invitiamo il Papa is an especially large example, the artist piled and glued advertisements face-up before tearing away and incising individual layers, creating intentional and accidental expressionist juxtapositions of bold words, vibrant colours, and pop cultural imagery.

Rotella's experiments made him a living legend in a world of Italian art—fanatical, extravagant, unpredictable. Following a two-year stint in America, the early 1950s, Rotella abandoned abstract painting as his primary form of artistic expression. Excited by the bold and colourful movie and advertising posters he saw all around the city, and inspired by the unorthodox innovations of other artists in the Italian capital at this time, including Alberto Burri, Robert Rauschenberg, Salvatore Scarpitta, and Cy Twombly, Rotella began to rip placards, signs, and banners heralding the talents of Marilyn Monroe, ministers, and circus acts from the pockmarked walls of the post-war city and used them as to create his now-famous assemblages. "Every morning I would go out and look at the walls covered with advertising posters," Rotella recalled, "No cinema yet. They were industrial advertising posters. The torn posters fascinated me. After a two-year crisis it was like a revelation: this was it, this was the new message I had to communicate. So in the evening I would go out, I'd take down those posters and put them under my bed" (quoted Celant 2007, p. 512).

Just as the signs and symbols of consumerism and mass-media collided with ancient ruins of the city, so did Rotella wish to blur the boundary between high and low art. In bringing the metropolis into his work, he created a radical form of art that was entirely based on a new material reality. In Invitiamo il Papa, fragments of colours, letters, and words simultaneously appear and disappear into the myriad layers of paper that constitute the surface, a reflection of the inherent ephemerality of the paper posters that lined the city's walls. Rather than celebrating popular tastes, Rotella's works collapse any semblance of cultural hierarchy onto itself. Similar to his American Pop Art counterparts, Rotella's excavation of popular imagery roots the décollages in the time of their creation, while simultaneously underscoring the ephemerality of the present moment.

All signs of the artist's hand and the subjective, gestural expression that dominated much of 1950s postwar art are gone, replaced by the physicality of the raw materials themselves. "I tear the posters," Rotella explained, "first from the walls, then from the support: how much style, how much imagination and how many interests accumulate, clash and alternate between the first and last tear. It's not a question of abstract colours being contrasted, but of colours with their own energy, their own spirit, their own vitality, so to speak" (quoted in Celant 2007, p. 28).

Invitiamo il Papa is dedicated to William Demby, an African-American writer and journalist who, after being stationed in Italy during the Second World War, returned to Rome in 1947 and remained there for many years. Demby's most famous novel, The Catacombs (1965), opens with a poetic description of one of Rotella's works, which might be Invitiamo il Papa.

Please note that the price and availability of the above work are subject to change without prior notice.
%3Cdiv%20class%3D%22artist%22%3E%3Cstrong%3EMimmo%20Rotella%3C%2Fstrong%3E%3C%2Fdiv%3E%20Catanzaro%201918%E2%80%932006%20Milan%0A%3Cdiv%20class%3D%22title%22%3E%3Cem%3EInvitiamo%20il%20Papa%3C%2Fem%3E%2C%201960%3C%2Fdiv%3E%0A%3Cdiv%20class%3D%22signed_and_dated%22%3ESigned%2C%20titled%2C%20dated%2C%20and%20dedicated%20on%20the%20reverse%3A%20%E2%80%9CRotella%20a%20Bill%20ricercatore%20di%20%E2%80%9Ctoday%E2%80%9D%20Roma%2014%E2%80%939%E2%80%931960%20%E2%80%9Cinvitiamo%20il%20Papa%E2%80%9D%20collage%20%281960%29%E2%80%9D%3C%2Fdiv%3E%0A%3Cdiv%20class%3D%22medium%22%3ED%C3%A9collage%20on%20canvas%3C%2Fdiv%3E%0A%3Cdiv%20class%3D%22dimensions%22%3E128%20x%2094%20cm%20%20%2F%2050.3%20x%2037%20in%3C%2Fdiv%3E
Not Available