FRIEZE MASTERS 2014
London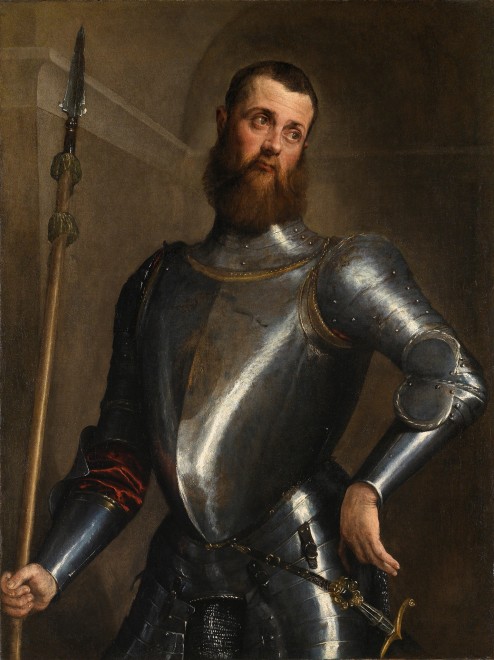 Jacopo da Ponte, Jacopo Bassano
Portrait of a military commander, three-quarter length, in armour, wearing a broadsword and holding a partigiana
,
ca. 1560
ca. 1510 - Bassano - 1592
Oil on canvas
110 x 83.8 cm / 43.3 x 32.6 in
(framed: 134 x 109 x 7.5 cm)
Provenance
William Fox-Strangways (1795-1865), Fourth Earl of Ilchester, Redlynch, Somerset, by whom bequeathed to his nephew;
Henry Edward Fox-Strangways (1847-1905), Fifth Earl of Ilchester, in Melbury House, Dorset from 1871, by descent to his son;
Giles Stephen Holland Fox-Strangways (1874-1959), Sixth Earl of Ilchester, Holland House;
Sale, Christie's London 21 June 1968, lot 26 (as Paolo Veronese), where acquired by
T.S. Lewis;
With Wildenstein, New York, 1970.
Literature
A. Fox-Strangways, Catalogue of Pictures Belonging to the Earl of Ilchester,
London 1883, p. 97, no. 148 (as Anonymous);
Gile Holland Fox-Strangways, Addenda and corrigenda to Catalogue of pictures, Holland House, London 1939;
Giuseppe Fiocco, Giovanni Antonio Pordenone, 3rd ed., Pordenone 1969, I, pp. 172-173 and II, p. 114, fig. 84b (as Pordenone);
Fritz Heinemann, 'Neue Beiträge zum Werk Paolo Veroneses', Pantheon, 39 (1981), pp. 209-11 (as Paolo Veronese);
Charles Cohen, The Art of Giovanni Antonio da Pordenone: Between Dialect and Language, Cambridge 1996, I, p. 168, n. 61 (unconvincing as Pordenone).
J. Saviello in
Titian and the Renaissance in Venice,
catalogue of the exhibition ed. by B. Eclercy – B. Aurenhammer, Munich – London – New York, 2019, pp. 182 -183
Exhibitions
On loan to The Barber Institute of Fine Arts, Birmingham, September 2010 – December 2012;
New York, Italian Cultural Institute in New York, Assonanza/Dissonanza: From Medieval Times to '900, 12 April 2013 – 10 May 2013;
Civici Musei of Bassano del Grappa, Sala dei Bassano, 19 January 2016 – 31 January 2017;
Frankfurt, Städel Museum, Titian and the Renaissance in Venice, 13 February – 26 May 2019, n. 66
This poignant picture of a military hero has recently been attributed to Jacopo dal Ponte, who is best remembered for his genre scenes set in the bucolic landscape around his native Bassano del Grappa. Shepherds, peasants and cowherds populate the backgrounds of his early work and in his later pictures come center stage as the protagonists of lively biblical or mythological scenes. Jacopo's astute powers of observation and his mastery of naturalistic detail imbued his work with an unprecedented verisimilitude. Such abilities should have made him an authoritative portraitist as well and, indeed, after praising Jacopo's naturalism at some lengthen, his seventeenth-century bibliographer, Carlo Ridolfi, added that he was no less valued as a portraitist. Ridolfi's list of sitters, however, is annoyingly short; Giovanni Battista Cornaro, Doge Sebastiano Venier, Lodovico Ariosto, Torquato Tasso and 'other literati'. Of these, only the portrait of Tasso (Sammulung Heinz Kisters, Kreuzlingen) and an oil sketch for a lost portrait of Venier (Museo Civico, Bassano del Grappa) have been identified. Jacopo signed only one portrait, which probably represents Giovanni Marcello (Memphis Brooks Museum of Art, Memphis). Interestingly he indicated that it had been painted in Venice, perhaps because this was something of a rarity. The sitters listed in his account book, known as Il Libro secondo, are primarily citizens of Bassano - bakers, wool merchants, doctors, lawyers, priests and a few family members - or the Venetians sent as podestà to Bassano and its neighboring cities. But Il Libro secondo was only one of four books, covering just the years 1513 to 1554. Records for three quarters of Jacopo's commissions are lost. While portraits from his early career, such the Franciscan Friar (Kimbell Art Museum, Fort Worth) from around 1541, have come to light, works from his mature years between 1542 and 1565 are virtually unknown. Consequently, the Man in Armor, which dates from c.1560, is a very welcome addition to Jacopo's oeuvre as a portraitist.
The Man in Armor is characterized by a compelling immediacy and psychological penetration that recalls Lorenzo Lotto's portraits from the mid 1540s. But unlike Lotto, Jacopo does not surround his figure with objects of a personal symbolic significance. Jacopo's palette is tonally subtle, almost monochromatic, and the background minimal. Although he is shown in field armor, this is not an image of military prowess. There is something touching and introspection about the sitter's wistful gaze. Superficially there are striking similarities between the Man in Armor and Jacopo's Bearded Man (J. Paul Getty Museum, Los Angeles. Fig. 2), a painting from the early 1550s. The both sitters incline their heads towards the right as if acknowledging the presence of an unseen person, both have round bulbous eye sockets and both have hairstyles common among sixteenth-century Venetian patricians. However, the similarities end here. The face of the man in armor is more elongated, his forehead less rounded, his eyebrows more angular and his beard shorter and fuller. The two men appear to be about the same age, although the brow of the man in armor is more furrowed. They are clearly not, as some have speculated, the same sitter. The brutally austere background of the Getty picture creates a melancholy air of deep pathos and while Jacopo has captured some of the same introspective contemplation in the Man in Armor, the vigorous pose and architectural setting give him an authoritative presence befitting a military commander.
The sitter wears a suit of Italian-style field armor, decorated with gilt boarders, and carries a richly ornamented broadsword, the hilt of which is visible near his left hand. Flashes of his crimson doublet can be glimpsed beneath his vambrace at the elbow and shoulder. The armor is similar to the field armor of Sforza Pallavicino (Fig. 3), which was probably made in Italy around 1555-60, although it lacks the round besagues and lance-rest. In his right hand the sitter holds a partizan, a long spear which takes it name from the partigiane or party members who guarded Italian princes. The small side wings at its base and the strong central rib were standard features of mid-sixteenth-century Italian weapons, whose thrusting power was more symbolic than useful from a military standpoint. When the picture was cleaned, it became apparent that the breastplate was decorated with a shield bearing the head of a snarling lion (Fig. 4). The mane, eyes and teeth are now visible, but this area of the picture is badly abraded and it is unclear if there was a coat of arms just above the lion's head. Winged images of Saint Mark occur on a number of pieces of armor belonging to Venetian military heroes such as Senator Francesco Duodo, who fought at Cyprus and Lepanto, and the Provveditore Francesco Moro. Two examples of infantry breastplates, probably made in Brescia for Venetian soldiers around 1550-60, are also emblazoned with the lion of Saint Mark (Fig. 5).
A similar engraved image appears on the armor worn by Admiral Girolamo Contarini in a portrait by Paolo Veronese (Philadelphia Museum of Art, Fig. 6). It has been suggested that the lion of Saint Mark was the insignia of the Capitano Generale da Mar, but this is only partially correct. The emblems of the office were, in fact, a baton and a banner with the lion of Saint Mark. These were conferred on the captain general, the highest ranking Venetian navel commander, by the doge in an elaborate ceremony after his election by the Senate. The ritual took place in San Marco where the patriarch blessed the banner and handed it to the doge, who in turn handed it to the newly elected captain general. After a choir sang the Te Deum, the captain general turned the banner over to the admiral of his fleet, who climbed onto a small wooden platform and was carried around the Piazza San Marco as he tossed coins to the crowd. The ceremony was illustrated in two of Giacomo Franco's engravings, while a third shows Sebastian Venier (Fig. 7) dressed as the captain general at the time of the battle of Lepanto: I capitani Gn'ali dell'armata Venetiano, sogliono vestire questo habito e tale su visto gia il Sig.no Sebastiano Veniero quando fracasso l'armata Turca ai Currolari l'anno 1571. Venier is seated on a stool in front of an open window through which one can glimpse the fleet he commands. The breastplate of his armor is hidden beneath a cloak, but his baton is prominently displayed as is the lion of Saint Mark on the side of the stool. But in other portraits of captain generals, such as Jacopo Tintoretto's of Venier (Kunsthistorisches Museum, Vienna) or Titian's of Vincenzo Capello (National Gallery of Art, Washington), the insignia is omitted altogether and the sitter's rank and authority are established solely by his baton. Girolamo Contarini never was elected captain general, although he did have a distinguished naval career. He was one of the six admirals, who served under Vincenzo Morosini, the Generale sopra i Lidi, overseeing the defenses of the lagoon in 1571. The banner of Saint Mark had served as the Venetian battle colors since at least the eleventh century and warriors carried it into battle as a sign of divine protection that implied no legal privileges. Contarini, who does not carry a baton, falls into to the category of a loyal Venetian fighting for the Serenissima's victory.
The lion on the armor in Jacopo's picture clearly has similar symbolic connotations, but unlike the one on Contarini's breastplate it does not appear to have been engraved nor does it reproduce the Venetian insignia of a winged lion holding an open book In certain ways it is similar to the lion heads or images of Medusa painted on sixteenth-century armor to distinguish the two competing sides in military games (Fig. 8.1 and 8.2). But it is clearly more sophisticated than these tournament costumes and its fire-gilded decoration makes it likely that the sitter was a man of some means and not an ordinary infantryman. The Venetian militia forces on the terraferma were under the command of the Capitano Generale di Terra, who was always a non-Venetian and overseen by two provveditori. Francesco Maria della Rovere, Duke of Urbino, held the post of captain general from 1523 until his death in 1538, at which time the Senate decided not to appoint a new commander-in-chief, but to use local commanders under the provveditori instead. It was not until 1546 that Francesco's son, Giudobaldo, was appointed to the somewhat lesser post of governor general. Only after considerable negations was Sforza Pallavicino, Marquis of Cortemaggiore, able to replace Giudobaldo in 1559 in this post. Sforza's appointment coincided with the Senate's decision to increase the enrollment of the militia on the terraferma. Bassano, which fell under the jurisdiction of Vicenza, was now to have one captain and an increase from 187 to 500 infantrymen. It was the captain's responsibility to see that his men trained on five Sundays a year and joined in the twice yearly exercises of the entire jurisdiction.
As was mentioned above, the sitter's armor in Jacopo's painting is very close to the field armor belonging to Sforza Pallavicino and it is likely that he was one of the field captains serving under him for the Serenessima. It is not impossible to imagine that he was the newly appointed captain for Bassano or perhaps even the regional colonel, who turned to the area's most acclaimed local artist for his portrait. For his part Jacopo supplied an arresting image of a military leader based on a type established by Titian some twenty years earlier in his portrait of Francesco Maria della Rovere (Galleria degli Uffizi, Florence, Fig. 9). Titian's picture set the standard for military portraiture and although there is less pomp in Jacopo's portrait, in many respects it pays homage to the older master's innovative use of space and light to convey the inner resolve of the sitter. Francesco Maria is shown in a three-quarter length pose at a slight angle to the picture plane with his left arm akimbo and his right hand firmly griping the baton, which bears the Venetian insignia of Saint Mark's lion as well as his own coat of arms and establishes his rank as captain general. The angle of the wall behind him creates a slight niche, enhancing the figure's three-dimensionality. The gleaming flashes of light bouncing off the armor are rendered with a thick impasto of white pigment emblazoned against the gray - almost black - surface of the armor itself. When Pietro Aretino saw the portrait in Titian's studio, he singled out the metallic glitter and coloristic effects of the light reflected by the armor for praise. Jacopo uses similar artistic devices for his portrait of a military leader. The sitter is shown in a three-quarter length pose turning towards his left, while the partizan in his right hand stabilizes the composition and serves as a reminder of his service in the infantry. He is placed in front of a corner, which not only helps to amplify the bulk of his figure but the subtly defined molding along the top part of the wall leads the viewer's eye directly towards his face. As in Titian, the neutral background gives a force and intensity to his features. The dazzling effects of the reflected light are achieved through the almost impressionistic application of silvery white pigment.

Attribution and Dating:
In 1966 Christie's sent a photograph of the Man in Armor to the noted Italian artist historian, Giuseppe Fiocco, because they doubted the attribution to Paolo Veronese. Fiocco told them that he thought the portrait was by Giovanni Antonio da Pordenone and remarked on its similarities to the artist's frescoes in the cathedral of Treviso. Subsequently he published it as an addendum to the third edition of his monograph on Pordenone. Some ten years later, Fritz Heinemann returned the picture to Veronese, dating it to the late 1550s and comparing it to his portrait of Agostino Barbarigo (Cleveland Museum of Art). Although Heinemann's article is duly cited in all of the Veronese literature, including the newest monograph on Veronese as a portraitist, no mention is ever made of the Man in Armor as either an accepted or rejected work. Having somehow slipped through the cracks of Veronese studies, when the portrait reappeared on the market it carried the more convincing attribution to Jacopo Bassano. Bernard Aikema suggested a date of around 1554, the date also given to the Getty picture by some scholars.
While stylistically related to the Getty picture, the Man in Armor would seem to be slightly later in date. Its more sophisticated architectural setting looks forward towards the Man in Prayer (Palazzo Rosso, Genoa, Fig. 10), which dates from the mid-1560s. As in this later portrait, Jacopo uses the cornice in the Man in Armor to guide the viewer's eye towards the sitter's face. There is also a similar minute attention to detail in the modeling of the hands and face as well as a considerable interest in the play of light across the surface. In particular, the highlights on the armor shimmer within the somber, smoky atmosphere of the half-lit room. There is an elegance and natural grace to the sitter's pose that also recalls Jacopo's Saints Peter and Paul (Galleria Estense, Modena), which was painted for Santa Maria dell'Umiltà in Venice around 1561. The elongated fingers and gently curving silhouette of the hands are strikingly similar in the two pictures. A date somewhere between the Getty and Genoa portraits would seem correct for the Man in Armor. This would place it around 1560, at the very moment when the military ranks in the region around Bassano were increasing in number and new leaders being called to service.



History:
The painting of a Venetian general in armor is first mentioned in an elaborate description of the Fox-Strangways collection at Melbury House in Dorest published privately by the family in 1883. It was hung on the north staircase with a number of Tudor portraits and it was noted that the picture had been brought in 1871 from the family's home at Redlynch in Somerset. Redlynch had been built in 1670s by Sir Stephen Fox, who is perhaps best known for his role in the founding of Chelsea Hospital. A century later his heirs were granted the title, Earl of Ilchester, and in the summer of 1762 Sir Horace Walpole visited Redlynch and Melbury as well as another of the family's properties at Abbotsbury, describing in some detail the newly appointed earl's paintings, tapestries and furniture. The Fox-Strangways' taste ran towards family portraiture, but at Redlynch there were also a handful of continental baroque paintings by Cirro Ferri, Salvator Rosa, Pietro da Cortona and Eustache Le Sueur. However, no sixteenth-century Venetian paintings were listed nor was there any mention of a painting of a general in armor. Nevertheless, it is likely that the painting was already at Redlynch, since in 1792, when the first earl's wife died, the family moved permanently to Melbury House and it was recorded that 'Redlynch has been little inhabited since'. After inheriting the title in 1865, the 5th Earl of Ilchester extended Melbury and began to systematically bring pictures from Dorset to Somerset. By the time the book was published in the 1883 only seventeen pictures remained at the original family seat.



Beverly Louise Brown (May 2010)

%3Cdiv%20class%3D%22artist%22%3E%3Cstrong%3EJacopo%20da%20Ponte%2C%20Jacopo%20Bassano%3C/strong%3E%3C/div%3E%20ca.%201510%20-%20Bassano%20-%201592%0A%3Cdiv%20class%3D%22title%22%3E%3Cem%3EPortrait%20of%20a%20military%20commander%2C%20three-quarter%20length%2C%20in%20armour%2C%20wearing%20a%20broadsword%20and%20holding%20a%20partigiana%3C/em%3E%2C%20ca.%201560%3C/div%3E%0A%3Cdiv%20class%3D%22medium%22%3EOil%20on%20canvas%3C/div%3E%0A%3Cdiv%20class%3D%22dimensions%22%3E110%20x%2083.8%20cm%20/%2043.3%20x%2032.6%20in%3Cbr%20/%3E%0A%28framed%3A%20134%20x%20109%20x%207.5%20cm%29%3C/div%3E