Stephen Appleby-Barr
:
New Work
London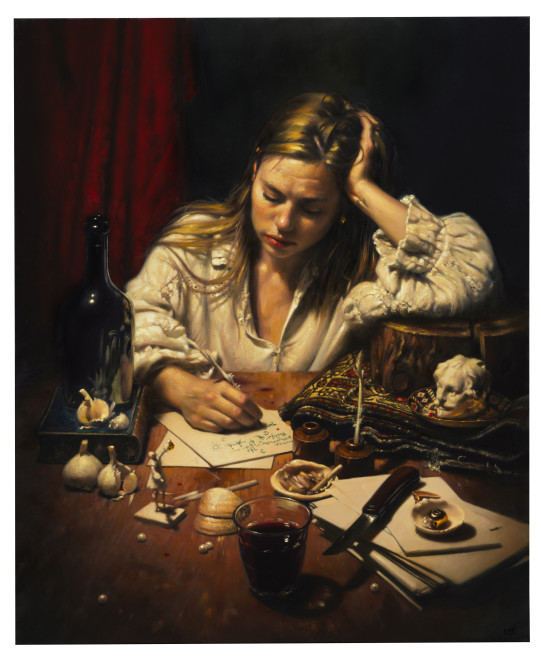 Stephen Appleby-Barr
Josefine Skomars, Correspondent
,
2020
Toronto b. 1981
Signed with initials 'SAB' (lower right-hand corner)
Oil on linen
91.4 x 76.2 cm / 36 x 30 in
This intimate portrait is a depiction of Appleby-Barr's close friend Josefine. A writer from Finland, when she and Appleby-Barr first met they spoke at length about Tove Jansson's books, and her pose here deliberately recalls a photograph of the famous author working at her desk.

Absorbed in her writing, unlike Anna, another portrait in this series, Josefine does not look up. There is a great sense of respect and importance given to this quiet scene. Her loose, bohemian shirt gives her an air of a poet, with her garret in creative disarray. The inky darkness of the background, and the suggestion of fatigue in her hand supporting the weight of her head, imply a scene late at night, when everyone else has gone to sleep. Appleby-Barr points to it as an "A Room of One's Own moment", a perhaps hard-won time carved out of her day to dedicate to her writing.

The painting can be read as a portrayal of the artist at work, and this self-referential quality is added to by the inclusion of her reflection in the bottle beside her. If one looks closely, one can see her entire figure depicted in the curving surface of the glass, dominated by her writing hand. Appleby-Barr is fascinated by reflections, and often depicts objects twice; once in a traditional perspective and then a second time, distorted.

The rich red curtain behind her recalls the luxurious swathes of fabric found in paintings by artists such as van Dyck. Repeated colours run through the portrait; the red of the curtain is echoed in the wine, the patterned carpet and saucer, and in Josefine's lips. Her golden hair chimes with the warm tones of the wood, the bells and the reflection of the saucer. Strong diagonals are formed by her creamy white shirt and writing paper, added to by the garlic and pearls, leading to a harmonious composition.

A small model of Anthony van Dyck's head, taken from the sculpture by the eighteenth-century Flemish sculptor John Michael Rysbrack, sits on a Royal Crown Derby Imari patterned saucer. The playful allusion to Salome and the severed head of Saint John the Baptist is typical of Appleby-Barr's closeness to the themes and aesthetics of old master painting. Here, it suggests Josefine's strength and independence—no man will get in her way.

The artwork described above is subject to changes in availability and price without prior notice.
Where applicable ARR will be added.

%3Cdiv%20class%3D%22artist%22%3E%3Cstrong%3EStephen%20Appleby-Barr%3C/strong%3E%3C/div%3E%20Toronto%20b.%201981%0A%3Cdiv%20class%3D%22title%22%3E%3Cem%3EJosefine%20Skomars%2C%20Correspondent%3C/em%3E%2C%202020%3C/div%3E%0A%3Cdiv%20class%3D%22signed_and_dated%22%3ESigned%20with%20initials%20%27SAB%27%20%28lower%20right-hand%20corner%29%3C/div%3E%0A%3Cdiv%20class%3D%22medium%22%3EOil%20on%20linen%3C/div%3E%0A%3Cdiv%20class%3D%22dimensions%22%3E91.4%20x%2076.2%20cm%20/%2036%20x%2030%20in%3C/div%3E
Not Available