FONTANA CERAMICS
:
A Private Exhibition of Lucio Fontana's Pioneering Ceramics
Paris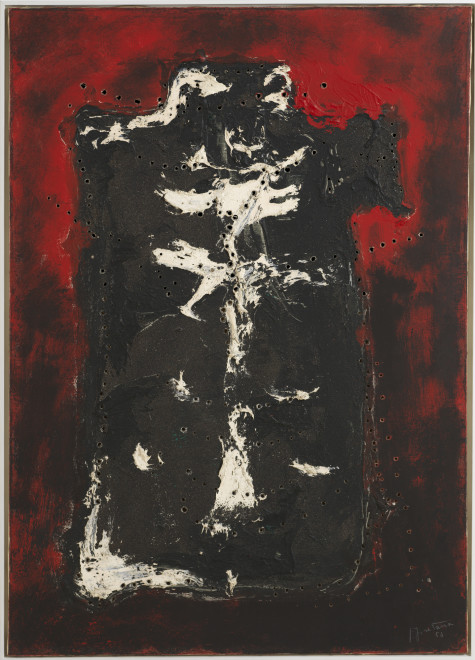 Lucio Fontana
Concetto Spaziale
,
1954
Rosario de Santa Fé 1899 – 1968 Comabbio
Signed on the bottom right: l.Fontana / 54; title and date on reverse: "Concetto Spaziale" / 1954 / l.Fontana
Oil, mixed media & sequins on canvas, black, white and red
255.3 x 179.1 x 70.6 cm (100 1/2 x 70 1/2 x 27 3/4 in.)
Provenance
Private Collection, Tortona
Private collection. Switzerland
Literature
R. Pasini, L'informale italiano, Parma 1997, p. 73 (illustrated in colour);
E. Crispolti, Fontana. Catalogo generale di sculture, dipinti, ambientazioni, Geneva-Milan 2006, vol. I, p. 318 (illustrated).
Exhibitions
Bolzano, Museum of Modern Art, Lucio Fontana. Arnulf Rainer, Uber das Bild. Oltre la tela, 10th March – 28th May 1995, cat. (illustrated in colour);
Padula, Certosa di San Lorenzo, Barocco e Mediterraneo, June – September 1998, cat., p.84 (illustrated in colour);
Palma, Fundació La Caixa, 22nd July – 13th September 1998, cat. p.73 (illustrated);
Sondrio, Palazzo Sertoli, Arte a Milano 1946-1959. Il Movimento Spaziale, October-November 1998 cat. pp. 37 and 109 (illustrated in colour). This exhibition later travelled to Milan, Galleria Gruppo Credito Valtellinese, Refettorio delle Stelline, June-July 1999, cat. pp. 37 and 108 (illustrated in colour);
Japan, The Fukuyama Museum of Art, Afro – Burri – Fontana, 6th April – 26th 2002. This exhibition later travelled to The National Museum of Art Osaka, 6th June – 21st July 2002, pp. 115 and 356, no. 46 (illustrated in colour);
Verona, Galleria d'Arte Moderna Palazzo Forti, Lucio Fontana. Metafore barocche, 2002-2003, cat. pp. 34 and 122, n. 7 (illustrated in colour);
Cantù, Galleria del Design e dell'Arredamento, Lucio Fontana e il mosaico di Cantù, 26th October 2003 – 26th January 2004, cat. p. 84, (illustrated in colour).
The present work represents one of Fontana's early barocchi (baroque), a cycle of artworks initiated in 1954, introducing the artist's most unapologetically emotive and gestural work. With visual aesthetics characterised by pictorial building blocks of holes, paint and glass fragments, barocchi artworks are defined by Fontana's use of heavily impastoed paint for the depiction of signs. Placed against monochromatic backgrounds, he used fine and coarse sand in the impastoed areas, applying the mixture with a spatula. In addition, the signs sometimes vaguely allude to figures and the various pictorial elements are characterised by the dynamic 'baroque' accent that gives the cycle its name. The strong presence of an Informel vocabulary in these works reflects Fontana's interest in the immediacy of the sign as expressed through the materiality of paint. With the Informel artists' belief that that they could literally trace and inscribe the inner mental impulses through physical movement into thickly textured paint, Fontana's barocchi embody the visual representation of such a concept. Concerning their artistic production, in samples taken from highly impastoed areas of two barocchi from 1956 the presence of PVA was confirmed. The PVA that is usually present in Fontana's works tend to come from the use of house paints or Vinavil, an Italian adhesive, used as means of increased viscosity or as a binder. In the group of almost fifty barocchi, the genesis of which has been documented photographically, it is likely that he used an already pigmented house paint for the first paint layer, on top of a thin white commercial primer. Fontana often added some sand to the first paint layer, rendering it light by revealing the white ground in little scratches caused by the grains being dragged through the wet paint. The formation of severe drying cracks in the impastoed paint films was prevented through the presence of bulking agents such as sand and often anthracite-colored lustrini, small glittery particles that allowed the creation of a smooth, nonreflective surface. Lastly, the baroque style as interpreted by Fontana, is characterised by an artificial dynamism which results in explosive, gestural, curved shapes, occasionally altered shapes of the stretchers themselves, and heavily impastoed paint surfaces that are associated with the "Informel" painters.

The artwork described above is subject to changes in availability and price without prior notice.
Where applicable ARR will be added.


%3Cdiv%20class%3D%22artist%22%3E%3Cstrong%3ELucio%20Fontana%3C%2Fstrong%3E%3C%2Fdiv%3E%20Rosario%20de%20Santa%20F%C3%A9%201899%20%E2%80%93%201968%20Comabbio%0A%3Cdiv%20class%3D%22title%22%3E%3Cem%3EConcetto%20Spaziale%3C%2Fem%3E%2C%201954%3C%2Fdiv%3E%0A%3Cdiv%20class%3D%22signed_and_dated%22%3ESigned%20on%20the%20bottom%20right%3A%20l.Fontana%20%2F%2054%3B%20title%20and%20date%20on%20reverse%3A%20%E2%80%9CConcetto%20Spaziale%E2%80%9D%20%2F%201954%20%2F%20l.Fontana%3C%2Fdiv%3E%0A%3Cdiv%20class%3D%22medium%22%3EOil%2C%20mixed%20media%20%26%20sequins%20on%20canvas%2C%20black%2C%20white%20and%20red%3C%2Fdiv%3E%0A%3Cdiv%20class%3D%22dimensions%22%3E255.3%20x%20179.1%20x%2070.6%20cm%20%28100%201%2F2%20x%2070%201%2F2%20x%2027%203%2F4%20in.%29%3C%2Fdiv%3E