FONTANA CERAMICS
:
A Private Exhibition of Lucio Fontana's Pioneering Ceramics
Paris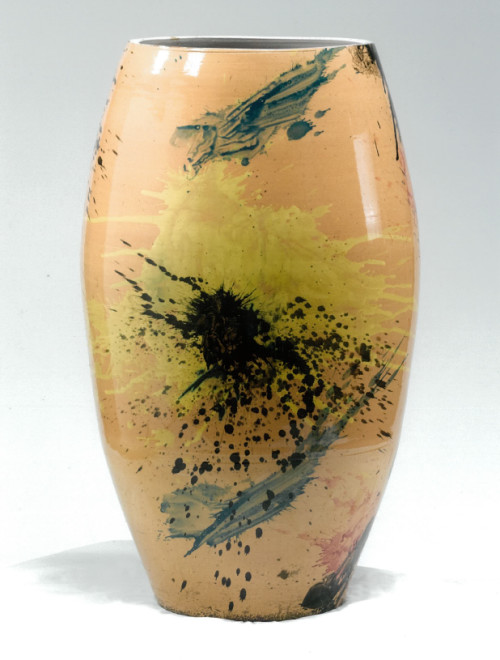 Lucio Fontana
Spatial Concept
,
1952
Rosario de Santa Fé 1899–1968 Comabbio
Inscribed and dated 'l Fontana 52' This work is registered at the Fondazione Lucio Fontana, no. 523/140
Glazed ceramic
H: 80 cm (31 1/2 in.)
Provenance
Lucio Fontana Foundation
Galerie Karsten Greve, Saint Moritz
Private collection
Galerie Karsten Greve, Saint Moritz

Literature
Lucio Fontana: Sculpture "Io sono uno scultore non un ceramista", exh. cat. Galerie Karsten Greve, Cologne, 2012, pp. 152–53.

Exhibitions
Saint Moritz, Galerie Karsten Greve, Group Summer Show, July–August 2012



Lucio Fontana was first and foremost a sculptor. His father was a sculptor of funerary monuments who emigrated from Varese to Argentina, and Fontana first learned the craft as a child working at his side. He began his own formal studies in 1928 in Milan, and worked in the academic tradition, producing mainly figurative sculptures, including portraits and female figures as well as animals like horses and crocodiles. In the years after 1946, when the publication of the Manifesto Blanco announced the foundation of a Spatialist movement, Fontana's sculptures became increasingly abstract.




Embodying simplicity in statuesque form, the present work was created in 1952, and thus during the period when the artist was wrestling with the boundaries between figuration and abstraction. In the present work, the latter idiom has prevailed. Fontana had previously carved vases with battle scenes and hunting subjects drawn from depictions of warriors that surround the curves of Hellenistic Greek vases. Here, instead, Fontana jettisoned these motifs in favour of abstract splashes of yellow, black, blue, and red in clear homage to the groundbreaking new technique pioneered by the Jackson Pollock—Fontana has used the vase as his canvas.

The artwork described above is subject to changes in availability and price without prior notice.
Where applicable ARR will be added.

%3Cdiv%20class%3D%22artist%22%3E%3Cstrong%3ELucio%20Fontana%3C%2Fstrong%3E%3C%2Fdiv%3E%20Rosario%20de%20Santa%20F%C3%A9%201899%E2%80%931968%20Comabbio%0A%3Cdiv%20class%3D%22title%22%3E%3Cem%3ESpatial%20Concept%3C%2Fem%3E%2C%201952%3C%2Fdiv%3E%0A%3Cdiv%20class%3D%22signed_and_dated%22%3EInscribed%20and%20dated%20%27l%20Fontana%2052%27%3Cbr%20%2F%3E%0AThis%20work%20is%20registered%20at%20the%20Fondazione%20Lucio%20Fontana%2C%20no.%20523%2F140%3C%2Fdiv%3E%0A%3Cdiv%20class%3D%22medium%22%3EGlazed%20ceramic%3C%2Fdiv%3E%0A%3Cdiv%20class%3D%22dimensions%22%3EH%3A%2080%20cm%20%20%2831%201%2F2%20in.%29%3C%2Fdiv%3E