Salvo in the 80s
:
Light and Form
London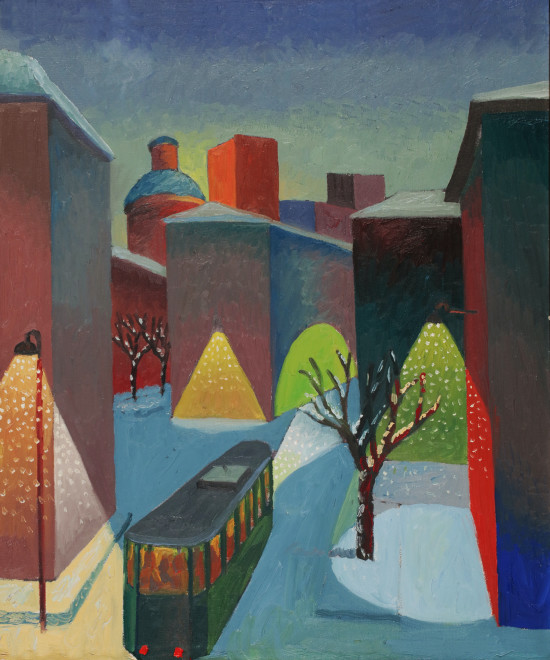 Salvo
Snowfall
,
1983
Leonforte 1947–2015 Turin
Oil on canvas
60 x 50 cm (23 5/8 x 19 3/4 in.)
Provenance
Galleria Toselli, Milan;
Private collection, Milan,
Literature
Renato Barilli, Salvo, exh. cat. Rotonda di via Besana, Milan, 1987–88, p. 64, ill.
Renato Barilli and Danilo Eccher, Salvo, exh. cat. Galleria d'arte moderna, Bologna, 1998, p. 61, ill.
Marco Senaldi and Antonio Cardillo, Salvo: il peccato di desiderare, Milan, 2000, p. 95, ill.
Matteo Galbiati, ed., Salvo: un'arte senza compromessi, exh. cat. Dep Art, arte moderna e contemporanea, Milan, 2017, pp. 80–81, ill.

Exhibitions
Milan, Rotonda di via Besana, Salvo, December 1987–January 1988.
Bologna, Galleria d'arte moderna, Salvo, 23 January–23 March 1993.
Milan, Dep Art, arte moderna e contemporanea, Salvo: un'arte senza compromessi, 18 October–23 December 2017.



Both night and snow fall upon this urban landscape, in which a sturdy green tramcar, crowded with passengers escaping the inclement weather outside, careens gently through the narrow and uninhabited city streets. The pale winter sun disappears in a yellow flash behind the domed structure just left of center while flakes of wintery precipitation appear as brisk daubs of white paint trapped in the conical floods of illumination created by three street lamps and the headlight at the front of the tram.

The present painting is remarkable for its subtle gradations of color, as the mysterious natural light of the crepuscular hour mingles with the artificial illumination of the streetlights and the tram's headlight, shading each element—buildings, sky, road, and trees—with saturated and beautifully shifting hues. Salvo, ever attentive to the traditions of Italian art, here seems to create a modern correlative to the late medieval cities rendered by the earliest painters in fresco and on panel, including the great Florentine master Giotto.

%3Cdiv%20class%3D%22artist%22%3E%3Cstrong%3ESalvo%3C%2Fstrong%3E%3C%2Fdiv%3E%20Leonforte%201947%E2%80%932015%20Turin%0A%3Cdiv%20class%3D%22title%22%3E%3Cem%3ESnowfall%3C%2Fem%3E%2C%201983%3C%2Fdiv%3E%0A%3Cdiv%20class%3D%22medium%22%3EOil%20on%20canvas%3C%2Fdiv%3E%0A%3Cdiv%20class%3D%22dimensions%22%3E60%20x%2050%20cm%20%2823%205%2F8%20x%2019%203%2F4%20in.%29%3C%2Fdiv%3E

Not Available