Two Artists, Two Actresses
:
Portraits by Giulio Cesare Procaccini and Francesco Clemente
New York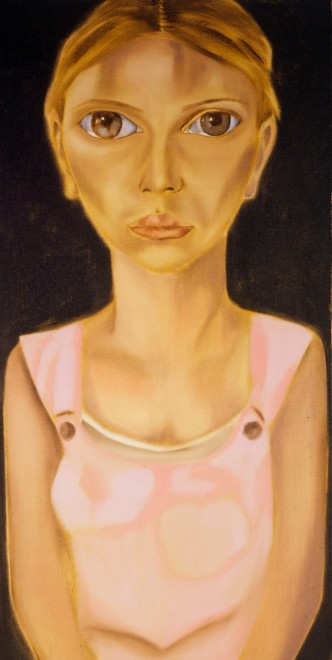 Francesco Clemente
Scarlett Johansson
,
2008
Naples b. 1952
Oil on linen
152.4 x 76.8 cm (60 x 30 1/4 in.)
Working in a range of media, from painting on canvas and in watercolour to installation pieces, the contemporary Italian artist Francesco Clemente is celebrated for his otherworldly imagery exploring themes of sexuality and spirituality. Born in 1952 in Naples, Clemente studied architecture in Rome before moving to India in 1973. There, Clemente learned traditional papermaking and miniature painting skills through his association with local craftsman, while at the same time studying Hindu spiritual texts—these experiences would have an enduring influence on his work. The artist relocated to New York in 1981, and began collaborating with Andy Warhol, Jean-Michel Basquiat, and Allen Ginsberg. Seeking new outlets for his creativity, in 1998 he created around two hundred original works for the film Great Expectations,directed by Alfonso Cuaròn. Clemente lives and works in New York City.
Clemente's Scarlett Johansson is one of a series of ten portraits of the artist's friends, first presented by Gian Enzo Sperone in 2008 together with one self-portrait by the artist. As noted by Vincent Katz in the exhibition catalogue, "Her eyes are enormous, but instead of mesmerizing, they are almost globe-like, like looking into two huge fish tanks. They dominate utterly the mouth, which we remember vividly from photographs. The hair, too, is pulled back severely, not allowed to cascade. Her arms fit her body, though the body may be slight for the head." Despite its large scale and the sitter's abstracted features, Clemente's portrait conveys an uncanny and forthright sense of intimacy with the subject.
%3Cdiv%20class%3D%22artist%22%3E%3Cstrong%3EFrancesco%20Clemente%3C/strong%3E%3C/div%3E%20Naples%20b.%201952%0A%3Cdiv%20class%3D%22title%22%3E%3Cem%3EScarlett%20Johansson%3C/em%3E%2C%202008%3C/div%3E%0A%3Cdiv%20class%3D%22medium%22%3EOil%20on%20linen%3C/div%3E%0A%3Cdiv%20class%3D%22dimensions%22%3E152.4%20x%2076.8%20cm%20%2860%20x%2030%201/4%20in.%29%3C/div%3E