Two Artists, Two Actresses
:
Portraits by Giulio Cesare Procaccini and Francesco Clemente
New York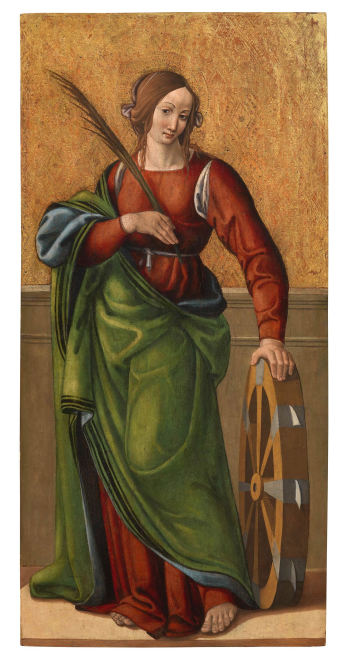 Simone da Firenze
Saint Catherine of Alexandria
,
ca. 1515–20
Born in Florence, active in Basilicata in the first half of
Gold, oil, and tempera on panel
115 x 53.5 cm
45 1/4 x 21 1/8 in
Provenance
Mrs Howard B. Keck (Elizabeth Avery Keck), La Lanterne, Bel Air, California;
By whom sold ("Property from The Keck Collection, La Lanterne, Bel Air, California"), New York, Sotheby's, 17 January 1992, no. 98;
Where purchased by the present owner.
Literature
Elisa Acanfora, "Pittura e scultura del primo Cinquecento in Basilicata" in Dora Catalano, et al., eds. Rinascimento visto da Sud, Naples, 2019, p. 175.
Orazio Lovino, "Ricomposizioni per Simone da Firenze"
Arte Cristiana
108, 919 (2020), pp. 280–89.
Costumed in a red dress and a green mantle, the monumental figure of Saint Catherine of Alexandria stands before a stone parapet and against a golden background embellished with boldly geometric punchwork patterns. In her right hand, Catherine holds the palm symbolic of her martyrdom, while her left rests upon the wheel on which she was tortured for her devotion to her Christian faith.

The panel depicting Saint Catherine was first attributed to Simone da Firenze by Pierluigi Leone de Castris. Born in Florence, Simone was active in southern Italy in the first half of the sixteenth century. The reconstruction of his oeuvre has centered around his only signed work, an altarpiece for the church of San Francesco alla Scarpa (today Santa Maria degli Angeli) in the small town of Senise in Basilicata, which is also inscribed with a date of 1523.[1] Most recently, Orazio Lovino has proposed that the Saint Catherine was part of a polyptych also including a panel depicting the Archangel Michael, now in the Saibene collection in Milan. Lovino dates the two works to around 1515–20 on the basis of stylistic comparison with other works given to the artist.
Indeed, the Saint Catherine exhibits strong stylistic similarities with other works attributed to the artist. It can be compared to the panels of the altarpiece painted for the abbey of Sant'Angelo al Monte Raparo and now in the church of Santi Pietro e Paolo in San Chirico Raparo, dated to around 1530, especially in terms the placement of the figures against stone dados beneath gilded areas, and in terms of the punchwork embellishing the gilding. At the same time, the Senise altarpiece offers useful comparisons in terms of the modelling of the figures and the rhythmic folds of the winding draperies, while the wheel carried by Saint Catherine in that work is analogous to this one, with the light reflecting on the spikes in a similar manner.
Although Simone da Firenze's unusual style typically synthesizes influences from across the Italian peninsula, the Saint Catherine panel most clearly demonstrates the artist's debt to the painters of Central Italy. The closest comparisons can be made with Perugino, and an especially apt comparison can be made with a drawing of the same saint by the artist now in the Albertina in Vienna (fig. 1). Perugino and Pinturicchio were active in Naples around 1505, and it was perhaps around this time that Simone da Firenze came into contact with their distinctive styles.
The artist's especially vigorous underdrawing is visible through the paint layers, offering crucial insight into his technique.
Fig. 1. Perugino, Saint Catherine of Alexandria, pen and ink on paper, Albertina, Vienna.
[1] The fundamental studies are Riccardo Naldi, "Simone da Firenze" in Giovanni Previtali, ed., Andrea da Salerno nel Rinascimento meridionale (Florence, 1986), pp. 261–66 and Riccardo Naldi, "Centro e periferia nel primo Cinquecento meridionale: il caso di Simone da Firenze "pittore senza disegno"" Bollettino d'arte 6, 73 (1988), pp. 17–52. More recently see Elisa Acanfora, Il Rinascimento in Basilicata—Simone "de Fiorentia", Lagonegro, 2019.
%3Cdiv%20class%3D%22artist%22%3E%3Cstrong%3ESimone%20da%20Firenze%3C%2Fstrong%3E%3C%2Fdiv%3E%20Born%20in%20Florence%2C%20active%20in%20Basilicata%20in%20the%20first%20half%20of%20%0A%3Cdiv%20class%3D%22title%22%3E%3Cem%3ESaint%20Catherine%20of%20Alexandria%3C%2Fem%3E%2C%20ca.%201515%E2%80%9320%3C%2Fdiv%3E%0A%3Cdiv%20class%3D%22medium%22%3EGold%2C%20oil%2C%20and%20tempera%20on%20panel%3C%2Fdiv%3E%0A%3Cdiv%20class%3D%22dimensions%22%3E115%20x%2053.5%20cm%3Cbr%20%2F%3E45%201%2F4%20x%2021%201%2F8%20in%3C%2Fdiv%3E