British Portraiture of the Georgian Period
London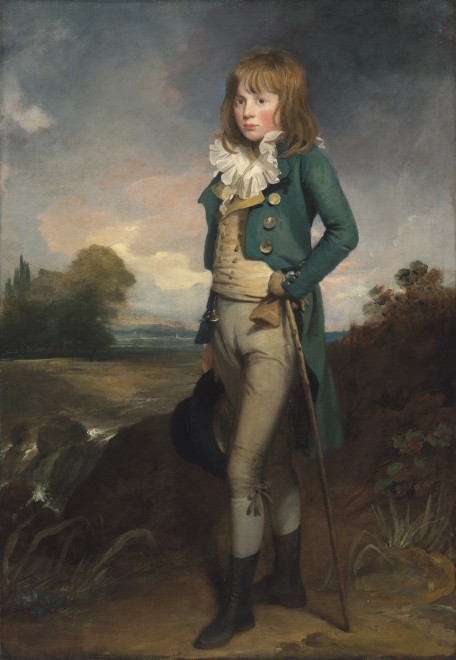 Sir William Beechey, R. A.
Portrait of James Ramsay Cooper
,
ca. 1791
Burford 1753–1839 London
Oil on canvas
161.6 x 111.1 cm
63 5/8 x 43 3/4 in
Provenance
Commissioned from the artist by the sitter's father, Richard Cooper (ca. 1740–1814), and by descent to his daughter,
Frances Mary Baines, née Cooper, and by descent in the Baines family;
Private collection, United Kingdom.

Literature
W. Roberts, Sir William Beechey, R. A., London and New York, 1907, pp. 34, 39.


Exhibitions
London, Royal Academy, 1792, no. 142.


James Ramsay Cooper (1778–1804), son of the painter and engraver Richard Cooper (ca. 1740–1814), is seen here at the age of twelve or thirteen. He later served as a Deputy Commissioner in Wellington's army and died of a fever caught on campaign in Portugal in 1804. The youthful sitter is presented full length in a landscape setting, wearing a jaunty green jacket with great golden buttons over a yellow silk waistcoat, his face framed by a voluminous white collar. In one hand he holds a top hat, and in the other a walking stick and a pair of soft leather gloves. Despite his youth and middle-class origins, the stylishness of his costume and the insouciance of his pose and facial expression, his visage flushed seemingly from undertaking country exercise in the fresh air, indicate his aspirations to maturity and nobility.




Sir William Beechey was a successful portrait painter with unparalleled royal patronage. His intended legal career was cut short by a chance meeting with students of the Royal Academy Schools and in 1772 Beechey entered the schools himself. He first exhibited at the Royal Academy in 1776. After five years in Norwich, he moved back to London in 1787 where he stepped into the vacuum left by Gainsborough's death and Reynolds' retirement. He gained a reputation for straightforward and careful portraiture and in 1793 he was appointed painter to Queen Charlotte. Not long afterwards he was made a member of the Royal Academy—on King George's request, it was rumoured—but he fell from royal favour in 1806. He continued to exhibit at the Academy until the year before his death.

Please note that the price and availability of the above work are subject to change without prior notice.


%3Cdiv%20class%3D%22artist%22%3E%3Cstrong%3ESir%20William%20Beechey%2C%20R.%20A.%3C%2Fstrong%3E%3C%2Fdiv%3E%20Burford%201753%E2%80%931839%20London%0A%3Cdiv%20class%3D%22title%22%3E%3Cem%3EPortrait%20of%20James%20Ramsay%20Cooper%3C%2Fem%3E%2C%20ca.%201791%20%3C%2Fdiv%3E%0A%3Cdiv%20class%3D%22medium%22%3EOil%20on%20canvas%3C%2Fdiv%3E%0A%3Cdiv%20class%3D%22dimensions%22%3E161.6%20x%20111.1%20cm%3Cbr%20%2F%3E%0A63%205%2F8%20x%2043%203%2F4%20in%3C%2Fdiv%3E