British Portraiture of the Georgian Period
London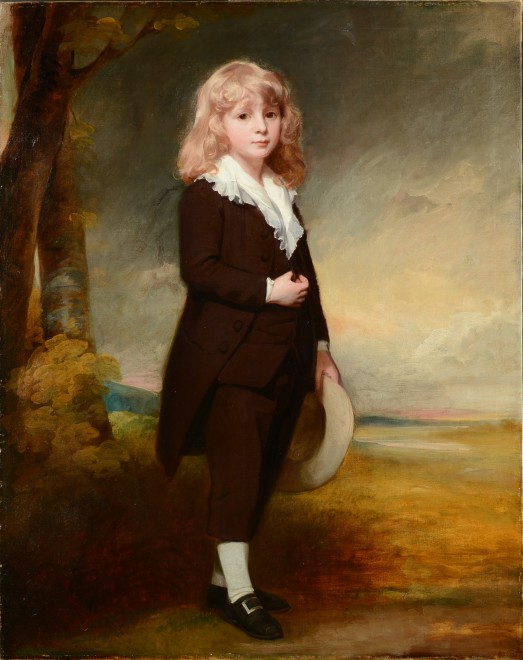 George Romney
The Brown Boy (Joseph Mawbey, 1772–1817)
,
1779–80
Dalton 1734–1802 Kendal
Oil on canvas, in its original frame
125 x 99 cm (49 1/4 x 39 in.)
Provenance
Commissioned by Sir Joseph Mawbey, M.P. (1730–1798), the sitter's father;
Joseph Mawbey (1772–1817), the sitter;
Anna Maria, his daughter, who married John Ivatt Briscoe, M.P. (1791–1870), Foxhills, Surrey;
By whom bequeathed to his cousin George Edward Briscoe Eyre (1840–1922), great-great-grandfather of the previous owner;
Private Collection, UK.
Literature
H. Gamlin, George Romney and his Art, London 1894, p. 99.
Sir H. Maxwell, George Romney, London 1902, p. 171, no. 32.
G. Paston, George Romney, London 1903, p. 202.
T.H. Ward and W. Roberts, Romney, A Biographical and Critical Essay with a Catalogue Raisonné of his Works, London and New York 1904, vol. 2, pp. 102 and 191, no. 41.
A.B. Chamberlain, George Romney, London 1910, pp. 323–24.
A. Kidson, George Romney, A Complete Catalogue of his Paintings, New Haven and London 2015, vol. II, p. 389, no. 857.
Exhibitions
London, Royal Academy, Old Masters, 1882, no. 251.
London, Grosvenor Gallery, A Second Series of a Century of British Art 1737–1837, 1889, no. 138.
London, Grafton Galleries, Exhibition of a special selection from the works by George Romney, Summer 1900, no. 52.
Glasgow, Kelvingrove Park, International Exhibition, 2 May – 4 November 1901, no. 163.
London, Whitechapel Art Gallery, Winter Exhibition, 13 December 1901 – 23 January 1902, no. 9.
This portrait of the seven-year-old heir to Sir Joseph Mawbey demonstrates Romney's supreme skill in painting young sitters. Completed in 1780, five years after his return from Italy, the painting shows Romney at the height of his powers.
Arriving in Rome in 1773, Romney was not a young artist at the beginning of his career, but at thirty-eight was already well-established as a portrait painter. Nevertheless, his time in Italy allowed him to make careful studies of classical and Renaissance art, as well as serving to enhance his credibility. On his return, Romney threw himself into his portrait practice, taking a lease on a grand house in Cavendish Square, a fashionable location ideally placed for attracting aristocratic patrons. This period saw him create the masterpieces of his late career, chief among them The Leveson-Gower Children, 1777 (Abbot Hall Art Gallery, Kendal). Romney executed a series of extremely fine portraits of children in the years after his return from Italy, including John Wharton Tempest, 1779–1780 (Museu de Arte de Sao Paulo), and The Stanley Children, 1780–81 (Earl of Derby). Both of these exhibit his talent for depicting youthful subjects, but the Portrait of Joseph Mawbey, with its atmospheric landscape, the sensitive and confident modelling of the young sitter's face, and the skill with which Romney has captured a sense of his character, distinguish the present work from these other examples of his child portraiture.
Joseph Mawbey was born in 1772, the eldest son of the distiller and politician Sir Joseph Mawbey and his wife Elizabeth Pratt. His father forged a significant political career, becoming MP for Southwark and later for Surrey. He was a supporter of the Marquess of Rockingham, to whom he owed his creation as a baronet in 1765, and a friend of the celebrated radical John Wilkes. Inheriting property on his uncle's death, Mawbey bought the Botleys estate in Surrey in 1763, where he pulled down the old house and erected an elegant Palladian mansion, in which the present portrait would have hung. The young Joseph was the second and last Baronet of Botleys, inheriting the baronetcy on the death of his father in 1798. He married Charlotte Henchman on 9 August 1796, with whom he had two daughters. On his death in 1817, much of his property, including the present painting, went to his daughter Anna Maria, who married the politician John Ivatt Briscoe two years later. Briscoe bought the nearby estate of Foxhills and built a grand house, designed by the architect George Basevi, where they hung Joseph's portrait.
The portrait was painted over eight sittings, from 25 March 1779 to 21 March 1780, and is in its original frame made by Robert Ansell, one of Romney's favourite framers. While Joseph is not depicted in historical dress, the painting's subject and pose recall Gainsborough's Blue Boy of around 1770, now in the Huntington Museum and Library in California. The comparison resulted in the present portrait's sobriquet The Brown Boy, the title under which it was exhibited in London and Glasgow in 1900 and 1901. Both paintings, with their dark rustic backgrounds and noble figures, look back to grand portraits by Anthony van Dyck.
Although the boy's face has a youthful glow and rounded, childish features, his calm self-possession and assured pose give him the air of being older than his years. He has none of the trappings of childhood found in some of Romney's childhood portraits, no playful pet or doting mother, and he gazes out at the viewer with quiet confidence. Romney presents him as a romantic figure, standing in a Sublime coastal landscape. The natural setting is unusually bare. Depicted in warm tones, two entwined trees on the left crown a gentle slope, which leads down to the brightness of water and a blush of pink on the horizon. The mellow browns and greens of the background complement the 'Brown Boy's' suit, making for a particularly harmonious composition.
The relatively dark tones of the background serve to highlight the figure, and a strong light shines on the young Joseph, catching his blond hair. Romney's characteristic loose, spontaneous brush strokes delineate the different shades in his curling tresses. His delicate ruffled collar has been evoked with similar lightness of touch, the colour of his coat showing through the fine material. Though simply and informally dressed, according to the fashion of the time for children, the carefully observed details such as the wrinkle in his stocking bring the figure to life. It is the painting's warmth and quiet charm that make the Brown Boy a prime example of British eighteenth-century portraiture.
The artwork described above is subject to changes in availability and price without prior notice.

%3Cdiv%20class%3D%22artist%22%3E%3Cstrong%3EGeorge%20Romney%3C%2Fstrong%3E%3C%2Fdiv%3E%20Dalton%201734%E2%80%931802%20Kendal%0A%3Cdiv%20class%3D%22title%22%3E%3Cem%3EThe%20Brown%20Boy%20%28Joseph%20Mawbey%2C%201772%E2%80%931817%29%3C%2Fem%3E%2C%201779%E2%80%9380%3C%2Fdiv%3E%0A%3Cdiv%20class%3D%22medium%22%3EOil%20on%20canvas%2C%20in%20its%20original%20frame%3C%2Fdiv%3E%0A%3Cdiv%20class%3D%22dimensions%22%3E125%20x%2099%20cm%20%2849%201%2F4%20x%2039%20in.%29%3C%2Fdiv%3E
Not Available