British Portraiture of the Georgian Period
London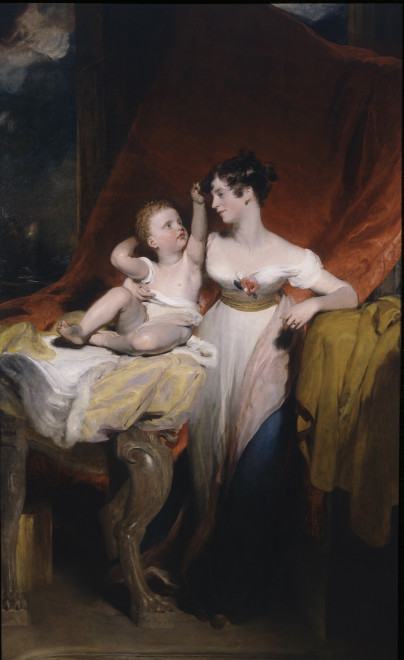 Sir Thomas Lawrence, P.R.A.
Portrait of Anne, Viscountess Pollington, later Countess of Mexborough (1783–1870), with her son, John Charles George (1810–1899), later 4th Earl of Mexborough
,
completed in 1821
Bristol 1769–1830 London
Oil on canvas
236.2 x 144.8 cm (93 x 57 1/8 in.)
With frame: 266 x 11 x 173 cm (104 3/4 x 4 3/8 x 68 1/8 in.)
Provenance
By descent to the Dowager Countess of Mexborough;
Christie's, 14 December 1917, lot 86 (unsold).
With Thomas Agnew and Sons, London, 1918, where acquired by,
Weetman Pearson, 1st Viscount Cowdray, London.

Literature
Lord R.S. Gower, Sir Thomas Lawrence, London, 1899, p. 150.
A. Hare, The Story of My Life, London, 1900, vol. 6, p. 360.
Sir W. Armstrong, Lawrence, London, 1913, p. 159.
K. Garlick, Sir Thomas Lawrence, London, 1954, p. 163.
K. Garlick, 'A Catalogue of the Paintings, Drawings and Pastels of Sir Thomas Lawrence', Walpole Society, 39, 1964, p. 163.
C. Anson, Catalogue of the Paintings and Drawings in the Collection of The Viscount Cowdray, London, 1970, p. 5, no. 19.
K. Garlick, Sir Thomas Lawrence, Oxford, 1989, p. 254, no. 656.
M. Levey, Sir Thomas Lawrence, New Haven and London, 2005, pp. 262 and 284.
Exhibitions
London, Royal Academy, 1821, no. 208.
London, British Institution, 1862, no. 174.

Born in 1783, Lady Anne Yorke was the eldest daughter of the politician Philip Yorke, 3rd Earl of Hardwicke (1757–1834), who was Lord Lieutenant of Ireland (1801) and served as the first viceroy in post-union Ireland, and the great-granddaughter of the politician Philip, 1st Earl of Hardwicke (1690–1764), who served as Lord Chancellor from 1737 to 1756. In 1807, she married John Savile, Viscount Pollington, later 3rd Earl of Mexborough. Her husband was also involved in politics, representing Pontefract in parliament (1807–26; and 1831–32). After her marriage, she was styled as Lady Anne Savile, Viscountess Pollington, becoming Countess of Mexborough of Longford on 3 February 1830.
In this portrait she is shown with her eldest son John, who succeeded his father as the 4th Earl of Mexborough in 1860. Though the heir was merely a toddler in the present portrait, he would go on to lead a most eventful life. At Eton, he excelled in both classics and boxing, and was said was said to have entertained onlookers at one boxing match by "strutting around the ring, spouting Homer" between rounds. Following further studies at Trinity College, Cambridge, he entered politics, and undertook travels through Russia, Persia, India, and the Ottoman Empire, notes from which are published. Pollington was a close friend of Benjamin Disraeli, and shortly after his marriage to Lady Rachel Walpole, daughter of Horatio Walpole, 3rd Earl of Orford, in 1842, Disraeli featured the couple as Lord and Lady Gaverstock in his novel Coningsby.
Regarding the present portrait, Kenneth Garlick noted that "Lawrence's procrastination in completing his commissioned works was notorious" and that "Lord Pollington is quoted by Augustus Hare [op. cit.] as complaining that the baby in this group, which at the time of his writing was still unfinished, was by that time in the Guards", commenting further that "while the story is no doubt exaggerated...it is true that the boy was eleven when the group was finally exhibited". The double portrait is one of Lawrence's most successful evocations of maternal love on a grand scale. In a natural and tender pose, the young mother wraps her arm around her son, while he reaches up to grasp a lock of her dark, curling hair.
Thomas Lawrence was born in Bristol, where his father was an innkeeper. Later, his father opened the "Black Boar" at Devizes, where at the age of six Thomas was being shown off to guests as an infant prodigy who could sketch their likenesses and recite speeches from Milton. In 1779 the elder Lawrence had to leave Devizes, having failed in business. The precocious talent of the son, who had gained a reputation along the Bath road, became the family's primary source of income. His debut as a crayon portrait painter was made at Oxford, where he was well patronized, and in 1782 the family settled in Bath, where the young artist soon found himself fully employed in taking crayon likenesses of the fashionable members of society for a guinea or a guinea and a half a head. In 1784 he gained the prize and silver-gilt palette of the Society of Arts for a crayon drawing after Raphael's "Transfiguration" and began to paint in oil.
After finally rejecting the idea of establishing a career on the stage, the young Lawrence went to London in 1787, where he was kindly received by Reynolds, and entered the Royal Academy. He began to exhibit almost immediately, and his reputation was established with the exhibition in 1790 of his portrait of Elizabeth Farren, the actress (Metropolitan Museum of Art, New York). In 1791 he became an associate of the Academy. The death of Sir Joshua in 1792 provided the opportunity for even greater success. He soon won royal patronage, and, with both Reynolds and Hoppner dead, became the most fashionable portrait painter of his day. He was at once appointed painter to the Dilettanti Society, and painter in ordinary to the king, taking Reynolds' place. In 1794 he became a Royal Academician and was recognized as the most successful portrait painter of the day, having as sitters the most important, fashionable, and talented individuals of his age. He would paint English royalty and ultimately most of the crowned heads of Europe.
In 1815 he was knighted. In 1818, after the fall of Napoleon, Lawrence was sent by George IV to the conference at Aix-la-Chapelle to paint the dignitaries assembled there (portraits in Waterloo Gallery, Windsor Castle, England). In Austria and Italy he made portraits of state and Church officials and everywhere received flattering marks of distinction from princes, due as much to his courtly manners as to his merits as an artist. After eighteen months he returned to England, and on the day of his arrival was chosen president of the Royal Academy, taking the place of West, who had died a few days before. He held the office from 1820 to his death.
Please note that the price and availability of the above work are subject to change without prior notice.

%3Cdiv%20class%3D%22artist%22%3E%3Cstrong%3ESir%20Thomas%20Lawrence%2C%20P.R.A.%3C%2Fstrong%3E%3C%2Fdiv%3E%20Bristol%201769%E2%80%931830%20London%0A%3Cdiv%20class%3D%22title%22%3E%3Cem%3EPortrait%20of%20Anne%2C%20Viscountess%20Pollington%2C%20later%20Countess%20of%20Mexborough%20%281783%E2%80%931870%29%2C%20with%20her%20son%2C%20John%20Charles%20George%20%281810%E2%80%931899%29%2C%20later%204th%20Earl%20of%20Mexborough%3C%2Fem%3E%2C%20completed%20in%201821%3C%2Fdiv%3E%0A%3Cdiv%20class%3D%22medium%22%3EOil%20on%20canvas%3C%2Fdiv%3E%0A%3Cdiv%20class%3D%22dimensions%22%3E236.2%20x%20144.8%20cm%20%2893%20x%2057%201%2F8%20in.%29%3Cbr%20%2F%3E%0AWith%20frame%3A%20266%20x%2011%20x%20173%20cm%20%28104%203%2F4%20x%204%203%2F8%20x%2068%201%2F8%20in.%29%3C%2Fdiv%3E