British Portraiture of the Georgian Period
London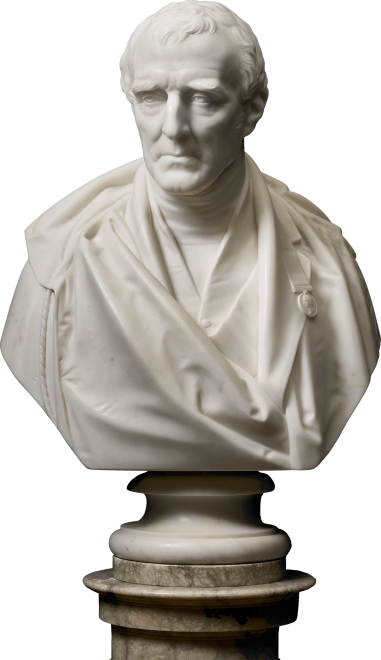 Matthew Noble
Arthur Wellesley, 1st Duke of Wellington
,
1851
Hackness 1817–1876 London
Carrara marble
H: 82 cm (32 1/4 in.)
Provenance
Goodnestone Park, Kent, until sold;
Dreweatts Bloomsbury Auctions, Berkshire, 11 November 2015, lot 70.
This monumental portrait bust of the Duke of Wellington as a statesman is one of the most important sculptures of the Iron Duke to be offered for sale in recent years, and a welcome addition to his recorded iconography. There are only two identified versions of this bust-type dating to 1851; one was recorded in the collection of the Army and Navy Club, London by 1935, while the other was offered for sale at Phillips in 1987. The variant sold through Phillips was not as highly finished as the present work, evident most notably in the treatment of the drapery, and the possibility that it is a later version, erroneously dated, cannot be ruled out.

There is a possibility that the present bust is that formerly at the Army and Navy Club, although in the absence of any records this is ultimately impossible to prove. It is presumed that the version once in the Army and Navy Club was the sculpture that was exhibited at the Royal Academy in 1852 , which was undoubtedly seen by Wellington himself, when he visited the Royal Academy exhibition on 28 July 1852. There exist a number of later copies of this bust type dated 1852, including one in the collection of the Walker Art Gallery, Liverpool; these may well have been produced after Wellington's death in September 1852, in memory of the great statesman. This bust-type also presumably formed the basis of a bronze variant by Noble produced in 1852 [Government Art Collection], and was later worked-up into the full-length sculpture of Wellington completed in 1856 and installed in Piccadilly Gardens in Manchester.

Arthur Wellesley, 1st Duke of Wellington, is among the most important and influential military figures in British history, primarily remembered for his victory against Napoleon at the Battle of Waterloo in 1815. During Wellesley's military career he participated in some sixty battles; initial public recognition came when he was knighted for his efforts in 1805 on his return to England after a long campaign in India. He was made Commander of the British Army during the Peninsular War and was created Duke of Wellington in 1814.

Although Wellington had been involved in politics throughout his adult life, after Waterloo he became an increasingly influential member of the Tory party, culminating in his tenure as Prime Minister from 1828 until 1830, and then again (for less than a month) in 1834, and was subsequently Leader of the House of Lords until his retirement in 1846. Wellington died in 1852 and was buried in St Paul's Cathedral after a state funeral.

%3Cdiv%20class%3D%22artist%22%3E%3Cstrong%3EMatthew%20Noble%3C%2Fstrong%3E%3C%2Fdiv%3E%20Hackness%201817%E2%80%931876%20London%0A%3Cdiv%20class%3D%22title%22%3E%3Cem%3EArthur%20Wellesley%2C%201st%20Duke%20of%20Wellington%3C%2Fem%3E%2C%201851%3C%2Fdiv%3E%0A%3Cdiv%20class%3D%22medium%22%3ECarrara%20marble%20%3C%2Fdiv%3E%0A%3Cdiv%20class%3D%22dimensions%22%3EH%3A%2082%20cm%20%2832%201%2F4%20in.%29%3C%2Fdiv%3E