Art Fair
:
Frieze Masters | Virgin. Muse. Heroine.
London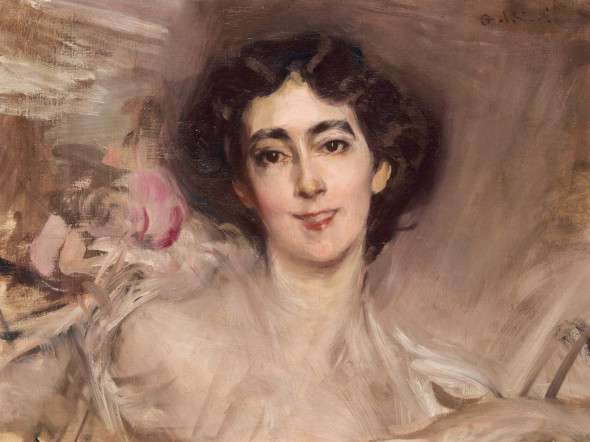 Giovanni Boldini
Elsie de Wolfe, later Lady Mendl (1865–1950)
,
1898
Ferrara 1842–1931 Paris
Signed 'Boldini' (upper right)
Oil on canvas
50 x 65 cm (19 5/8 x 25 1/2 in.)
With frame: 68 x 82.5 cm (26 3/4 x 32 1/2 in.)
Provenance
Painted by Boldini for Elsie de Wolfe in New York, 1898; Elsie de Wolfe, New York, and later Villa du Trianon, Versailles; Commander Paul-Louis Weiller, Villa du Trianon, Versailles; By descent in the family of Commander Paul-Louis Weiller, Le Noviciat, Versailles, (Christie's, Paris, 16 September 2020, lot 229).
Literature
'Artists and their work,' Munsey's Magazine, vol. 19, no. 1, April 1898, p. 18. J. S. Smith, Elsie de Wolfe, A Life in the High Style, New York, 1982, p. 9. V. Lawford, Horst: his Work and his World, New York, 1984, p. 223. J. Nielsen, 'The Elsie de Wolfe Design Revolution,' New York Times, 24 December 1987. P. Sparke, Elsie De Wolfe: The Birth of Modern Interior Decoration, New York, 2005, p. 55. B. Guidi, Boldini a Parigi. Ritratto di un pittore attraverso le lettere, Ferrara, 2015, p. 294. M. Clarke, Fashionability, Exhibition Culture and Gender Politics: Fair Women, London, 2020, p. 133.
Exhibitions
New York, National Academy of Design, Loan Exhibition of Portraits for the Benefit of the Orthopaedic Hospital, 14 December 1898–14 January 1899, no. 21, p. 13. Boston, The Copley Society, A Loan of Portraits and Pictures of Fair Women, 1902, no. A29, p. 5.

Giovanni Boldini's stylish portraits capture the brilliant world of the Belle Époque. Boldini was born in Ferrara in 1842 and moved to Florence in 1864, joining the Macchiaioli movement and entering the circle of artists that gathered at the Caffe Michelangelo. In 1871, after a sojourn in London, he settled permanently in Paris. An aristocratic lover, the comtesse Gabrielle de Rasty, introduced Boldini to Parisian high society, and by the 1880s, his destiny as fashionable portraitist was underway. While Boldini's famous portrait of the comte de Montesquiou holding a jewelled cane conjures the aesthetes described in Huysmans and Proust, it was women who craved Boldini's portraits above all. Whether portraying a European aristocrat, an American heiress, or a lady aspiring to the glittering beau monde, Boldini's virtuoso style is unmistakable—quick, vibrant strokes of paint capture light, form, movement, and expression with dizzying energy. In 1898, hoping to engage a new American clientele, Boldini held an exhibition of his works at the New York branch of Boussod, Valadon, and Co., the successor to the Goupil gallery, which had represented the artist since his earliest days in Paris. The show featured a likeness of the actress and taste-making society decorator Elsie de Wolfe (1859–1950), noted in one review as "a full-length portrait of Miss Elsie de Wolfe, in which that charming actress beams from the canvas with an animation possible only through the impulsive magic of Boldini's brush" (Henry Tyrrell, 'Boldini and His Portraits,' Leslie's Weekly, vol. 86, 1898, p. 76). The full-length painting mentioned by Tyrrell seems to parallel an article in the New York Times dated 11 December 1897, which reported that Boldini was "finishing a large portrait of Miss Elsie de Wolfe, the actress." Around this time, De Wolfe was starring in a production of A Marriage of Convenience, adapted by Sydney Grundy from Alexandre Dumas's original, staged at John Drew's Empire Theatre. De Wolfe also oversaw the sets and costumes for the play, a comedy of errors set in eighteenth-century France. At the same time, the actress and her theatrical agent and lover Elisabeth "Bessy" Marbury were redecorating their home at the corner of East 17th Street and Irving Place, near Union Square, an undertaking that launched De Wolfe's storied career as an influential society decorator. In the years that followed, she would transform the interiors of some of New York City's most prestigious homes, including that of Henry Clay Frick (today the Frick Collection), bringing an avant-garde flair and her superb taste for eighteenth-century French décor to previously dark and ponderous Victorian interiors. Tyrrell's reference to a full-length portrait has confused the history of the present work, which some have said the eccentric and impulsive sitter claimed she cut down later in her life so that she would not forever be seen in an old-fashioned gown that might give away her true age, about which she frequently lied, even in official documents. Yet Boldini is known to have spontaneously painted a number of further portraits during the run of the same exhibition, with another magazine article of the day noting that "one of the new ones, and a very striking one, is a sketch of Miss Elsie de Wolfe, the actress. It is very broadly painted…and a notice is placed in the frame telling us that it is the work of one afternoon. Like everything Boldini does, it is brilliant and clever…" (Munsey's Magazine, April 1898). This description seems to correlate perfectly with the vivacity and immediacy of the present canvas, which does not appear to have ever been altered in its dimensions. Moreover, Boldini typically signed his full-length portraits in a lower corner rather than an upper one, as is the case here, while the tapering of the arm just below the shoulder at the left and the sketchy passage at the lower right, suggestive of an wrist and hand resting on a surface, seem to belie the presence of a body below the bust. Although perhaps most famous for his full-length portraits, Boldini also painted close-up ones, for sitters including Stanford White (1898), his wife Bessie (1903), and their friend Constance Poor (1898). Such portraits, it should be noted, also tend to be signed in the upper rather than the lower corner. Francesca Dini, the leading scholar of Boldini and co-author of the 2004 catalogue raisonné devoted to the artist, agrees that the present work was never reduced in size, and has advanced the hypothesis, in keeping with the suggestive contemporary accounts, that Boldini made two portraits, a full-length version that has since disappeared and the present painting (see 'This Elsie de Wolfe Portrait's Story Is As Intriguing As the Subject's Own,' Architectural Digest, 14 September 2020, accessed online: https://www.architecturaldigest.com/story/elsie-de-wolfe-giovanni-boldini-portrait). As early as 1904, our beautiful bust-length portrait was featured in its current dimensions in an article in The New Metropolitan entitled 'Plays and Players for the National Theater.' Some thirty-five years later, in 1933, it was celebrated by the famous Vogue magazine photographer Horst P. Horst, who immortalized sitter herself, by then sixty-eight years old, posing in front of Boldini's painting for an article featuring society ladies beside their painted likenesses. At the time De Wolfe told the magazine that Boldini painted her in 1905, but an annotated a copy of the photograph she presented to the work's later owner Paul-Louis Weiller, bears a note stating it was instead painted in 1910. Such inconsistencies, together with De Wolfe's tendency to conceal her true age, cast further doubts upon her reported and dramatic tale of cutting down her full-length portrait into the present bust-length composition. Horst photographed De Wolfe (by then Lady Mendl, thanks to her 1926 marriage—one most certainly of convenience—to the British diplomat Sir Charles Mendl) in her Versailles home, the Villa Trianon. In the 1930s, facing financial difficulties, De Wolfe's long-time client and dear friend, the aeronautics industrialist Paul-Louis Weiller, purchased the Villa Trianon and its furnishings from her, and granted her a lifetime tenancy. De Wolfe died in 1950, and for just over three decades Weiller maintained the Villa Trianon intact, only selling the property in 1981. He brought the portrait to his own villa in Versailles, Le Noviciat, where it remained in his family following his own death in 1993. Fig. 1. Horst P. Horst, Photograph of Elsie de Wolfe with her portrait by Boldini, 1933. The artwork described above is subject to changes in availability and price without prior notice.

Giovanni%20Boldini%20%20Ferrara%201842%E2%80%931931%20Paris%0AElsie%20de%20Wolfe%2C%20later%20Lady%20Mendl%20%281865%E2%80%931950%29%2C%201898%20%20%0ASigned%20%27Boldini%27%20%28upper%20right%29%20%20%0AOil%20on%20canvas%20%20%0A50%20x%2065%20cm%20%2819%205%2F8%20x%2025%201%2F2%20in.%29%20%0AWith%20frame%3A%2068%20x%2082.5%20cm%20%2826%203%2F4%20x%2032%201%2F2%20in.%29%20%20

Not Available