Art Fair
:
Frieze Masters | Virgin. Muse. Heroine.
London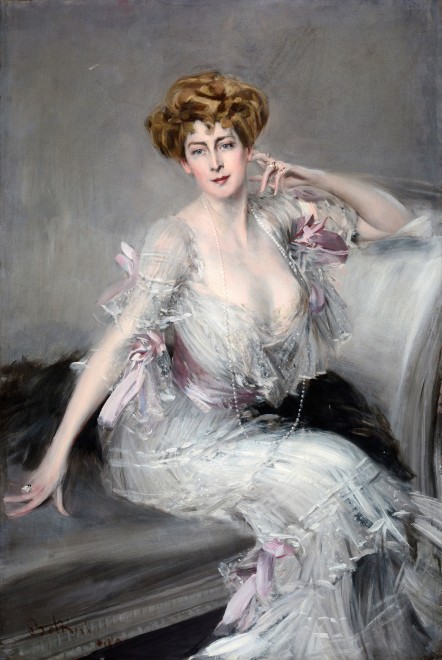 Giovanni Boldini
Portrait of Anna Elisabeth (née Been) Hansen
,
1902
Ferrara 1842–1931 Paris
Signed and dated 'Boldini 1902' (lower left)
Oil on canvas
144 x 98.5 cm (56 3/4 x 38 3/4 in.)
Provenance
By inheritance in the Hansen family
(Sotheby's, London, 18 June 1985, lot 80);
Private Collection, France;
Private Collection, London.
Literature
C. L. Ragghianti and Ettore Camesasca, L'opera completa di Boldini, Milan, 1970, p. 121, no. 408, illustrated..
P. Mauriès, Boldini, Milan, 1987, p. 79.
T. Panconi, Giovanni Boldini. L'uomo e la pittura, Pisa, 1998, p. 201, no. 116, illustrated.
P. Dini and F. Dini, Boldini, Catalogo raggionato, vol. I, p. 288, and vol. IV, p. 428, no. 799, illustrated.
B. Doria, Giovanni Boldini, Catalogo generale dagli archivi Boldini, Milan, 2000, no. 436, illustrated.
T. Panconi, Giovanni Boldini, L'opera completa, Florence, 2002, p. 430, illustrated.
Anna Elisabeth (née Been) Hansen, called Elsa, was born in Copenhagen on 4 January 1866 to a wealthy mercantile family that held the warrant as grocer to the royal Danish household. In 1886, she married Viggo Julius Hansen, an ambitious and industrious businessman eighteen years her senior, who over the course of the 1870s had established a thriving commercial empire in South Africa. His growing personal fortune afforded the couple the luxury of a peripatetic lifestyle in some of the world's most fashionable cities, and they divided their time between suites in the Hotel d'Angleterre in Copenhagen, the Hotel de Paris and the Hotel Metropole in Monte Carlo and the spas of Germany. At some point in the late 1890s, the couple, along with their two sons Edgar and Percy, moved to London. They lived at Hyde Park Gate, and the boys were educated at Eton and Sandhurst. In 1910, the couple acquired British citizenship, and Elsa died in London in 1930.

Elsa is captured here by the Giovanni Boldini, the preeminent painter of women during the Belle Époque, the prosperous, charmed years that opened the twentieth century. From the late 1880s, his ability to combine a flattering likeness with a dynamic, colourful, bravura style made his Paris studio a destination of social necessity for cosmopolitan beauties and aspiring ladies of the beau monde. Around the turn of the century, Boldini set his sights on the glittering muses of English society, where he proved a great success with the wealthiest and most socially powerful ladies of London. It was during this period that he created the present painting.

In Boldini's sumptuous portrait, Elsa is seated with grace and poise on a silk-upholstered daybed against an equally pale grey wall, her elbow posed elegantly on the backrest. Painted when Elsa was thirty-six years old, the portrait presents the sitter with a sophistication commensurate with her maturity. An important element in Boldini's success was his appreciation of the extravagant couture dresses favored by his clients, and he seems to have resisted the creative fatigue that beset many society portraitists by exploring the flamboyance of his sitters' costumes with his characteristic painterly flash, energy and sparkle. Elsa's gown is a lavish confection of white chiffon and embroidered satin, embellished at elbow, waist and knee with pink ribbon accents. The artist manipulated dress and pose to emphasize Elsa's creamy complexion, tiny waist and especially ample bosom, over which spills a single, tantalizing, rope of pearls. Boldini moreover flattered and tamed Elsa's lush coppery blonde hair to offset her thoughtful but striking expression, her blue-grey eyes framed by a dramatically angular brow and tiny but perfect red lips. What appears to be a fur stole, but might in fact be a beloved pet dog, nestles nonchalantly between figure and furniture. The spontaneity of the pose together with Boldini's flickering brushwork offers the impression that Elsa has paused only momentarily to allow the artist and the viewer to appreciate her beauty.

Please note that the price and availability of the above work are subject to change without prior notice.
%3Cdiv%20class%3D%22artist%22%3E%3Cstrong%3EGiovanni%20Boldini%3C%2Fstrong%3E%3C%2Fdiv%3E%20Ferrara%201842%E2%80%931931%20Paris%0A%3Cdiv%20class%3D%22title%22%3E%3Cem%3EPortrait%20of%20Anna%20Elisabeth%20%28n%C3%A9e%20Been%29%20Hansen%3C%2Fem%3E%2C%201902%3C%2Fdiv%3E%0A%3Cdiv%20class%3D%22signed_and_dated%22%3ESigned%20and%20dated%20%27Boldini%201902%27%20%28lower%20left%29%3C%2Fdiv%3E%0A%3Cdiv%20class%3D%22medium%22%3EOil%20on%20canvas%3C%2Fdiv%3E%0A%3Cdiv%20class%3D%22dimensions%22%3E144%20x%2098.5%20cm%20%2856%203%2F4%20x%2038%203%2F4%20in.%29%3C%2Fdiv%3E