Art Fair
:
Frieze Masters | Virgin. Muse. Heroine.
London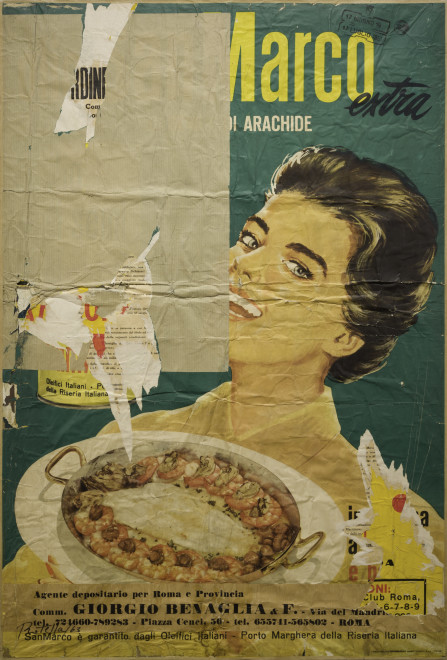 Mimmo Rotella
Arachidina
,
1963
Catanzaro 1918–2006 Milan
Signed and dated 'Rotella / 63' (lower left)
Décollage on canvas
138 x 95.3 cm (54 3/8 x 37 1/2 in.)
Provenance
Private Collection, Milan
Literature
G. Celant, Rotella, Milan 2004, pp. 259, 548.
G. Celant, Mimmo Rotella. Décollages e retro d'affiches, exh. cat. Milan, 2014, p. 280, no. 423.
A. Soldaini, Mimmo Rotella, exh. cat. Robilant+Voena, London, 2015, illustrated p. 104, and p. 206, no. 57.
G. Celant, Mimmo Rotella: Catalogue raisonné, vol. I: 1944–61, Milan, 2016, p. 85.
Exhibitions
Nice, Musée d'art Moderne et d'Art Contemporain, Mimmo Rotella. Rétrospective, 11 December 1999–3 April 2000, no. 78
Milan, Palazzo Reale, Mimmo Rotella. Décollages e retro d'affiches, 13 June–31 August 2014, no. 166
London, Robilant+Voena, Mimmo Rotella, 6 February–24 March 2015
Triennale di Milano, Arts & Foods-Rituals since 1851, 9 April–1 November 2015
Rome, Galleria Nationale d'Arte Moderna e Contemporanea, Mimmo Rotella Manifiesto, 30 October, 2018–10th February 2019
Arachidina is among Mimmo Rotella's most iconic works. During the period between 1961 and 1963 Rotella felt a frustration with what he saw as a stagnant art world which was not moving forward, and after having seen new tendencies and explorations in painting whilst frequenting the Tartaruga and Salita galleries in Rome, he sought to extend his creative vocabulary by using advertising and film posters. In particular Rotella focused on branding, marketing and the enticing display of products for sale which had became the modern-day protagonists of commercial and cultural communication and promotion.

Choosing images from both film posters and contemporary advertising such as Birra, Il Punto e Mezzo or The Hot Marilyn (all 1962) and by stripping them from the walls and working on them with a burin, he subverted and changed the meaning of the images. The art critic Guido Le Noci perhaps more accurately described them as "doppio décollage" (double décollage) after encountering Rotella's solo exhibition in Apollinaire Gallery, Milan in 1962. In fact the artist was very careful when stripping the posters from the walls and carefully manipulated the obtained fragments which were crucial in illustrating his desired impression.
The artwork described above is subject to changes in availability and price without prior notice. Where applicable ARR will be added.
%3Cdiv%20class%3D%22artist%22%3E%3Cstrong%3EMimmo%20Rotella%3C%2Fstrong%3E%3C%2Fdiv%3E%20Catanzaro%201918%E2%80%932006%20Milan%0A%3Cdiv%20class%3D%22title%22%3E%3Cem%3EArachidina%3C%2Fem%3E%2C%201963%3C%2Fdiv%3E%0A%3Cdiv%20class%3D%22signed_and_dated%22%3ESigned%20and%20dated%20%27Rotella%20%2F%2063%27%20%28lower%20left%29%3C%2Fdiv%3E%0A%3Cdiv%20class%3D%22medium%22%3ED%C3%A9collage%20on%20canvas%3C%2Fdiv%3E%0A%3Cdiv%20class%3D%22dimensions%22%3E138%20x%2095.3%20cm%20%2854%203%2F8%20x%2037%201%2F2%20in.%29%3C%2Fdiv%3E