THE SALON: ART + DESIGN 2012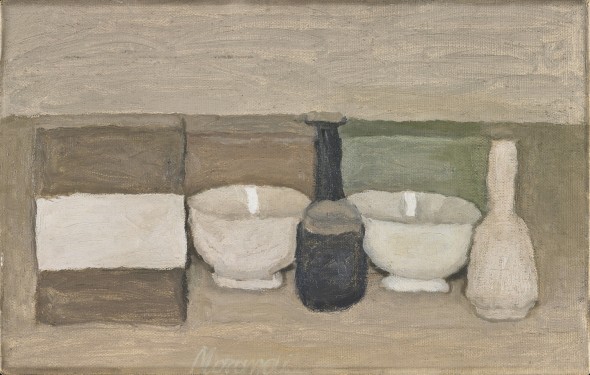 Giorgio Morandi
Natura Morta
,
1954
1890 - Bologna - 1964
Signed l. centre: Morandi
Oil on canvas
28 x 44 cm / 11 x 17.3 in
Provenance
The Lady Glenconner (purchased directly from the artist).
Exhibitions
Lamberto Vitali, Morandi – Catalogo Generale, Volume Secondo, Electa, 1983, no. 1140.
Morandi repeatedly painted the same selection of familiar items, including bottles, bowls, pots and boxes. In his paintings, they lose their domestic purpose, to become sculptural objects that invite meditation and contemplation. Through repeated scrutiny of these simple items, Morandi created a sense of timelessness. However, his fondness for the earthy colours of his native Bologna helps to anchor such works in the artist's own life and surroundings. The everyday objects become objects of contemplation, a vessel for the viewer's own imagination. Its rareness is reflected in the representation of the table surface. The work was purchased directly from the artist by Lady Glenconner, in 1959. As a Trustee of the Tate, she had encouraged the gallery to acquire a still life for their collection. Upon visiting Morandi's studio, Lady Glenconner picked two works, this painting, for herself, and a slightly larger oil on canvas, depicting a similar composition, for the Tate. The other Trustees, however, declined Lady Glenconner's presentation, claiming that the work was not of national significance. Eventually, the painting originally destined for the Tate was purchased by the Birmingham Museum and Art Gallery. The artwork described above is subject to changes in availability and price without prior notice. Where applicable ARR will be added.
%3Cdiv%20class%3D%22artist%22%3E%3Cstrong%3EGiorgio%20Morandi%3C/strong%3E%3C/div%3E%201890%20-%20Bologna%20-%201964%0A%3Cdiv%20class%3D%22title%22%3E%3Cem%3ENatura%20Morta%3C/em%3E%2C%201954%3C/div%3E%0A%3Cdiv%20class%3D%22signed_and_dated%22%3ESigned%20l.%20centre%3A%20Morandi%3C/div%3E%0A%3Cdiv%20class%3D%22medium%22%3EOil%20on%20canvas%3C/div%3E%0A%3Cdiv%20class%3D%22dimensions%22%3E28%20x%2044%20cm%20/%2011%20x%2017.3%20in%3C/div%3E