TEFAF MAASTRICHT 2012
London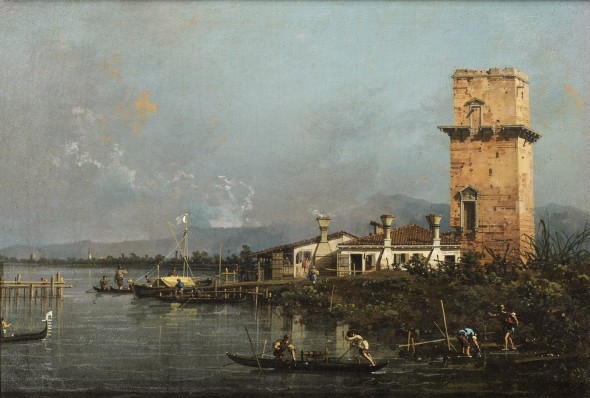 Antonio Canal called Canaletto
Torre di Malghera
Oil on canvas
31.5 x 46.2 cm / 12.4 x 18.4 in
Provenance
Dmitri Tziracopoulo, Berlin, before 1939, and subsequently Athens; with Thomas Agnew & Sons Ltd, London, 1984;
Jaime Ortiz Patino; with Thomas Agnew & Sons Ltd, London 1987;
Robert H. Smith, Crystal City, Virginia;
Simon Dickinson Ltd;
Private European collection.
Literature
W. G. Constable, Canaletto, London, 1962 (and later editions, revised by J. G. Links), I, pl. 67; II, no. 369 (with incorrect width measurement); Puppi 1968, no.198; Turin 2008, no. 68, pp. 180-1;
S. Kozakiewicz, Bernardo Bellotto, Recklinghausen and London, 1972, II, p.457, under no. Z 289; A. Morassi, Guardi. L'opera completa del Bellotto, Milan, 1968, p. 107, no. 198, illustrated;
E. Joll in Agnew's 1982 – 1992, London, 1992, p. 85, illustrated in colour;
R. Bromberg in the catalogue of the exhibition The Glory of Venice: Art in the Eighteenth Century, Royal Academy of Arts, London, 15 September – 14 December 1994, and National Gallery of Art, Washington, 29 January – 23 April 1995, p. 438, under no. 143;
Z. Dobos in the catalogue of the exhibition Treasures of Venice;
Paintings from the Museum of Fine Arts, Budapest, High Museum of Art, Atlanta, 28 February – 21 May 1995, Seattle Art Museum, 22 June – 17 September 1995, and The Minneapolis Institute of Arts, 22 October 1995 – 14 January 1996, p. 206;
J. G. Links, A Supplement to W. G. Constable's Canaletto, London, 1998, p. 35;
I. Mayer in the catalogue of the exhibition De Fra Angelico a Bonnard: Chefs-d'oeuvre de la Collection Rau, Musee du Luxembourg, Paris, 12 July 2000 – 4 January 2001, p. 48;
C. Beddington in the catalogue of the exhibition Venice, Canaletto and his Rivals, National Gallery of Art, London and National Gallery of Art, Washington, 2010 – 2011, p. 97;
Gerard-Julien Salvy in the catalogue of the exhibition Canaletto à Venise, Paris, Maillol Museum, 2012 – 2013, p. 144.
Exhibitions
London, National Gallery of Art, and Washington, National Gallery of Art, Venice, Canaletto and his Rivals, 2010 – 2011;
Paris, Maillol Museum, Canaletto à Venise, 2012 – 2013.
Malghera (now called Marghera), immediately South of Mestre at the mainland end of the Ponte della Liberta, is now best known for the Porto Marghera, the controversial industrial zone developed in 1919-35. The Torre di Malghera was a relic of the fifteenth century fortifications of Venice. Such defences on the nearest part of the mainland were of considerable importance for the defence of the city, as on numerous occasions in its history, enemies reached the shores of the Lagoon; King Pepin of Italy's Franks in 810, the Magyars in 899, an imperial army under Ezzelino da Romano in 1238, a Genoese raiding party in 1298, Francesco da Carrara of Padua's army in 1379, a Hungarian army under Pippo Spano in 1412 and the army of the Holy League under Ramόn de Cardona in 1513. On this last occasion Marghera was burned and shots were fired across the water towards Venice itself. The tower survived into the nineteenth century, being destroyed sometime before 1842 (when it is referred to as destroyed by E. Cicogna, …Iscrizioni Veneti, 1842, V, p. 345). The Torre di Malghera, with the Euganean Hills looming in the background, was made into one of the most famous images of the Venetian Lagoon by an etching by Canaletto (R. Bromberg, Canaletto's Etchings, London and New York, 1974, and 2nd ed., San Francisco, 1993, pp. 42-7, no. 2, illustrated; Bromberg, loc. cit., no. 143, illustrated p. 235). The etching is one of six large (signed and) titled views from nature which resulted from Canaletto's visit to the mainland with his nephew Bernardo Bellotto, probably in 1741, and is convincingly dated by Ruth Bromberg to c. 1742. Generally regarded as Canaletto's masterpiece in the medium, and indeed as one of the masterpieces of Venetian printmaking in the eighteenth century, a first state is known in a unique impression in the Gabinetto Nazionale delle Stampe, Rome, and impressions of the second and third states are in the National Gallery of Art, Washington, the British Museum, the Courtauld Institute of Art, the Berlin Kupferstichkabinett, the collection of Her Majesty the Queen at Windsor Castle, the Museo Correr, Venice, and elsewhere. This is Canaletto's only painting of the subject. As with the paintings by Canaletto corresponding with four of his six other etched mainland views (Bromberg, op. cit., 1974 and 1993, nos. 3, 4, 6 and 7-8), the painting unquestionably follows the etching, with which it corresponds almost exactly in size. As J. G. Links observed, 'No authentic painting by Canaletto can be shown to precede a related etching' (in Constable, op. cit., ed. 1976, II, p. 650). Many of Canaletto's paintings from the 1740s onwards are based on graphic sources, and testify to his ability to breathe life into depictions of subjects which he had often not seen for many years (or indeed which he had never seen). On stylistic grounds a date soon after Canaletto's return to Venice from England, which took place probably in 1755, seems most likely. Zsuzsanna Dobos has suggested that this painting may originally have formed part of a series of mainland views along with a view of The Locks at Dolo in the Museum of Fine Arts, Budapest (Dobos, op. cit., pp. 204-6, no. 53, illustrated in colour; Links, op. cit., pp. 35-6, no. 373*, pI. 272; that painting was recendy found to be signed on the reverse), and views of Mestre and Dolo now in the Fondation Bemberg, Toulouse (Constable, op. cit., under nos. 370 and 372), all of identical size and similarly based on Canaletto's own etchings. The composition was to have a significant influence, Bernardo Bellotto and Francesco Guardi, the two greatest Venetian view painters after Canaletto, both making versions of it. A painted version by Bellotto is in the collection of the Bristol Museums and Art Gallery, along with a pendant Lagoon Capriccio, also showing the Torre di Malghera in the background (B. A. Kowalczyk, 'Il Bellotto veneziano: grande intendimento ricercasi', Arte Veneta, 48, 1996, p. 86, figs. 24-5). Previously unrecorded, those were owned by Admiral Sir Victor Crutchley, V.C., of Mappercornbe Manor, Bridport, and were presented to Bristol after being accepted by Her Majesty's government in lieu of tax in 1988. Bellotto's version is larger and in a more horizontal format (37.3 x 62.2 cm.), omitting all the foreground figures and boats. Another painted version given to Bellotto is in the collection of the late Dr. Gusrnv Rau (Kozakiewicz, loc. cit., no. Z 289; Camesasca, loc cit., no. 306A; Mayer, loc cit., no. 12, illustrated in colour p. 49); more square in format (43 x 56.5cm.), that corresponds with the Bristol painting with the addition of a man seated on a wall in the lower right corner. The tower was later depicted by Guardi in paintings in the National Gallery, London, the National Gallery of Victoria, Melbourne, and elsewhere (Morassi, op. cit., I, pp. 252 and 433-4, nos. 664-7; II, figs. 620-2 and 624). A drawing of it by Guardi is based on Canaletto's etching (A. Morassi, Guardi Tutti I disegni di Antonio, Francesco e Giacomo Guardi, Venice, 1975, p. 152, no. 413, fig.415). An anonymous version was formerly in the collection of Conte San Vitale, Venice (Constable, op. cit., no. 369(a), the architecture implausibly described as 'probably by Canaletto') and another is in the Museo del Settecento Veneziano, Ca' Rezzonico, Venice (ibid., no. 369(b); D. Terpitz, Canaletto, Cologne, 1998, pp. 74-5, colour pl. 63). Dmitri Tziracopoulo assembled an exceptional group of Venetian view paintings, which also included Constable, op. cit., nos. 13,34 and 108, a Capriccio of a Palace Courtyard with Reminiscences of the Scala dei Giganti from Bernardo Bellotto's second Dresden period (Kozakiewicz, op. cit., no. 309, illustrated), and a view of Santa Maria della Salute by Michele Marieschi in the Museo Thyssen-Bomemisza, Madrid (F. Montecuccoli degli Erri and F. Pedrocco, Michele Marieschi, Milan, 1999, p. 382, no. 154, illustrated in colour). He also owned a pair of fine capricci by Francesco Guardi (Morassi, op. cit., 1973, I, pp. 486 and 489, nos. 952 and 970; II, fig. 851; exhibited London, Thomas Agnew & Sons Ltd, Venetian Eighteenth-Century Painting,S June - 19 July 1985, nos. 10-11, both illustrated; Joll, op.cit., p. 87, both illustrated in colour), a full-size copy of The Reception of the French Ambassador the Comte de Gergy at the Doge's Palace by Canaletto in the Hermitage, currently in a private collection, Vienna, as the work of Luca Carlevarijs (Constable, op. cit., II, under no. 356), and paintings by lesser Venetian view painters such as Johann Richter. Although the provenance of this painting before it entered the Tziracopoulo collection is not known, it should be noted that a view of The Fortress of Malghera given to Canaletto and 'purchased of Marcato' was in the exceptional collection of G. A. F. Cavendish Bentinck, M.P., P.c., of 3 Grafton Street, London, and Brownsea Island, from which it was sold in his (posthumous) sale at Christie's, London, 11 July 1891 (=4th day), lot 627; the size is, however, given as 19 ½ x 32 in., a considerable discrepancy even by the standards of nineteenth century cataloguing.
%3Cdiv%20class%3D%22artist%22%3E%3Cstrong%3EAntonio%20Canal%20called%20Canaletto%3C/strong%3E%3C/div%3E%201697%20-%20Venice%20-%201768%0A%3Cdiv%20class%3D%22title%22%3E%3Cem%3ETorre%20di%20Malghera%3C/em%3E%3C/div%3E%0A%3Cdiv%20class%3D%22medium%22%3EOil%20on%20canvas%3C/div%3E%0A%3Cdiv%20class%3D%22dimensions%22%3E31.5%20x%2046.2%20cm%20/%2012.4%20x%2018.4%20in%3C/div%3E