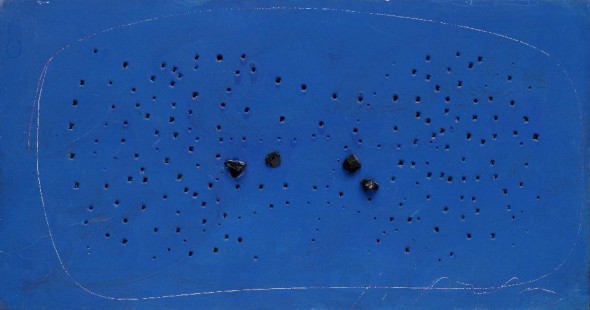 Lucio Fontana
Concetto Spaziale (blue)
,
1953
Rosario de Santa Fé 1899 – 1968 Comabbio
Signed lower right on the front, and signed, on the reverse
Oil and glass pebbles on perforated canvas
33.5 x 63.4 cm / 13.3 x 25 in
Provenance
Notizie arte Contemporanea, Turin
Galerie Bleue, Stockholm
Private Collection, Sweden
Gian Enzo Sperone, New York
Private Collection, Europe
Literature
Fondazione Lucio Fontana Milan, registered n. 3590/1, certificate Milan, 05/11/2008
Fontana, Galerie Bleue, Exhibition catalogue, April 1967, catalogue number n. 21 and n. 54
ZERO e Dintorni, Sperone Westwater, 25 September– 4 October 2009
Meneguzzo, M. and Dimitrova, M., The Gallant Apparel: Italian Art and the Modern, exhibition catalogue, p. 30-31, ill.
Exhibitions
Galerie Bleue, Stockholm, Fontana, June 1967
ZERO e Dintorni, Biennale Internazionale dell'Antiquariato, Florence 2009
London, Robilant+Voena, The Gallant Apparel: Italian Art and the Modern, 27 September – 27 October 2010
Fontana's elegant artistic soul can be found in this small, sophisticated piece. Confident of his extraordinary
compositional ability, he is unafraid of overdoing decoration and looks to the traditional artistic methods of
Venetian mosaics for inspiration. It is not by chance that the stones placed on the surface are chips of glass
discarded from the furnaces of Murano. This is a model that the artist adopted around 1955/56, towards the
end of the period in which he was largely influenced by the Informale. The glass stones are the ideal
antipodes to the holes that constellate the composition; they are the "fullness" in front of the void of the blue
universe of the space, almost a galaxy, defined by the artist's typical circular scratched line.

The artwork described above is subject to changes in availability and price without prior notice.
Where applicable ARR will be added.
%3Cdiv%20class%3D%22artist%22%3E%3Cstrong%3ELucio%20Fontana%3C%2Fstrong%3E%3C%2Fdiv%3E%20Rosario%20de%20Santa%20F%C3%A9%201899%20%E2%80%93%201968%20Comabbio%0A%3Cdiv%20class%3D%22title%22%3E%3Cem%3EConcetto%20Spaziale%20%28blue%29%3C%2Fem%3E%2C%201953%3C%2Fdiv%3E%0A%3Cdiv%20class%3D%22signed_and_dated%22%3ESigned%20lower%20right%20on%20the%20front%2C%20and%20signed%2C%20on%20the%20reverse%3C%2Fdiv%3E%0A%3Cdiv%20class%3D%22medium%22%3EOil%20and%20glass%20pebbles%20on%20perforated%20canvas%3C%2Fdiv%3E%0A%3Cdiv%20class%3D%22dimensions%22%3E33.5%20x%2063.4%20cm%20%2F%2013.3%20x%2025%20in%3C%2Fdiv%3E
Not Available