Napoleon: Antiquity to Empire
London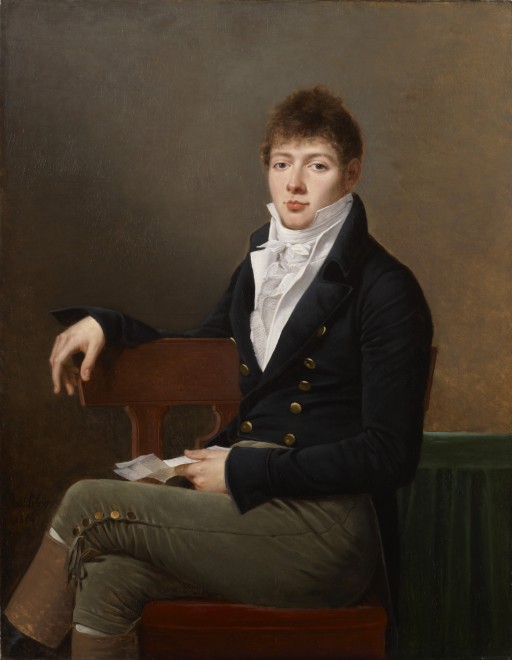 Robert Jacques François Lefèvre
Portrait of Michael Elias Meyer
,
1804
Bayeux 1755–1830 Paris
Signed and dated lower left "Rob. Lefevr 1804"
Oil on canvas
116 x 89 cm / 45.7 x 35 in
Provenance
By descent in the family of the sitter;
Lempertz, Cologne, 19 November 2011, lot 1422;
Private collection.
Literature
Carlo Falciani in Portraits/Self- Portraits from the 16th to the 21st Century, exh. cat. Sperone Westwater, New York, 2012, pp. 74–75.
Kimberley Chrisman-Campbell in Carolyn Miner, ed., The Elegant Man. From Van Dyck to Boldini, exh. cat. Palazzo Kiton, Milan, 2018, pp. 52–53.
Exhibitions
New York, Sperone Westwater, Portraits/Self-Portraits from the 16th to the 21st Century, 12 January–25 February 2012
Milan, Palazzo Kiton, The Elegant Man, from Van Dyck to Boldini, 17–22 April 2018
Robert Jacques François Lefèvre ranked alongside David and Gérard as one of the most celebrated and prolific French portrait painters of the Napoleonic period. Enjoying the protection and patronage of Dominique Vivant-Denon, the first director of the Louvre museum, Lefèvre became Napoleon's official portrait painter. In addition to creating many portraits of the Emperor and the imperial family, the artist was also much in demand by the denizens of Paris society, portraying many of the most significant and stylish figures of his age. This elegant and sensitive likeness portrays the young merchant Michael Elias Meyer, whose lived between Hanover and Paris. The French Revolution incited a corresponding revolution in fashion, which had particularly lasting effects on menswear, a phenomenon the psychologist J. C. Kugel dubbed "the Great Masculine Renunciation" when men "abandoned their claim to be considered beautiful" and "aimed at only being useful." The present portrait exemplifies the new simplicity and practicality of post-Revolutionary menswear, characterised by precise tailoring, sober colouring, and sporting influences, such as Meyer's tall boots and tailcoat, originally designed for riding. All of these elements also attest to the widespread popularity of English culture and politics in France in the turbulent years after the Revolution, when it was observed that "the desire to imitate the English prevails alike in the cut of a coat, and the form of a constitution." Meyer's cropped, naturally-coloured hair marks a bold departure from the wigs and powder worn for most of the eighteenth century, evidence of the backlash against aristocratic modes and manners, as well as the vogue for art and dress in the style of the ancient Greeks and Romans, known as Neoclassicism. The artwork described above is subject to changes in availability and price without prior notice.
%3Cdiv%20class%3D%22artist%22%3E%3Cstrong%3ERobert%20Jacques%20Fran%C3%A7ois%20Lef%C3%A8vre%3C%2Fstrong%3E%3C%2Fdiv%3E%20Bayeux%201755%E2%80%931830%20Paris%0A%3Cdiv%20class%3D%22title%22%3E%3Cem%3EPortrait%20of%20Michael%20Elias%20Meyer%3C%2Fem%3E%2C%201804%3C%2Fdiv%3E%0A%3Cdiv%20class%3D%22signed_and_dated%22%3ESigned%20and%20dated%20lower%20left%20%E2%80%9CRob.%20Lefevr%201804%E2%80%9D%3C%2Fdiv%3E%0A%3Cdiv%20class%3D%22medium%22%3EOil%20on%20canvas%3C%2Fdiv%3E%0A%3Cdiv%20class%3D%22dimensions%22%3E116%20x%2089%20cm%20%2F%2045.7%20x%2035%20in%3C%2Fdiv%3E