Napoleon: Antiquity to Empire
London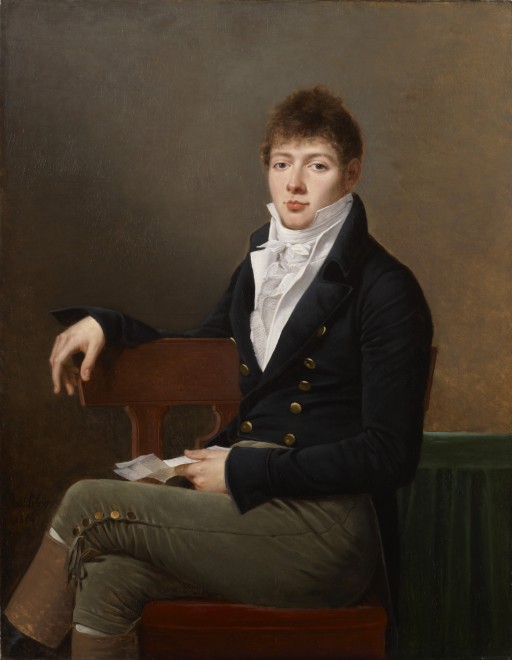 Robert Jacques Francois Lefèvre
Portrait of Michael Elias Meyer
,
1804
Signed and dated lower left "Rob. Lefevr 1804"
Oil on canvas
116 x 89 cm / 45.7 x 35 in
Literature
C. Falciani in Portraits/Self- Portraits from the 16th to the 21st Century, Sperone Westwater 2012, pp. 74-75.
Exhibitions
Portraits/Selfportraits from the 16th to the 21st Century, Sperone Westwater, New York, 12 January - 25 February 2012.
Robert Lefèvre was born in Bayeux (Calvados), son of Jacques Lefèvre, draper, and Suzanne Françoise Marguerite Decrot, the latter's wife. Despite revealing a talent for drawing when still young, his father wanted him to become a lawyer and so had him placed with a procureur in Caen. In 1773, at the age of eighteen, he spent his savings on a journey on foot to Paris to see the works of the Great Masters. He returned to Paris, in 1784, to become a pupil of Jean-Baptiste Regnault, painter of the king. Regnault warned him: "I can teach you drawing but not painting. You use the colours of nature, and she appears to have been your teacher." In his workshop, he became friends with Pierre Guérin, Carle Vernet, Bertin and Van Daël. He exhibited for the first time at the Salon of 1791. His painting was of a young woman dressed as a bacchant (Bayeux, Musée Baron Gérard), about which people said: "You would said that this wonderful painter had stolen his colors from the Graces"; at the Salon of 1795, he was to present some paintings of subjects from antiquity, one of which entitled, Venus disarming Cupid (Fontainebleau) and another in the Troubadour style with the title: Eloise in tears holding a letter from Abelard; at the Salon of 1798 he was to show Cupid sharpening his arrows, for which he was to receive a 'prix d'encouragement'. At the Salon of 1801, Robert Lefèvre was to exhibit a portrait of the painter Pierre Guérin (Orléans, Musée des Beaux-Arts), one of his finest works: the pose is elegantly simple, the sitter's look intense,haughty yet melancholy, the composition confident and precise. Other important portraits were painted in the first years of the 19th century: at the Salon of 1804 he was to present the portraits of Carle Vernet, of Van Daël, (Antwerp) and of a Ladyin black velvet, reclining on hillock holding her hat in her hand (Caen). In 1803, Vivant Denon commissioned Lefèvre to paint the First Consul for the Dunkirk town hall. This painting was so successful that it was copied, in 1804, by Vien fils, for the town hall in Bruges and by Dabos for the town hall in Paris (Versailles). Later, as a result of the patronage of Vivant Denon, director general of Museums and Administrator of the imperial art manufactories, forty portraits of Napoleon were to follow, each slightly different (though all were painted by Lefèvre himself): some were in the coronation robes, others showed him in uniform, some had laurel wreaths, others not, some were face-on, others three-quarters, some were standing portraits, other were bust portraits, and there were even miniatures - but all were painted for members of the great state bodies, for grand dignitaries, or for imperial and foreign towns (Versailles, three variants: one with the green uniform of colonel of the Chasseurs à cheval de la Garde; 216 x 156 cm, Salon of 1806, see Histoire de Napoléon par la peinture, p. 193; another with the blue uniform of Colonel of the Grenadiers à pied de la Garde, 278 x 206 cm, Salon of 1812; Musée Carnavalet, 1809, 226 x 157 cm; Musée de la Légion d'honneur; London, Wellington Museum; Mons, Hôtel de ville; Cuba, Museo Napoleonico, copy painted for Marie Walewska). Napoleon liked Lefèvre's portraits and found them very lifelike. As the painter to the emperor, the imperial family, the court and the great dignitaries of imperial high society, Lefèvre was in effect the official iconographer of the First Empire. The artwork described above is subject to changes in availability and price without prior notice. Where applicable ARR will be added.
%3Cdiv%20class%3D%22artist%22%3E%3Cstrong%3ERobert%20Jacques%20Francois%20Lef%C3%A8vre%3C%2Fstrong%3E%3C%2Fdiv%3E%20Bayeux%201755%20%201830%20Paris%0A%3Cdiv%20class%3D%22title%22%3E%3Cem%3EPortrait%20of%20Michael%20Elias%20Meyer%3C%2Fem%3E%2C%201804%3C%2Fdiv%3E%0A%3Cdiv%20class%3D%22signed_and_dated%22%3ESigned%20and%20dated%20lower%20left%20%22Rob.%20Lefevr%201804%22%3C%2Fdiv%3E%0A%3Cdiv%20class%3D%22medium%22%3EOil%20on%20canvas%3C%2Fdiv%3E%0A%3Cdiv%20class%3D%22dimensions%22%3E116%20x%2089%20cm%20%2F%2045.7%20x%2035%20in%3C%2Fdiv%3E