Napoleon: Antiquity to Empire
London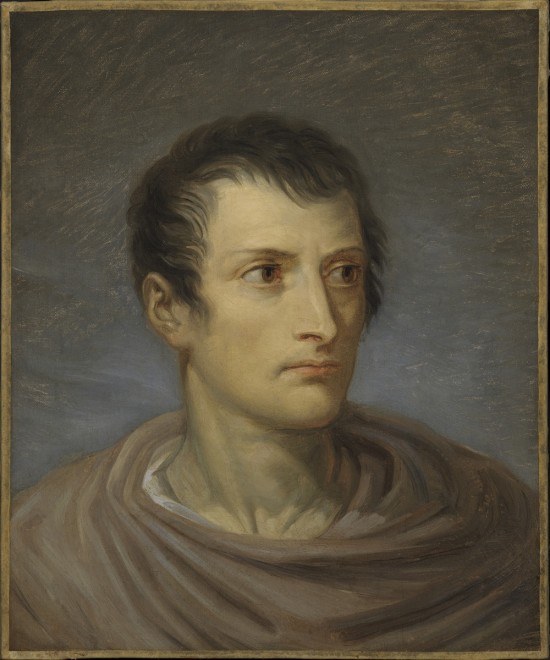 Andrea Appiani
Portrait of Napoleon
Milan 1754–1817 Milan
Oil on canvas
49 x 40 cm / 19.3 x 15.8 in
On 26 May 1805, Napoleon was crowned King of Italy in the Duomo in Milan. For his official portrait as King of Italy, Napoleon turned to the most famous of Milanese painters, Andrea Appiani. In the three-quarter length portrait now in the Kunsthistorisches Museum in Vienna, Napoleon is attired in a «petit habillement», similar to the costume he wore for the coronation in Notre-Dame, while in the present bust-length portrait the sitter's shoulders are draped in an all'antica garment. Nevertheless, faces compare extremely well, and share their remarkable naturalism and immediacy.
In his rise to Emperor, Napoleon admired and emulated the greatest leaders of ancient civilization, from Alexander the Great to Julius Caesar. When fashioning images of the Emperor and art for his reign, so too did artists appropriate the visual language of the classical past to convey grandeur, power, and glory, as well as a sense of continuity and permanence. Appiani's 1808 fresco depicting the Apotheosis of Napoleon in the throne room of the Palazzo Reale in Milan expresses this imperial ideal, with Napoleon bare-chested, draped in a toga, a laurel wreath on his head, like an emperor of antiquity or deity of Olympus. Such images of the Emperor were not just for grand palaces but were seen everywhere. Even in everyday life, the French were presented with Napoleon as the new Caesar; for example, coins bearing his likeness showed Napoleon wearing a laurel wreath, almost identical to images of the Emperor Augustus. Though presented with far less triumphalism in the present work, the rhetoric of classicism is nevertheless also at play. In terms of the pose and simplicity of the antique garment Napoleon wears, the present portrait relates closely to sculpted representations, for example Canova's bust, first modelled in 1802.
The artwork described above is subject to changes in availability and price without prior notice.
%3Cdiv%20class%3D%22artist%22%3E%3Cstrong%3EAndrea%20Appiani%3C%2Fstrong%3E%3C%2Fdiv%3E%20Milan%201754%E2%80%931817%20Milan%0A%3Cdiv%20class%3D%22title%22%3E%3Cem%3EPortrait%20of%20Napoleon%3C%2Fem%3E%3C%2Fdiv%3E%0A%3Cdiv%20class%3D%22medium%22%3EOil%20on%20canvas%3C%2Fdiv%3E%0A%3Cdiv%20class%3D%22dimensions%22%3E49%20x%2040%20cm%20%2F%2019.3%20x%2015.8%20in%3C%2Fdiv%3E