Napoleon: Antiquity to Empire
London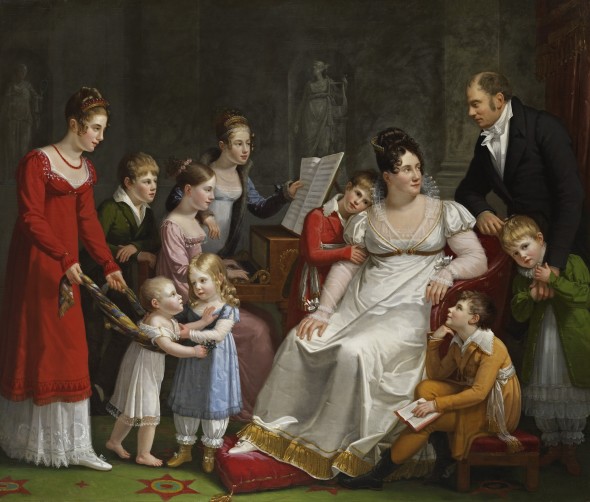 Charles Pompée Le Boulanger de Boisfrémont
Portrait of the Mosselman family
,
1814
Signed and dated: 1814 de Boisfremont
Oil on canvas
216 x 253 cm / 85.1 x 99.6 in
Provenance
Mosselman family; by descent; Laure Mossleman du Chenoy (1851 – 1925) married in 1877 with Fulco Beniamino Ruffo di Calabria (1848-1901); Prince Ruffo di Calabria, Napoli;
Exhibitions
The Paris Salon in 1814: number 243, under the title "De Boisfremont. Portrait de Famille.".
Publications
Clement Eugene Hellis; Notice historique et critique sur M. Boulanger de Boisfremont, peintre d'histoire, membre de l'Académie de Rouen, Rouen : Impr. d'ʹEmile Periaux, 1838. Pg. 18
This painting depicts Jean-Dominique Mosselman, a French banker of Belgian origins, with his wife and surrounded by his many children. Mosselman du Chenoy was an important Belgian family who earned their fortune between the end of the 18th and the beginning of the 19th Centuries. The artist, Charles-Pompèe Le Boulanger de Boisfremont, signed the painting and dated it "1814 de Boisfremont". He was an important French painter who was born in Rouen in 1773 and died in Paris in 1838. The magnificent portrait of the Countess Eugenia Sommaria, presently in the Brera, Milan, gives ample evidence of his prestige as a portrait painter. According to the information kindly supplied by the Department of Painting at the Musée du Louvre, this portrait of the Mosselman family is an unpublished work and was exhibited at Salon in 1814: number 243, under the title "De Boisfremont. Portrait de Famille.". In Hellis' biography about Boisfremont, the painting is mentioned as "Portrait of a family group", without any other reference.
%3Cdiv%20class%3D%22artist%22%3E%3Cstrong%3ECharles%20Pomp%C3%A9e%20Le%20Boulanger%20de%20Boisfr%C3%A9mont%3C%2Fstrong%3E%3C%2Fdiv%3E%20Rouen%201773%20%E2%80%93%201838%20Paris%0A%3Cdiv%20class%3D%22title%22%3E%3Cem%3EPortrait%20of%20the%20Mosselman%20family%3C%2Fem%3E%2C%201814%3C%2Fdiv%3E%0A%3Cdiv%20class%3D%22signed_and_dated%22%3ESigned%20and%20dated%3A%201814%20de%20Boisfremont%3C%2Fdiv%3E%0A%3Cdiv%20class%3D%22medium%22%3EOil%20on%20canvas%3C%2Fdiv%3E%0A%3Cdiv%20class%3D%22dimensions%22%3E216%20x%20253%20cm%20%2F%2085.1%20x%2099.6%20in%3C%2Fdiv%3E