FRIEZE MASTERS 2015
London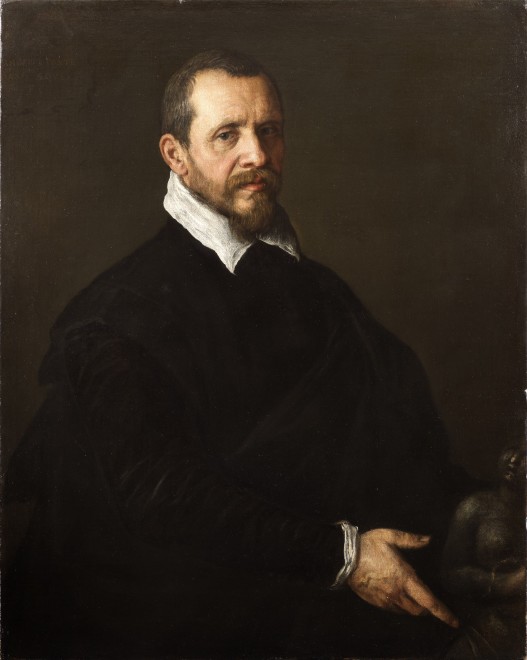 Leandro da Ponte, Leandro Bassano
Portrait of a Gentleman with a Sculpture
,
1595
Bassano 1557 - Venice - 1622
Signed in the upper part on the left: LEANDER A PONTE/ BAS.../ AEQUES/ F.
Oil on canvas
91.5 x 73 cm / 36 x 28.7 in
Provenance
Carlo Orsi, Milan;
Koelliker collection, Milan.
Literature
F. Pedrocco in Natura e Maniera. Le Ceneri violette di Giorgione tra Tiziano e Caravaggio, catalogue of the exhibition edited by V. Sgarbi, pp. 328 -329; M. C. Dossi in Tiziano e il ritratto di corte da Raffaello ai Carracci, catalogue of the exhbition edited by N. Spinosa, Naples 2006, pp. 188- 189;
M. Sclosa, Vedute possibili: finestre paesaggistiche nella ritrattistica di Leandro Bassano e Domenico Tintoretto, in "Paragone" 2010, pp. 33- 52;
G. Sperone and M. Voena (ed), Portraits / Self-portraits, from the 16th to the 21st Century, exhibition catalogue, Sperone Westwater, New York 2012, pp 34-35;
Note:The painting has been included in the Ph. D. dissertation on the subject "Sculptures in Venetian XVI Century Portraits" of Novella Macola who will publish it in a forthcoming essay.
Exhibitions
Palermo, Albergo delle Povere, La ricerca dell'identità. Da Antonello a de Chirico, November 2003 – February 2004, n. 12;
Mantua, Palazzo Te, Natura e Maniera. Le Ceneri violette di Giorgione tra Tiziano e Caravaggio, September 2004 – January 2005, n. 117;
Naples, Museo di Capodimonte, Tiziano e il ritratto di corte da Raffaello ai Carracci, March – May 2006, n. C 7;
Portraits / Self-portraits, from the 16th to the 21st Century, New York, Robilant+Voena at Sperone Westwater,12 January - 25 February 2012.
Sixth of the eight sons of Jacopo Bassano, Leandro was one of the four who followed in his father's footsteps and, along with his brother Francesco (1549 – 1592,) established himself as one of the leading painters in Venice at the end of 16th century. His early training was obviously in the workshop of his father Jacopo but from the beginning of the 1580s he started to receive independent commissions for paintings such as the Deposition of Christ in the Museo Civico, Bassano or the Last Supper in the collections of Palazzo Pitti in Florence. In 1588 he moved to Venice where he lived until his death in 1622. As pointed out by Rodolfo Pallucchini in his pioneering research on Venetian painting in the 17th century (La pittura Veneziana del Seicento, Venice 1981, pp. 28-29) Leandro was most accomplished in the field of portraiture wherein he succeeded formulating a new method of depiction, using as a basis the models of Titian and Tintoretto and combining them with a greater realism in part derived from the influence and work of Bartolomeo Passerotti.

Among the most famous portraits by Leandro are works such as the Portrait of a Gentleman holding a pen in the Gemäldegalerie, Dresden or the later Portrait of a Man dated 1593 (fig. 1). The present painting can be dated around 1595 as suggested by Filippo Pedrocco and Maria Cristina Dossi and confirmed by Vittoria Romani (oral communication), and is stylistically close to paintings such as the Dresden portrait. A terminus post quem is given by the signature where Leandro signs as Aeques referring to the title of Cavaliere di San Marco accorded to him in 1595.

The sitter points out a small statue of Cleopatra, the last queen of ancient Egypt, and this gesture has given rise to different theories in regard to possible iconographic interpretations of the painting and to the identity of the sitter who, according to the proposed theories, may be a sculptor, an antique dealer or perhaps less plausibly, an unlucky lover; an interpretation which means that the statue of Cleopatra should be read as a symbol of unhappy relationships.

Leandro indeed is following a well-established tradition of Venetian painting which started more than half a century before with the famous Portrait of Andrea Odoni by Lorenzo Lotto (Hampton Court, Royal Collections) and which included such a celebrated masterpiece as the Portrait of Jacopo Strada by Titian (Vienna, Kunsthistorisches Museum). In these paintings the display of ancient sculptures both qualifies the main occupation of the sitter and gives him a degree of nobility showing him as a man of aristocratic circles and refined taste.

In addition to the present painting Leandro dedicated himself to this motif in another famous portrait (London, Royal Collections, fig. 2) usually dated to the same period as the one showed here.


The artwork described above is subject to changes in availability and price without prior notice.
Where applicable ARR will be added.
%3Cdiv%20class%3D%22artist%22%3E%3Cstrong%3ELeandro%20da%20Ponte%2C%20Leandro%20Bassano%3C/strong%3E%3C/div%3E%20Bassano%201557%20-%20Venice%20-%201622%0A%3Cdiv%20class%3D%22title%22%3E%3Cem%3EPortrait%20of%20a%20Gentleman%20with%20a%20Sculpture%3C/em%3E%2C%201595%3C/div%3E%0A%3Cdiv%20class%3D%22signed_and_dated%22%3ESigned%20in%20the%20upper%20part%20on%20the%20left%3A%20LEANDER%20A%20PONTE/%20BAS.../%20AEQUES/%20F.%3C/div%3E%0A%3Cdiv%20class%3D%22medium%22%3EOil%20on%20canvas%3C/div%3E%0A%3Cdiv%20class%3D%22dimensions%22%3E91.5%20x%2073%20cm%20/%2036%20x%2028.7%20in%3C/div%3E