FRIEZE MASTERS 2015
London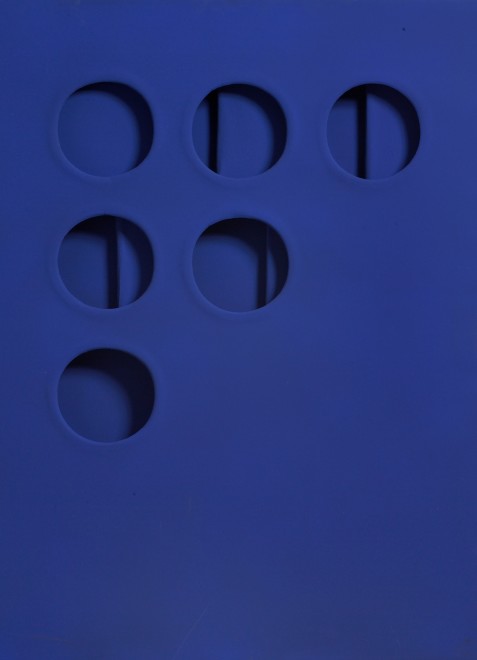 Paolo Scheggi
Intersuperficie curva dal blu (Curved Intersurface from Blue)
,
1966
Florence 1940–1971 Rome
Inscribed on the reverse: Desegni autografi: forme circolari sul retro, corrispondenti alle forme circolari fustellate sul fronte
Blue acrylic on three superimposed canvases
80.5 x 60.5 x 6 cm / 31.7 x 23.8 x 2.4 in
Provenance
Koelliker Collection
Galeria d'Art Niccoli, Parma
Studio Bresca Arte Contemporanea, Brescia
Literature
L'artista e la materia, edited by Luciano Caprile, Milano, Galleria Tega, 2009
Luca Massimo Barbero, & Gillo Dorfles, La breve e intensa stagione di Paolo Scheggi, Verona, Grafiche Aurora 2002 ill. p. 177
Un loft per l'arte, in "AD-Rivista Internazionale di arredamento, design, architettura", n.354, November 2010, pp. 215-223.
Francesca Pola, Paolo Scheggi, The Humanistic Measurement of Space, Milan, Skira-Robilant+Voena, 2014, ill. pp. 123, 183;
L.M. Barbero, Paolo Scheggi Catalogue raissoné, Milan 2016, p.267, fig.66 T 39.
Exhibitions
Paolo Scheggi, Robilant+Voena, London, 1 October – 4 November 2014.
The artwork described above is subject to changes in availability and price without prior notice.
Where applicable ARR will be added.


%3Cdiv%20class%3D%22artist%22%3E%3Cstrong%3EPaolo%20Scheggi%3C%2Fstrong%3E%3C%2Fdiv%3E%20Florence%201940%E2%80%931971%20Rome%0A%3Cdiv%20class%3D%22title%22%3E%3Cem%3EIntersuperficie%20curva%20dal%20blu%20%28Curved%20Intersurface%20from%20Blue%29%3C%2Fem%3E%2C%201966%3C%2Fdiv%3E%0A%3Cdiv%20class%3D%22signed_and_dated%22%3EInscribed%20on%20the%20reverse%3A%3Cbr%20%2F%3EDesegni%20autografi%3A%20forme%20circolari%20sul%20retro%2C%20corrispondenti%20alle%20forme%20circolari%20fustellate%20sul%20fronte%3C%2Fdiv%3E%0A%3Cdiv%20class%3D%22medium%22%3EBlue%20acrylic%20on%20three%20superimposed%20canvases%3C%2Fdiv%3E%0A%3Cdiv%20class%3D%22dimensions%22%3E80.5%20x%2060.5%20x%206%20cm%20%2F%2031.7%20x%2023.8%20x%202.4%20in%3C%2Fdiv%3E